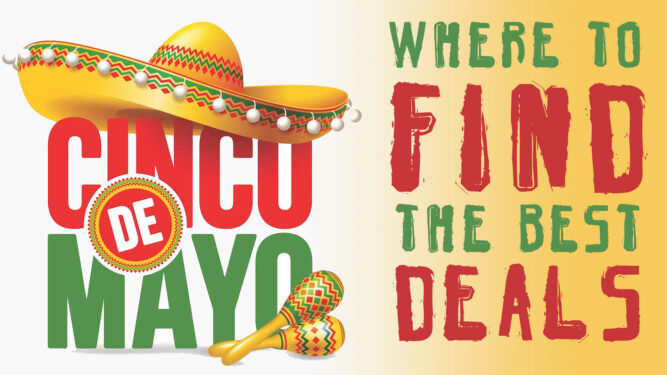 The Best Cinco de Mayo Deals and Specials for 2022
From our friends over at 'The Real Deal'
From now until May 24, 7-Eleven is offering 7Rewards members a special $4 deal of three Mini Spicy Breakfast Empanadas and any size coffee. The all-day breakfast is filled with sausage, egg, cheese, peppers and spices wrapped in a buttery crust – the perfect bite.
Celebrate Cinco de Mayo with various $5 drinks deals all day long! Abuelo's is offering three drink specials: Grande Mexican Draft Beer, Flag Margarita (a red, white and green margarita) and Abuelo's famous El Jefe Margarita made with grilled orange infused tequila.
Head to a restaurant for $3 margaritas and happy hour specials from 3 to 8 p.m. on food and drinks!
Head to Applebee's for $5 top-shelf Springtime Sips with two new drinks: Rock & Berry Rita, a strawberry margarita featuring Teramana Blanco Tequila and Breezy Bahama Mama, a frozen margarita made with Bacardi Superior
Celebrate Cinco de Mayo at Bahama Breeze on Wednesday, May 5 with $5 classic margaritas all day. If you're celebrating at home and want some live music, they will be live streaming a Latin Night-inspired performance by Grammy-nominated artist Fito Espinola. The stream will be available through Facebook on May 5, starting at 7 p.m.
Get $3 off Tostada Burgers, $3 sidecars of Sauza Silver Tequila, $4 Pacifico Beers and $5 Cinco Ritas all day long at Bar Louie for Cinco de Mayo. Plus, if you order their new Wild Berry Margarita from now until June, Bar Louie will donate $1 to Children of Restaurant Employees (CORE).
For three days only (May 3 to May 5), Casa Verde is offering half off your order with code CINCO50M. You can choose from four latin, plant-based, ready-to-make meals: Garbanzo Al Pastor, Lentil Mole, Coconut Chowder and Red Bean Pozole.
Join them in the restaurant for margaritas, beers, shots, and taco specials from 3 p.m. to close in their Cantinas & Outdoor Patios. You can also enjoy live entertainment with Mariachi Bands from 4 p.m. to 6 p.m. and DJs from 6 p.m. to close. Don't miss out on the biggest fiesta of the year!
On May 5, Chili's will be serving up $5 deals on margaritas all day long. You can order everything from the classic Presidente to the Frosé 'Rita, in addition to several draft import
For this week only, Chipotle is offering a $0 delivery fee for all orders.
Celebrate Cinco de Mayo with an all-day happy hour at Chuy's. You can get great deals on their famous House 'Ritas in addition to their House Texas 'Tini's, beer and more. We'd recommend the limited Frozen Blackberry 'Rita that will be made with real blackberry purée and silver tequila.
This year's Del Taco Cinco de Mayo deal is offered up to reward members. For one day only, you can buy one Epic Burrito and get one free when you place an order through their app or website, plus free delivery. Choose from the Crunchtada Tostada, Chicken Guacamole Crunchtada or the Queso Beef Crunchtada.
The lively modern taqueria is celebrating Cinco de Mayo with all day Happy Hour specials and live music. Happy Hour highlights a selection of their most popular dishes including the savory Choriqueso Verde ($9) or the Taco Skillet ($8) to build your own steak, chicken or al pastor tacos. Drink specials include $4 bottled beers, $5 draft beers, $5 wines by the glass and an array of $6 and $7 signature margaritas. Cheers to the occasion with a curated selection of unique and premium tequilas from the roaming Tequila Cart. The Cinco de Mayo specials are available for dine-in from 11:30 a.m. to close, on Thursday, May 5.
Celebrate Cinco de Mayo at El Torito! Join them for Margaritas, Beers, Shots and Taco Specials from 3 p.m. to close in their Cantinas & Outdoor Patios. Enjoy live entertainment with Mariachi Bands from 4 p.m. to 6 p.m. & DJs from 6 p.m. to close.
From May 2 to May 8, Hungry Howie's is offering customers $0.99 Howie Bread with any online takeout order of $15 or more. You can use the promo code CINCO to access this offer that is available at participating locations
Kona Grill will be celebrating Cinco de Mayo on May 5 with 5 margaritas for $5. Their margarita heaven, featuring favorites like Casamigos Margarita, Watermelon Margarita, Kona Margarita and more.
Marco's Pizza is serving up a spicy, savory Cinco de Mayo inspired Mexican Pizza creation of your own until May 5. You can also get 25% off when you make your order online or through their app. Here's how to get this deal: select "Build Your Own" pizza, add your favorite toppings – you can even upgrade your crust to romasean (Roma tomatoes and parmesan) and simply place your order.
Miguel's Jr.
Miguel's Jr. is offering $1.99 Bean, Rice & Cheese and Bean & Cheese Burritos all day and presenting their limited time Fiery Habanero Menu to celebrate Cinco de Mayo. The limited time menu of signature Miguel's Jr. favorites features housemade Fiery Habanero Hot Sauce. Miguel's Jr. Fiery Menu is available at all Miguel's Jr. locations for dine-in, take-out, drive-thru, online ordering and delivery.
Cinco de Mayo celebrations are never complete without a margarita. Enjoy $3 House Margaritas and $9 Margarita Pitcher's at Miller's Ale House on Thursday, May 5. Combine them with Tex Mex Chicken Nachos or Fajitas for the perfect meal. (Deal is not valid in Georgia locations.)
On May 5 only, Moe's Southwest Grill is offering reward members 5x rewards points on all orders throughout the day. No matter what you're chowing down on queso, burritos, nachos or anything else, you'll get 5x points on every order. Not a Moe Rewards member already? No worries – simply download the app and sign up before you order to receive the offer. For more information on rewards and how to download the app, see here.
To celebrate Cinco de Mayo, on Thursday, May 5, On The Border is offering its Grande House 'Rita for just $5.
The Mexican home-cooked meal kits are having a half-off special with code CELEBRATECINCO for their Cinco de Mayo Taco Kit. The party-in-a-box has all the ingredients you need to host the perfect Cinco de Mayo party. Each SOMOS box kit comes with plant-based entrees, rice, beans, chips, salsa and corn tortillas. They can serve up to six to eight people.
STK Steakhouse is offering five tequila shots for $5 each all day for Cinco de Mayo. You can choose from Don Julio, Volcan, Patron, Espolòn and Milagro. Combine it with their Tuna Tartare Tacos during Happy Hour for the perfect Cinco de Mayo celebration.
Last year, you could order an "at-home taco bar" from Taco Bell that feeds up to six people for $25! Let's see if they offer it again!
This year, Taco Cabana is launching a $4 Tajín Margarita in partnership with Tajín. The margarita will be available on Cinco de Mayo at all Texas locations.
Tijuana Flats is going big on Cinco de Mayo specials. They're offering a variety of $5 deals that include their first-ever queso launch that's a smooth white queso with roasted jalapenos. Here are some of their $5 menus: Tijuana Trio that comes with guacamole, questo, salsa with chips; New Dueling Queso that features their newly launched queso and chips. There are drink specials too: two for $5 Mexican beers and $5 margaritas! All deals are available both in-store and online
During their special five-day Taco de Mayo celebration from May 1-5, Taco John's will offer five beef softshell tacos for just $5.55. The tacos are made with 100% American beef, fresh lettuce, cheddar cheese and signature mild sauce, all loaded into a soft, warm flour tortilla.
If you choose to dine in at Tocaya this year, they're offering a great deal on drinks: $5 margaritas, $3 bottled beer and $7 Casamigos blanco margaritas – available for dine-in only.
Check back for more specials to be added closer to May 5!
What Is Cinco de Mayo?
Cinco de Mayo, aka May 5, marks the day in 1862 when the Mexican army conquered France at the Battle of Puebla. It is not, as most think, Mexico's Independence Day, which falls on September 16. To the surprise of many, the day is actually more popular in the U.S. than in Mexico.
Our research shows that in Mexico, most of the honoring occurs in Puebla with limited recognition elsewhere. But in America, Cinco de Mayo is an annual event in which friends gather and devour tacos, fajitas, salsa and margaritas galore.
Christian Lee
Christian has had many roles in life. He's been a minister's son, a poor student, a computer geek, a bible college dropout, a corporate suit, a traveling comedian, and a failure at much he's tried. But he counts two huge successes in his life. He is husband to a wonderful wife, and father of two exceptional kids he wanted, a third 'surprise baby', and a in 2015, they met yet another surprise, as their fourth (and prayerfully last) child defeated birth control with her sheer will to exist.
Christian hosts a daily web series, the 'After School Show' and the 'What Are We Watching?' podcast with his son Carlin, as well as, DadSews, where he learns (and fails) to sew LIVE on camera.
---
---
Comments
comments