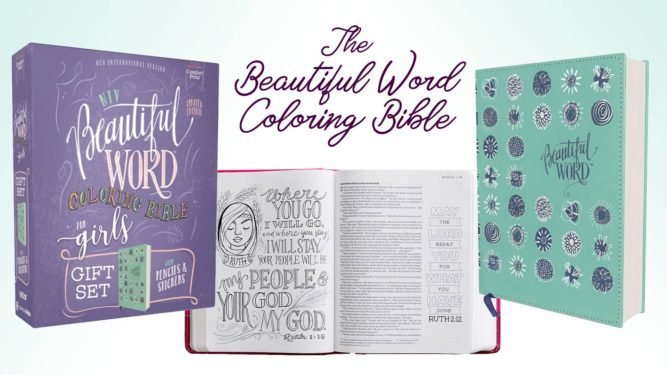 I was happy to get a review copy of this beautiful Bible, however, it was quickly swiped from my hand by my five year old daughter, Alexi Grace. Seems grace isn't really in her repertoire, but we already knew that. I also need to point out a particular commandment focusing on taking what isn't yours…. but I digress.
This Bible IS beautiful, from the leatherette cover, to the artwork within. Instead of trying to impress with flowery words, I'm just going to fire off a bullet list of thoughts.
You can buy your own HERE. Be sure to scroll down for links to a downloadable sample, AND downloadable coloring sheets!
---
Love the hard cover, good for kids and teens but would have been nice if it was able to be colored to, each child could give it their own individualized style
Almost every other page has something to color and those pages that don't have lines to the side for notes
I do wish some of the coloring was of pictures that illuminated the verses or went along with them instead of mostly coloring the words however, the quotes and verses that are highlighted are inspirational just perhaps gear this product more to older teens instead of young girls as indicated on the box
Addition of the stickers is nice, as is the inclusion of 4 basic colors – they are able to get started right away but also you know these particular twistable crayon pens will not bleed through the thin Bible pages  
The words of Jesus are not in red as in some editions, but they do give you a red crayon pen to do this yourself 
Our daughter will appreciate the alphabetical listing of the Books of the Bible and the biblical measurements pages for camp trivia!
Features include:
Complete text of the accurate, readable and clear New International Version (NIV)
Over 600 verses illustrated in ready-to-color line art
Four colored pencils
Six sheets of stickers designed for girls
Thick white paper for writing and doodling
Lined, wide margins for notes and reflections
Satin ribbon marker
Beautifully debossed and screen-printed cover
Exclusive Zondervan NIV Comfort Print® typeface in a readable 8-point print size
---
Downloadable Sampler: https://joom.ag/pjMC
Downloadable Coloring Sheets: https://d3iqwsql9z4qvn.cloudfront.net/wp-content/uploads/sites/2/2020/09/11185457/Coloring-Sheets.pdf
---
"Disclosure (in accordance with the FTC's 16 CFR, Part 255: "Guides Concerning the Use of Endorsements and Testimonials in Advertising"):
Many thanks to Telling Ministries LLC and HCCP for providing this product/product information for review. Opinions are 100% my own and NOT influenced by monetary compensation. I did receive a sample of the product in exchange for this review and post.
#beautifulwordgiftset #FlyBy
---
Christian Lee
Christian has had many roles in life. He's been a minister's son, a poor student, a computer geek, a bible college dropout, a corporate suit, a traveling comedian, and a failure at much he's tried. But he counts two huge successes in his life. He is husband to a wonderful wife, and father of two exceptional kids he wanted, a third 'surprise baby', and a in 2015, they met yet another surprise, as their fourth (and prayerfully last) child defeated birth control with her sheer will to exist.
Christian hosts a daily web series, the 'After School Show' and the 'What Are We Watching?' podcast with his son Carlin, as well as, DadSews, where he learns (and fails) to sew LIVE on camera.
---
---
Comments
comments