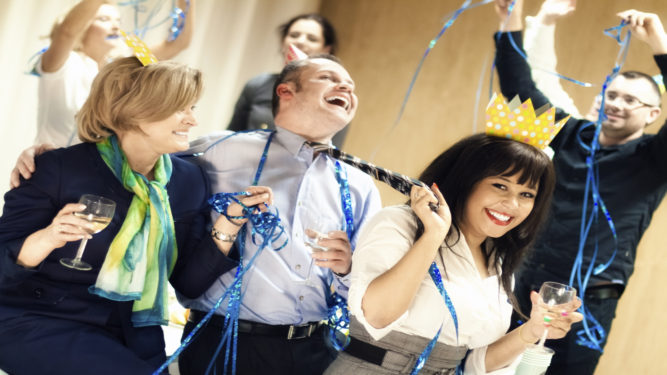 Let's face it, some people would scoff at the sheer notion of a 'have fun at work' day. A holiday devoted to enjoying that grueling place you slug to each and every day? Pishah. PISHAW I SAY!!
Look, I get it. work is for work. Home is for enjoyment. Live to work or work to live? Sometimes it gets muddied. But what if I were to tell you I found a way to have fun EVERYDAY at work?
Skeptical? No doubt. Let's push on.
Is there something you want to do that your family, for lack of a better word, RUINS? Maybe it's video game time without your son begging to play. Maybe it's a nice massage you missed because your daughter cried and threw a fit until SHE could take your appointment for a mani/pedi?
You're missing your biggest asset: YOUR WORK. They can't come there (barring work at home parents). They're at school. Or the sitters. Or WHO CARES THEY'RE GONE!!!
Angry you lost out on the last slice of pizza, or that you didn't get to order your veggie supreme because of ole pepperoni kid? Be the HERO at your office and have delivery. No one will dare steal the last slice – heck, you can stash it at your desk before they even get a whiff.
Did you know there's mobile masseuses? OH YEAH BABY! Have a stay-in during lunch and enjoy a chair massage while in your quiet, kid free fortress of solitude.
Dave and Busters getaway for arcade games. Taco Tuesdays with out the full family price. Audio books in silence. Kindle books in the dark. The list is endless.
Sure, celebrate the holiday and have fun at work, but then look for the moments you can steal throughout the week, and have a mini vacay everyday!
---
Christian Lee
Christian has had many roles in life. He's been a minister's son, a poor student, a computer geek, a bible college dropout, a corporate suit, a traveling comedian, and a failure at much he's tried. But he counts two huge successes in his life. He is husband to a wonderful wife, and father of two exceptional kids he wanted, a third 'surprise baby', and a in 2015, they met yet another surprise, as their fourth (and prayerfully last) child defeated birth control with her sheer will to exist.
Christian hosts a daily web series, the 'After School Show' and the 'What Are We Watching?' podcast with his son Carlin, as well as, DadSews, where he learns (and fails) to sew LIVE on camera.
---
---
Comments
comments