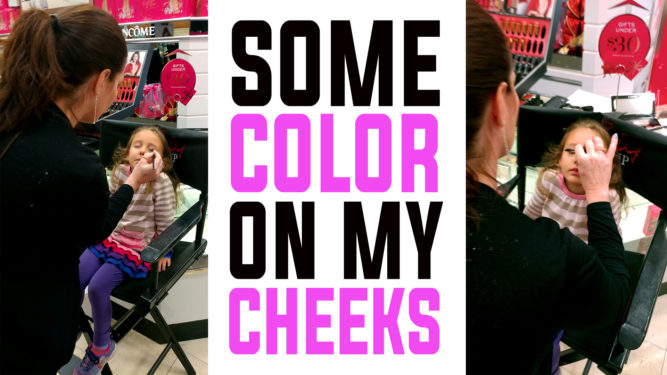 I have one daughter who throws on a cowboy hat, boots, six guns… then grabs a sword for good measure.
Then I have 4yo Alexi Grace. The girl who told us for her THIRD birthday, she wanted a SPA DAY. "And not you doing it at home, Mom. The REAL spa!"
We went to the mall last weekend and while the other three kids were spraying perfume and cologne on paper strips, she didn't even want a sniff. She backed away, so I knelt down to ask her what SHE wanted.
"I want color on my cheeks."
"OK. Just walk up to one of those ladies and ask them if they'll give you some color on your cheeks.
Alexi timidly went up to three ladies, who were taking advantage off the lull to swap stories, and mumbled to them.
"What was that honey?"
"Can I get color on my chee….."
She didn't even finish before the woman scooped her up and carried her to a chair. She plopped her down and said, "I'll be right back. Sit tight." All the while, the other two employees were OOOOHing & AWWWing over princess Alexi.
Back with a bundle of tools and samples, it quickly progressed from 'color on the cheeks' to lip gloss, lip liner, and even mascara. "Don't worry dad", the beautician told me, "I'm just doing the tips."
Alexi Grace sat there so still, so happy. Just like getting her nails done, or having her hair trimmed, she enjoys the pampering, and the process of "putting on one's face".
My daughters couldn't be more different (I mean, hell, they're even different colors HA), but it's such a joy to watch them in moments when they get to be themselves. See glimpses of who they are, or who they'll grow to be.
I imagine in a handful of years, I'll be writing about how my daughter takes too long to get ready, has expensive tastes in clothing, and is pushing the boundaries of Mom & Dad's approved cosmetics list.
But until then, I'll try to enjoy her as much as she enjoys what she loves.
---
Christian Lee
Christian has had many roles in life. He's been a minister's son, a poor student, a computer geek, a bible college dropout, a corporate suit, a traveling comedian, and a failure at much he's tried. But he counts two huge successes in his life. He is husband to a wonderful wife, and father of two exceptional kids he wanted, a third 'surprise baby', and a in 2015, they met yet another surprise, as their fourth (and prayerfully last) child defeated birth control with her sheer will to exist.
Christian hosts a daily web series, the 'After School Show' and the 'What Are We Watching?' podcast with his son Carlin, as well as, DadSews, where he learns (and fails) to sew LIVE on camera.
Comments
comments