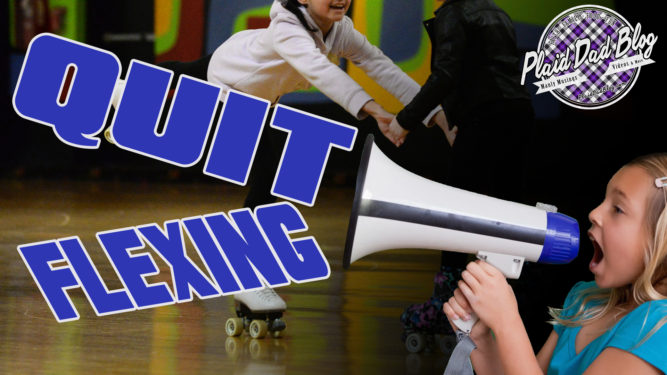 In another episode of 'Kids Suck':

MileenaB (11yo) said they're roller skating in gym this week. The kids strap on skates and MileenaB stands up, rolls over to the helmets and scoops one up.

All of the kids unite in saying "SHE"S FLEXING!"

Because she can skate.
And they can't.
And kids suck.

My kids are mildly jealous of kids that get to play Fortnite and other video games all weekend. Or how some kids mill about aimlessly in the neighborhood after dark each night.

I pointed out to my children, that while the kids up the street sit on the curb by their basketball net (not playing mind you, just swiping thru apps), these are the things we've done & places we've been, in the last three weeks:
Roller Rink
Skateboard Park
Great Wolf Lodge (for FREE even!)
Hosted Online Shows
Went to see TWO Musicals
Multiple Parks
Library
Watched a Live Band
Church
Two Fall Festivals
Christmas Festival
The Mall & Arcade
Were Featured in a Magazine
Learning How to Cook
Practiced for Play Auditions (which Carlin Jaxon scored the Lead)
More meals out than we should
Online Guitar Lessons (Carlin Jaxon)
Online Bass Lessons (MileenaB)
In Person Drum Lessons (OllieMac)
Oh… and video games, TV, books, board games, puzzles, word finds… I'm positive I'm missing others.

This isn't a "We're awesome parents post". (promise?) It IS a reminder I give my kids, that while their friends may be doing "whatever they want", it's limited to "whatever's available". While trying to work within a tight Family-of-6 budget, we're also trying to expose them to as much culture, art, activities, and experiences as we can.

So, being able to skate isn't FLEXING. It's DOING. It's LIVING.

"Most of the kids mocking you are just piling on", I say. "But some of them are resentful, jealous, and secretly yearn for the opportunities (small as they may be) that you are given."

"So be proud, without being braggadocios, and skate your heart out!"

BTW…. last weekend at the skating rink, MileenaB won a race against a girl who WAS FLEXING. The girl was faster. Better. More experienced. After she took the lead she kept putting on steam, and in the fourth corner went straight into the wall. Mia won and that look of joy was everything a parent dreams of. What did she win? Just a free Snow Cone….

….and a memory of being awesome.
---
Christian Lee
Christian has had many roles in life. He's been a minister's son, a poor student, a computer geek, a bible college dropout, a corporate suit, a traveling comedian, and a failure at much he's tried. But he counts two huge successes in his life. He is husband to a wonderful wife, and father of two exceptional kids he wanted, a third 'surprise baby', and a in 2015, they met yet another surprise, as their fourth (and prayerfully last) child defeated birth control with her sheer will to exist.
Christian hosts a daily web series, the 'After School Show' and the 'What Are We Watching?' podcast with his son Carlin, as well as, DadSews, where he learns (and fails) to sew LIVE on camera.
---
Comments
comments