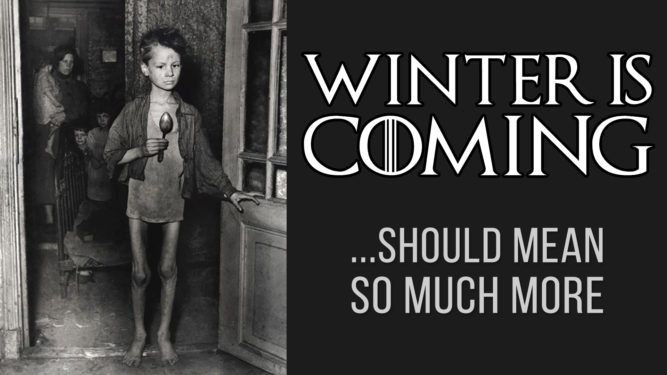 "OMG! Starbucks just released their Holiday cup design and it doesn't meet my level of satisfaction!!"

"OMG! That person said a joke I don't like at a show I wasn't at and I heard other people found it funny!!"

"OMG! That series finale was the ABSOLUTE WORST. I wasted 5 years of my life on that show!!"

I want you to STARE at this photo.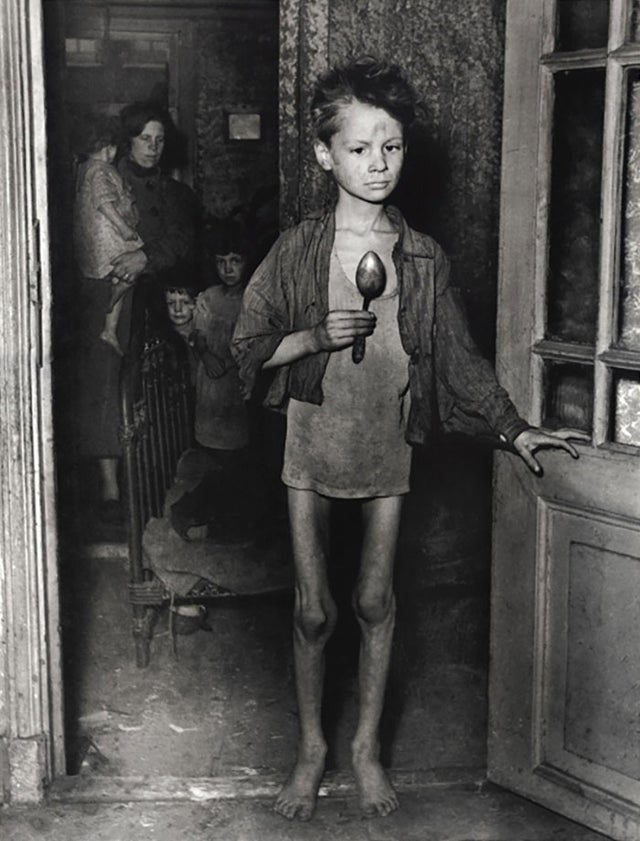 It's a 9-year-old boy from Amsterdam during the Dutch famine better known as "winter hunger" from 1944 to 45. Many children carried spoons with them wherever they went "just in case"

And if you're thinking, "well that was THEN. Things are better now." Really? My son used to tell the school he didn't get lunch so they'd give him a second one. He'd conceal the first, take it home and hide it in his pillow case. My daughter ended up in the hospital malnourished and not having her medical needs met. She nearly died.

"BUT THAT GUY JUST TWEETED…." Stop it! We're gross. Stop worrying about stupid garbage.

"Well we're capable of being outraged and trying to fix MULTIPLE THINGS, Christian!!"

Yeah. We are. But you can allocate your effort better. Starving kids deserve more energy than someone's dumb tweet. A displaced family deserves more attention than a tone-deaf corporate ad.

Here's a tip: make a list of everything you're upset about right now. Then cross out anything you have little or no chance at changing. Now circle everything that involves REAL PEOPLE NEAR YOU that can be helped by one deed. A can of food. A five dollar bill. A hug.

Stop sharing inane click-bait, anger-bait stories on Facebook. Do something or shut up. Let your actions back up your typing.

What if 'WINTER IS COMING" wasn't just a line from Game of Thrones, but a way we reminded each other there will be children without heat and food for the next 5 months of harsh weather?

"They carried spoons… JUST IN CASE." Winter is HERE.
---
Christian Lee
Christian has had many roles in life. He's been a minister's son, a poor student, a computer geek, a bible college dropout, a corporate suit, a traveling comedian, and a failure at much he's tried. But he counts two huge successes in his life. He is husband to a wonderful wife, and father of two exceptional kids he wanted, a third 'surprise baby', and a in 2015, they met yet another surprise, as their fourth (and prayerfully last) child defeated birth control with her sheer will to exist.
Christian hosts a daily web series, the 'After School Show' and the 'What Are We Watching?' podcast with his son Carlin, as well as, DadSews, where he learns (and fails) to sew LIVE on camera.
---
---
Comments
comments