A ~6yo girl came up to OllieMac and myself and stated firmly, "You're not allowed to climb the trees! They don't want you to climb the trees at the park."
I calmly let her know that her opinion was not only wrong, but unwanted. Sadly, I've heard moms at the park voice the same opinion, as well as shaking their heads (and making sure you see them) when my kids start shimmying up limbs.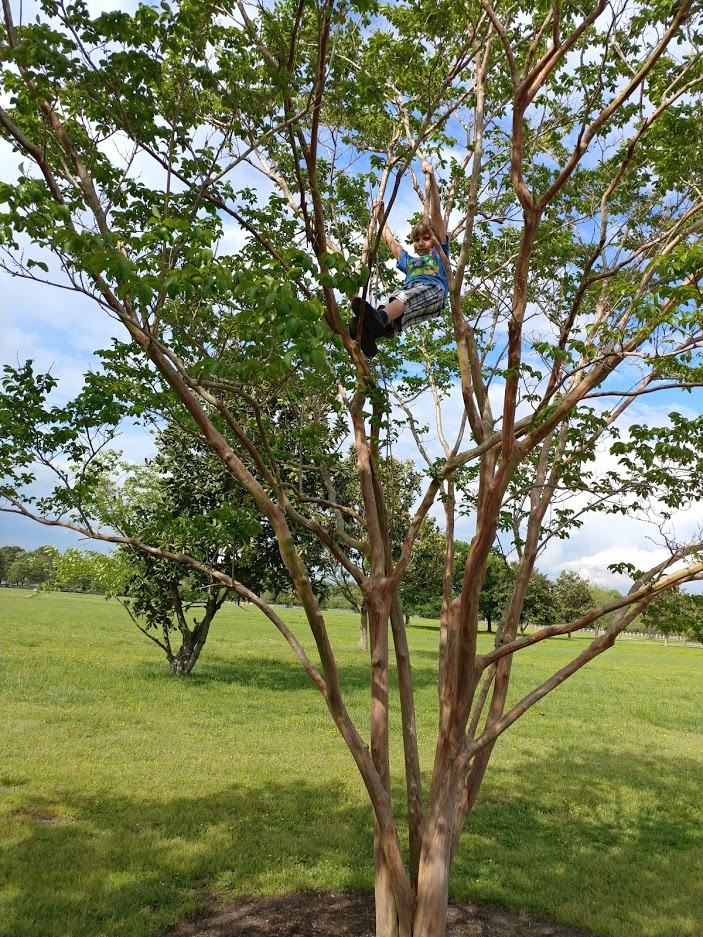 No piece of playground equipment has ever been built for climbing better than a tree. None gives a child the sense of accomplishment, joy, and awe at their height than a tree.
We're supposed to teach our kids to love their environment, care for the earth….. but only look at it from a distance? Come on. Grass is meant to be trod on. Puddles are meant to be splashed in. Trees are meant to be climbed.
And to all the parents shaking heads saying, "We'll he's going to fall and get hurt one day and THEN YOU'LL SEE!!" – he DID fall on his 3rd climb. He cried. I held him, treated his scrapes with kisses, and encouraged him to try again.
Just like I did when he fell off the monkey bars.
---
Christian Lee
Christian has had many roles in life. He's been a minister's son, a poor student, a computer geek, a bible college dropout, a corporate suit, a traveling comedian, and a failure at much he's tried. But he counts two huge successes in his life. He is husband to a wonderful wife, and father of two exceptional kids he wanted, a third 'surprise baby', and a In 2015, they met yet another surprise, as their fourth (and prayerfully last) child defeated birth control with her sheer will to exist.
Christian hosts a daily web series, the 'After School Show' and the 'What Are We Watching?' podcast with his son Carlin, as well as, DadSews, where he learns (and fails) to sew LIVE on camera.
Comments
comments