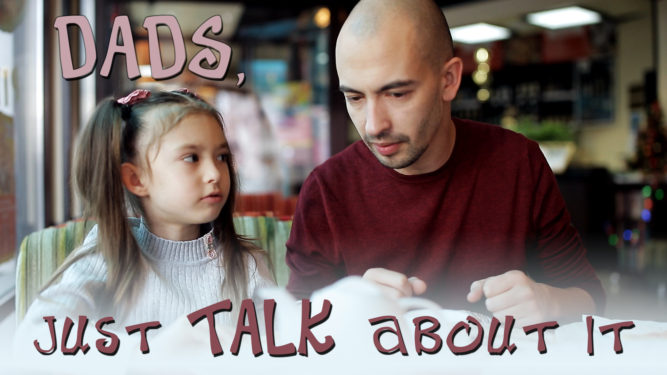 I was listening to a podcast discussing PARENTING & SEX TALK and had some thoughts/opinions.
1. If someone in your house is having a baby, there's no reason for ANYONE in the house NOT TO KNOW/UNDERSTAND how babies are formed/born. Penis. Vagina. Boom, you're done. They can handle it.
2. If your daughter is in school, just go ahead and start talking about periods. It's the definition of no big deal….. that is until your daughter experiences it without having any idea what's coming. And the excuse of "Well the school will teach her…" is garbage. You should have done it already. Ugh. DADS ESPECIALLY –> get on board! It's the RED LINE. It runs pretty regular every month. Grab a seat, or stand and hold the handrail. Either way, get comfortable and talk to your little girl about it. EARLY. PRE-departure.
3. Frank talk does not mean gratuitous. You can hold on to your religion and still talk about sex freely. They are not mutually exclusive. You want your son or daughter to tell you if someone approaches them or makes inappropriate advances? How the heck do you think they'll have the courage to discuss such a dramatic, (possibly traumatic) thing, if you can't utter the word LABIA without doing the sign of the cross and passing out?
4. The internet exists. No matter what controls or blocks you've put on it, I GUARANTEE they have a friend on the bus, home group, or church WITHOUT those same barriers, morals, instructions, or threats of death/violence and WILL HAPPILY SHOW YOUR CHERUB EXACTLY WHAT YOU WILL NOT. This is assuming you're right about your perfect child not looking it up themselves. (you're not by the way)
---
Christian Lee
Christian has had many roles in life. He's been a minister's son, a poor student, a computer geek, a bible college dropout, a corporate suit, a traveling comedian, and a failure at much he's tried. But he counts two huge successes in his life. He is husband to a wonderful wife, and father of two exceptional kids he wanted, a third 'surprise baby', and a In 2015, they met yet another surprise, as their fourth (and prayerfully last) child defeated birth control with her sheer will to exist.
Christian hosts a daily web series, the 'After School Show' and the 'What Are We Watching?' podcast with his son Carlin, as well as, DadSews, where he learns (and fails) to sew LIVE on camera.
---
Comments
comments