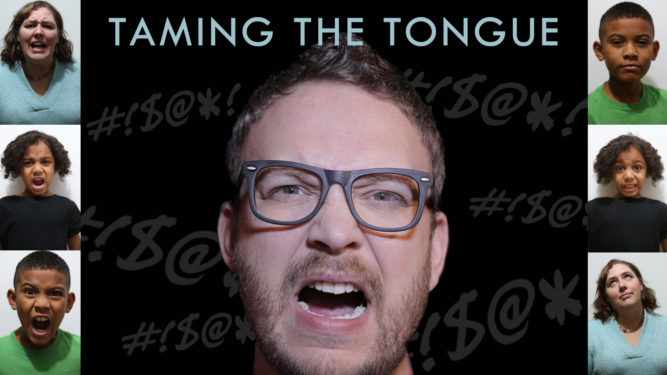 I have nothing against 'swear words'. They're called 'adult words' in my house. Like alcohol, driving, and g-strings, they're meant for a ripened, discerning mind.
Growing up in church, I recognized 'bless your heart' and 'she's special' for what they were "F-U!" As a comic, who's open to language for what it is, (a means for relaying thought), I've always felt people need to place their reaction upon the INTENTION of the words, and less on the social stigma.
THAT SAID…. I was doing really well watching my 'verbal carnality' when we first adopted the kids, and have slid right down into the shallow waters that some refer to as 'gutter talk'. Mainly, the F word championed by celebrity chefs screaming about greasy air handlers.
What pushed me over the cliff of reason was a moment, earlier this week, when I dropped a very strong "WHAT THE F___?!?!?!" at a driver, (clearly in the wrong), and from her car seat, three year old Alexi, not only repeated it, but rolled it around in her mouth slowly a few times, cementing it in her (A)lexicon. I recognized IMMEDIATELY the storing of information, much like I will do watching UK television, tickled by a certain turn of phrase.
Look, you won't sell me on the spirituality of not cursing. To CURSE someone had much deeper meaning, and frankly, apart from my children's gypsy birth family, it's rarely performed properly, or with much gusto. Using coarse language (depending on your current favorite translation), sure, you have a solid base to argue with me.
MOTIVE. MOTIVATION. INTENT. YOUR HEART.
That's where I'm losing the battle. It's anger. Or flippancy. Or just lazy speech, if I'm to be honest with myself.
The fact of the matter is, 'swear words' aren't that uncommon or gauche in today's western world, but there's still a significant portion of our peers that see them as insulting, vulgar… or just a sign of one's stupidity when it comes to the King's speech.
I want my children to be perceived as kind, loving, and yes, smart. Even the one kid we're discovering may not be that bright. (NO, I'm not telling you which child. Three outta four ain't so bad.)
So from now on, it's "zoinks!", "bananas!", "blimey!", "malarkey!", "what the cuss?!", "Wolfgang Puck!", etc.
Even though we all know what I'm really saying is "FUCK!"
---
Christian Lee
Christian has had many roles in life. He's been a minister's son, a poor student, a computer geek, a bible college dropout, a corporate suit, a traveling comedian, and a failure at much he's tried. But he counts two huge successes in his life. He is husband to a wonderful wife, and father of two exceptional kids he wanted, a third 'surprise baby', and a In 2015, they met yet another surprise, as their fourth (and prayerfully last) child defeated birth control with her sheer will to exist.
Christian hosts a daily web series, the 'After School Show' and the  'What Are We Watching?' podcast with his son Carlin, as well as, DadSews, where he learns (and fails) to sew LIVE on camera.
Comments
comments