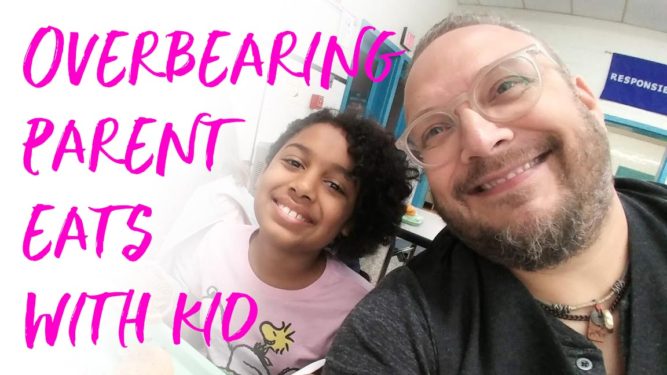 I read two articles recently where the author was chastising parents for popping in at school to have lunch with their kids.
"The grade-school lunchroom has long acted as a microcosm of social life. It's where kids choose whom to sit with, develop friendships, and resolve conflicts. And lunch is one of the few less-supervised periods in most kids' school days. Over the past several years, however, some school cafeterias have become invaded by a new group: parents." I'd link to the article if it wasn't so absurd. Feel free to copy/paste and Google it.
I try to have lunch with each of my kids (aged 5, 10, & 12) at least once a school year. So, ONE in 180 days, I will INVADE my son or daughter's personal life and eat REALLY MUNDANE food with them. (I remember my school food to be great, but we didn't have wheat buns that tasted like U-Haul boxes.)
Now, you might read the following and think, "Oh… he thinks he's the 'COOL' dad." No, I don't. I know and loathe 'cool dad' as well. I DO however choose to sit at the table and engage with the other kids.
My oldest son's school, for example, has a special table they can eat at with their parent, segregated away from everyone else. My son was SO excited he'd get to sit at that table, because they're elevated, and considered a 'prize'.
No Dude. I didn't come visit you at YOUR place, just to be cordoned off like we're at some crappy restaurant where all the meal choices are "no thanks, I'm good".
I want to meet friends that don't come by the house. I want to see if they hate the same teachers you do. I'm there to interact and see (even though it's tainted by my presences) YOUR interactions with your friends. Not in a creepy or over-protective way, just to get a feel of your day and life.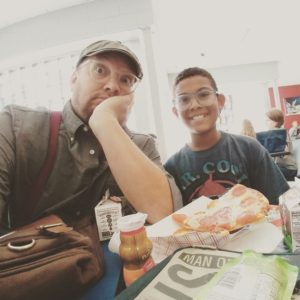 Now, all that said, I do KILL at these lunches. This is where years of standing on a stage and gauging crowds to see where you can go with them comes into play. And yes, I know 'cool dad' is creeping in your assumptions again. I get it. I do crave a laugh like a heroin addict craves a fresh hit. #Guilty.
I think it's important to know what the lexicon is at your child's age. What they think is funny. What they're watching, playing, etc. I joke around with them. I point out flaws in the system they're locked into. I agree that it's pure B.S. (in more parental terms) that there's a pseudo prison warden barking at them constantly keeping 'order'. (Seriously, the place already looks like a prison cafeteria, you have to lean on them the ENTIRE time they're eating?!? Come on man – THEY'RE 12!)
I joke around and act silly, but I'll also point out when one of them is acting like a douchebag. I'm a Dad after all, and I'm PRO rules.
I'm NOT, however, a helicopter parent. I know I can't control everything they see, hear, or do. I'm constantly telling me wife she's offer-protective and we should let him venture past our neighborhood to friend's houses on his bike. I've sent him to the 7-11 for milk and said, "If anyone questions you being out alone, tell 'em to mind their own business…..umm politely."
Look, should you be having lunch with your kid at school every day? No, that's lunacy. I'd even venture that once a month is too much, unless you're some sort of class helper parent (I have my own opinions on that as well). But once or twice a year? It's a great opportunity to meet your child at THEIR level and (if they haven't asked you to stop coming) a chance for you to let them know they're IMPORTANT to you.
….BTW, I've totally told me kid at the dinner table, "Kid A is an @$$hole, Kid B is cool, Kid C seems fun and interested in things you like." Guess I do get helicoptery every once in a while. #Whatevs
---
Christian Lee
Christian has had many roles in life. He's been a minister's son, a poor student, a computer geek, a bible college dropout, a corporate suit, a traveling comedian, and a failure at much he's tried. But he counts two huge successes in his life. He is husband to a wonderful wife, and father of two exceptional kids he wanted, a third 'surprise baby', and a In 2015, they met yet another surprise, as their fourth (and prayerfully last) child defeated birth control with her sheer will to exist.
Christian hosts a daily web series, the 'After School Show' and the  'What Are We Watching?' podcast with his son Carlin, as well as, DadSews, where he learns (and fails) to sew LIVE on camera.
---
---
Comments
comments