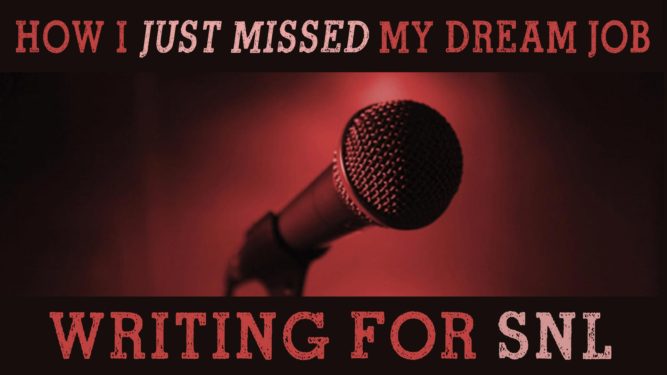 Last week I talked to a guy (27ish) who told me his dream job is to write for Saturday Night Live.
Me: Awesome man. where do you do up?
Him: Huh? What does that mean?
Me: What clubs do you perform at? Do you work new stuff on open mics?
Him: Oh, I have never done stand-up. I thought about it. I have SO many funny scenarios.
Me: Oh, that's cool, you do improv?
Him: Oh no. I'm not interested in improv.
Me: Oh. Well, you know 75% of SNL are improv performers. The rest are comics.
Him: Yeah, but I just wanna write funny stuff for them.
Me: So you at least have a youtube channel where you get your ideas out, or maybe a book or two.
Him: Nope
Me: Good luck man.
I could have ended the conversation there, but I decided to circle back. I mean, I'm 99.9% sure this will never go anywhere, but who knows.
So instead of laughing in his face, I described how at one point I had an 8-5 job and did open mics 4-5 nights a week (in a Zero market), drove out of town for ANY gig, did a 72 hour drive across country to a comedy festival in 70 hours (plus show time), flew out to LA for a TV spot at the Ice House that didn't cover my trip and squeezed as many mics in while I was there, the weekend I did comedy in 4 states from Va to CA, to MA, to PA.
I told him I gave up going to mics each night when we adopted, but kept going with charity gigs, youtube videos, writing on various blogs, podcasts, etc.
I finished by saying, "I know an open mic this week, friends with the guy that runs it, and I'll make sure you get on."
Him: Well I don't have anything ready.
Me: It doesn't matter, you just have to go up.
Him: But….
Me: No buts. You just have to go up.
I haven't heard from him since.
---
Christian Lee
Christian has had many roles in life. He's been a minister's son, a poor student, a computer geek, a bible college dropout, a corporate suit, a traveling comedian, and a failure at much he's tried. But he counts two huge successes in his life. He is husband to a wonderful wife, and father of two exceptional kids he wanted, a third 'surprise baby', and a In 2015, they met yet another surprise, as their fourth (and prayerfully last) child defeated birth control with her sheer will to exist.
Christian hosts a daily web series, the 'After School Show' and the 'What Are We Watching?' podcast with his son Carlin, as well as, DadSews, where he learns (and fails) to sew LIVE on camera.
---
---
Comments
comments