There's a lot said nowadays about getting your kids outside and breaking their addictions to games, TVs, phones…. anything with a screen. I'm gonna be honest, my kid's aren't really addicted. Well…. not yet. When we introduced electronics into their life, we set limits right off the top, so hopefully they wouldn't become junkies, or at least it would take a bit longer to reach that much-needed rehab.
Now, this isn't me preaching about being a better parent, or having all the answers. If you've read anything I wrote, you know it's a constant struggle to keep my head above water in this thing we call "dadding".
To be honest, I WANT my kids to be addicted – I just to different things. Camping for one.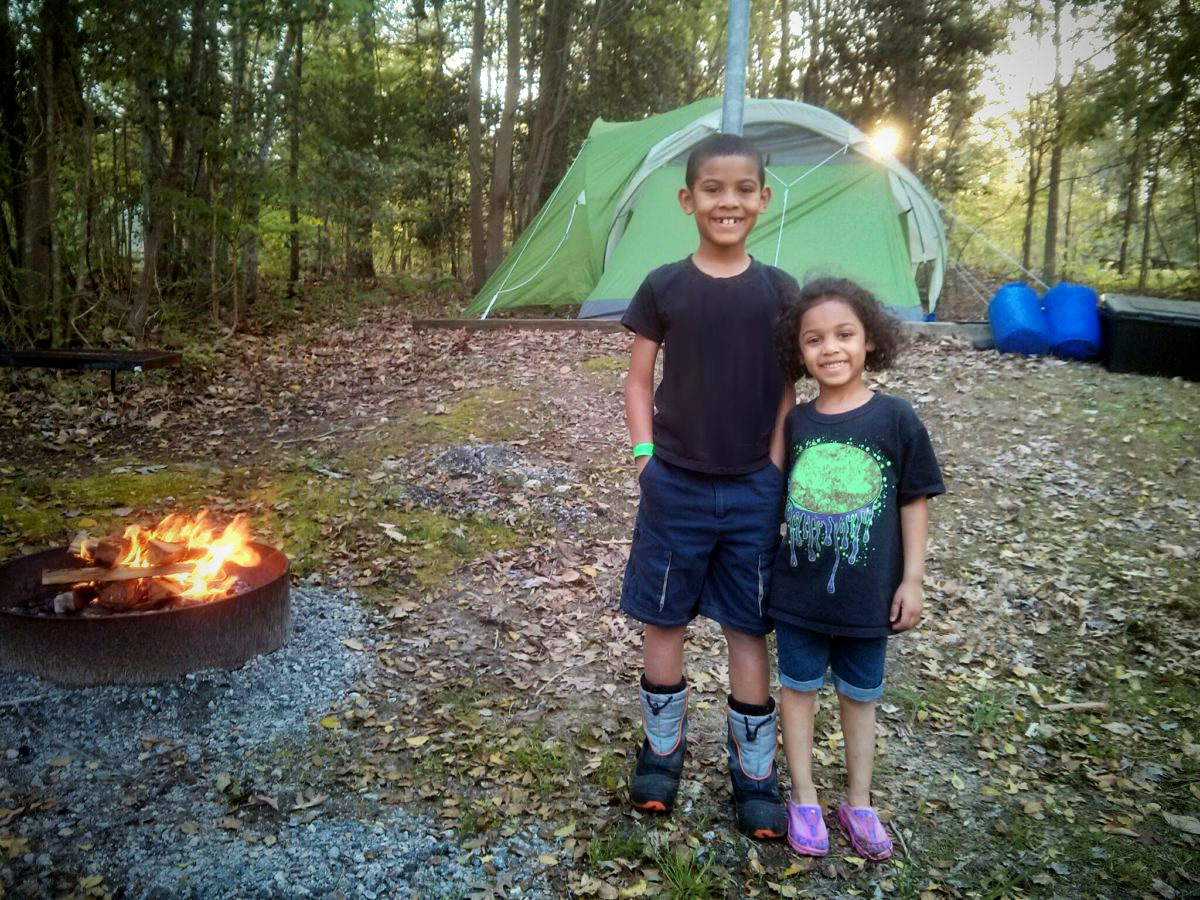 YOU COULD WIN A TRIP FOR 5 TO THE JELLYSTONE PARK OF YOUR CHOICE!!: http://campjellystone.com/2018Sweepstakes
"Christian, is this just some sponsored post? You shilling for some company to get a free camping equipment or some sort of new super-carbon-fiber-never-break-tent-poles? We're on to you!!" You got me. It's definitely a sponsored post, but as always, it's something I'm proud to champion and would happily do otherwise.
You see, when we adopted the kids, one of the first things we did was go camping and that time we got all our camping equipment from Survival Cooking. We didn't go hardcore enough to venture into some deep woods in the middle of nowhere with no electronics and only a map to guide us. I know a few people that really like to go on a full survival-style trek and make their own fires, pitch a tent in the pouring rain and happily go without any prepared meals beforehand, meaning they require an MRE or emergency ration as some true survivalists do. Anyway, the trip will always share a special place in my heart. When you didn't have 10 months of pre-birth bonding, or the first years of them learning every life skill from you, one-on-one time is crucial. CAMPING TO THE RESCUE!!
You can't get more bonding moments than being in the middle of nowhere, just your wits and some simple tools, a tent and nothing with cords or a glowing face. Well, unless you count shining a flashlight under your chin and telling (not so) spooky ghost stories.
Now, you're not "one with nature" when you camp. That's just a line city folk use to describe escaping the madness of day-to-day life and breathing fresh air. No, we're interlopers out in the woods. We're blessed to be among the trees and soak in the beauty of these majestic elders. If you're lucky enough to go with a friend, or even better your children, you now have the building blocks for cementing future memories. Cornerstones in their subconscious. It's not overly poetic to see this as the foundation they will build their character upon.
Dirty hands. Quiet until your hear a fish tail flap in the water. Clear skies with stars that scream out, "LOOK AND ADMIRE MY WONDER!!!" These are the nights you'll remember forever, and hopefully so will they. Fondly. Affectionately. LONGINGLY.
Just remember, before embarking on any camping trips it is vital that you stock up on all the essential camping, hiking, and fishing equipment! Websites such as www.outdoorcommand.com are an excellent resource as they contain news and reviews relating to all the latest outdoor products.
MY ULTIMATE CAMPING HACK:
If Tom Hanks has taught us anything, it's that if you're nice and have a volley ball for a best friend, people will adore you for a lifetime. He also taught us that FIRE is a must-have when out-of-doors.
Multiple seasons of viewing 'Naked and Afraid' have driven this fact home for me, so I say this to you, dear reader: "Clean your Dryer!"
"What?"
Clean your dryer. You know, the lint trap? Clean it. Then grab that ball of fuzzy wonder and store it in a bag. Why is it a wonder? Well, it turns out LINT is the perfect tinder. Don't believe me? Why do you think they tell you to clean out the dryer tube periodically? You do that right….RIGHT?? It's because it's flammable. Yep, so keep your house fire free, while packing away enough for camping. Keep adding until you have a shopping bags worth. Come spring, you'll have enough lint to keep marshmallow nights fueled until the winter season comes round again.
HERE's ANOther tip:
You can make a hammock from a ripped tent or ripstock fabric – it's the stuff parachutes are made from, this is only if you for your rectangular sleeping bag. Here's a 2-part tutorial on how to do it:
YOU COULD WIN A TRIP FOR 5 TO THE JELLYSTONE PARK OF YOUR CHOICE!!: http://CampJellystone.com/2018Sweepstakes
Jellystone website: https://www.campjellystone.com/
Jellystone Facebook: https://www.facebook.com/campjellystone
Jellystone Twitter: https://twitter.com/campjellystone
Jellystone Instagram: https://www.instagram.com/campjellystone

---
Christian Lee
Christian has had many roles in life. He's been a minister's son, a poor student, a computer geek, a bible college dropout, a corporate suit, a traveling comedian, and a failure at much he's tried. But he counts two huge successes in his life. He is husband to a wonderful wife, and father of two exceptional kids he wanted, a third 'surprise baby', and a In 2015, they met yet another surprise, as their fourth (and prayerfully last) child defeated birth control with her sheer will to exist.
Christian hosts a daily web series, the 'After School Show' and the 'What Are We Watching?' podcast with his son Carlin, as well as, DadSews, where he learns (and fails) to sew LIVE on camera.
---
---
Comments
comments