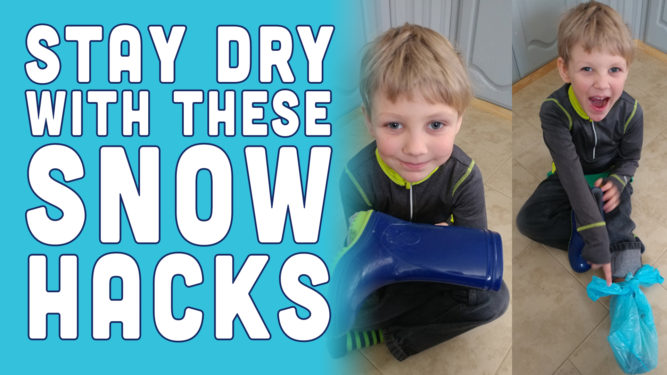 "But It Only Snows Once a year"
We get it. You live in an area of the country that only gets snow once or twice a year if you're lucky (depending on how you view lucky).
If you aren't used to snow then you won't be very prepared for when it does come. From frozen water pipes to having to shovel all day, some of us really just don't know where to start, or how to go about sorting snow-related problems safely. One of my friends ended up hurting her back while shovelling snow from her driveway and then later slipped on snow covering black ice. She ended up having to go to physiotherapy for her back pain! You may be asking what is physiotherapy treatment business and why did she need it if she only hurt it by shovelling snow? But she had serious back pain and it ended up helping her massively.
This just goes to show how being unprepared for snow can be a serious business. Your kids want to go out and play in that beautiful white powder, but you know they don't have proper snow gloves, boots, or thermal gear. They are envisioning snow angels, epic snowball fights, and building their own OLAF. YOU are envisioning, crying, soaked clothes, and low level frostbite.
Rest assured, we have the Snow Play Hacks YOU need to bundle your angels up, so laying in the snow is more fun than frigid.
Below you will find a BUY version and a HACK version.
WE don't have snow gloves
If anyone tells you there's no difference in gloves for snow, gloves for warmth, and gloves for work – they're ignorant. There are definitely differences to each group of gloves. Some can tolerate water, some can't. Some keep you warm, while some prevent calluses from forming. If you DO have time to purchase gloves (and space to store them throughout the year), we recommend these: KIDS 4-5 | KIDS 10-12
If you just want something to keep your tot's fingertips toasty, just pop on cloth gloves (say from Dollar Tree) and then cover in a pair or two of rubber/nitrate gloves over top.
Sure, they may be a little loose if you don't have a size small, but they will keep them nice and dry. Plus, being larger, they will slide up over their sleeves and keep snow out.
WE DON't have long johns or thermals
Hey, thermal underwear has come a LONG WAY since the early days, and if you want to stow away a pair, we recommend these: KIDS | ADULTS
If you don't have any high-tech woven super suits, worry not, because you have perfectly usable undergarment in the kid's drawers. Go grab a pair of pajamas and put them on BEFORE you bundle them tightly in a long sleeve shirt and coat. Honestly, my kids have so many pairs of comfy pajamas. Last Christmas I even bought us all matching onesies! It can be so fun to match your child's pajamas. Plus, onesies are so comfy, especially during the winter when the temperature starts to drop! Anyway, jeans work fine for snow, but will eventually get wet. BONUS POINTS if you have a pair of waterproof jogging/gym pants to throw on over the denim for THREE layers of protection.
winter Boots. They ummm…. cost a lot!
I hear ya. I feel ya. A good pair will last you though, and you can use guides (like https://altitude-blog.com/en/winter-boot-guide-how-to-choose-winter-boots/) to find the right pair for you. Still, if not for grandparents that buy them new shoes, all of ours would be wearing re-treads. If you are going to buy a pair, here's what we recommend for ADULTS. They have a style that will never go out, and they're great for rainy, chilly weather throughout the year.
Here's the thing, Wal-Mart, Dollar Tree, Target, etc – they ALL sell kid's rain boots at a VERY reasonable price. Bundle them together with the thermal tip above and you will already have half the battle won. Mix it with this final hack and you'll have toasty, and most importantly DRY feet.
Simply grab a plastic bag from the grocery store (if your store has white and blue bags, the blue are meant for frozen foods and are sometimes STRONGER) and simply wrap up those footsie wootsies before you slide them in the boot. If your feet are prone to sweating, it might get humid down there, but our goal is to keep out the cold and keep the heat in.
Well, we hope you enjoyed these 'mostly warm with rare incidents of cold weather' tips. Did they help your kids enjoy the snow? Do you have some tips to share? just leave them in the comments below.
Don't for get to SHARE with your friends. If you SHARE this on Facebook or Twitter and tag @PlaidDadBlog, you will be entered to win a pair of WINTER boots from Amazon.com.
All links to products DO contain affiliate links. The pennies made from links like these add up and help us maintain the site. Thanks for supporting PlaidDadBlog!
---
Christian Lee
Christian has had many roles in life. He's been a minister's son, a poor student, a computer geek, a bible college dropout, a corporate suit, a traveling comedian, and a failure at much he's tried. But he counts 2 huge successes in his life. He is husband to a wonderful wife, and father of two exceptional kids he wanted, a third 'surprise baby', and a In 2015, they met yet another surprise, as their fourth (and prayerfully last) child defeated birth control with her sheer will to exist. Having just missed Aaron in college by a few years, they connected online, finding they had a similar sense of humor [read: DARK] and decided to launch PlaidDadBlog. Christian hosts the 'What Are We Watching?' podcast with his son Carlin, and just launched a new web series, DadSews, where he learns (and fails) to sew LIVE on camera. Check out the new After School Show, Mon-Thurs 6:30p EST.
---
---
Comments
comments