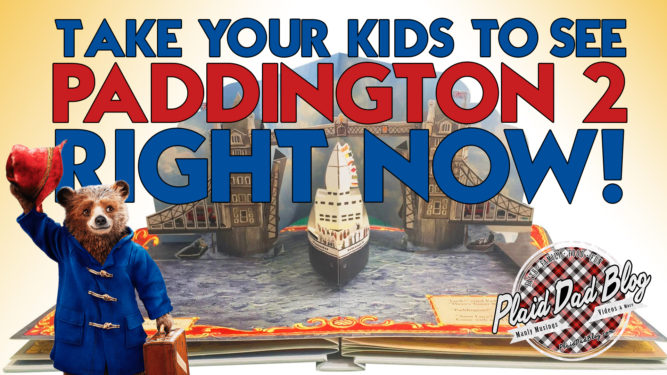 Let me get this out of the way, I did NOT get paid to see and review 'Paddington 2'. I was not given the red carpet treatment as I have for some movies. I was not even given free tickets. I took our kids to see P2 because we enjoyed the first movie, and I thought it would be a great way to spend a Saturday morning.
Now, let me get this out of the way. I believe the first 'Paddington' movie was beautifully well done, and the message that permeates the story was warm and loving. That said… Nichole Kidman could freak a kid out. Seriously. My daughter was NOT a fan of the 'bad guy' in that flick, and they painted her with a DARK brush. Still, I found it to be a great movie.
The sequel however, lightens up just a bit on the main villain by sprinkling it's dark dust on many characters through-out; some that even become Paddington's pals. [No Spoilers Here. Everything I Speak Of Is Shown In The Ads Or Film Description] The prison is never scary. The 'big bad', played expertly by Hugh Grant, is menacing without being frightening. Everything is painted with a perfectly colorful brush.
Which leads me to why I urge you to take your children to see it….
It's beautiful. The Pop-Up book scene alone is breathtaking. It will give you the feeling of being immersed in the story, as you watch the characters explore each page. The flashback and daydream scenes are hand drawn masterpieces, each a different artistic style, seamlessly flowing from one to the next.
The cinematography is pure genius as well. This is a kids' movie that could have been made by Wes Anderson, with all of his style and wit, but none of the pretentiousness. The beauty in every shot lends one to believe Paddington may just step into 'The Grand Budapest Hotel', doff his cap, bow, and offer to wash their windows. It's truly a site to behold.
I immediately checked to see if the Pop-Up book in question could be purchased, and thank the stars, it's available from good and faithful Amazon.com HERE. I couldn't hit 'Add to Cart' fast enough.
Even if you don't like the story (which you will). Even if you have a hard time with English accents (c'mon…. it's our mother tongue). Even if you don't like to watch kids' movies, this is one your family needs to see. If for no other reason than we do NOT get to experience art like this very often. We're crammed with cookie cutter stories, repetitive computer animation, movies pushing toy line after toy line. This is BEAUTY to behold and share with your little ones.
Not to mention, as an advocate for adoption, the story itself is one of inclusion and love that we ALL need to hear every now and again.
---
Christian Lee
Christian has had many roles in life. He's been a minister's son, a poor student, a computer geek, a bible college dropout, a corporate suit, a traveling comedian, and a failure at much he's tried. But he counts 2 huge successes in his life. He is husband to a wonderful wife, and father of two exceptional kids he wanted, a third 'surprise baby', and a In 2015, they met yet another surprise, as their fourth (and prayerfully last) child defeated birth control with her sheer will to exist. Having just missed Aaron in college by a few years, they connected online, finding they had a similar sense of humor [read: DARK] and decided to launch PlaidDadBlog. Christian hosts the 'What Are We Watching?' podcast with his son Carlin, and just launched a new web series, DadSews, where he learns (an fails) to sew LIVE on camera. Check out the new After School Show, Mon-Thurs 6:30p EST.
---
---
PlaidDadBlog uses Affiliate links – thanks you for supporting our website and mission by purchasing with our links.
Comments
comments