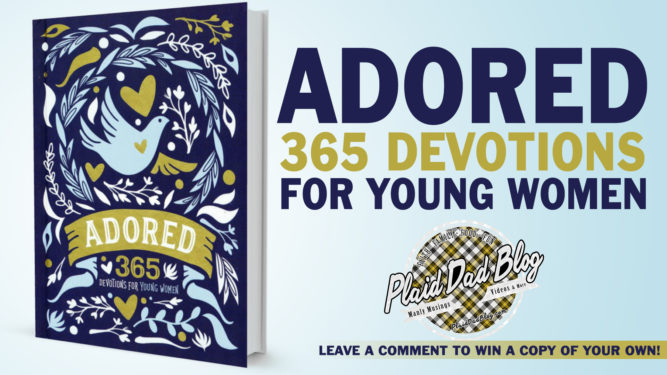 LEAVE A COMMENT BELOW ON WHY YOU'D LIKE A COPY AND YOU'LL BE ENTERED TO WIN ONE OF YOUR VERY OWN!
I was hoping to use this book with my daughter who is nine years old. While I was able to discuss some of the devotions independently, it really is geared towards the 13+ age range.
The devotions are short and can be done quickly. They mention scenarios that young women can relate to without really diving into the subject matter. It would be nice to offer solutions instead of speaking in such generalities. For example one of the devotions states, "It's not always a bad thing to fit in with the crowd. But what about conforming when it would compromise who you are or, worse, your beliefs? That's a no-go." Most teenagers have heard this from parents, teachers, pastors, fellow Christians etc. so this is nothing new but telling them HOW they might do that would be a million times more beneficial.
In this day and age of pressure on our kids, girls especially, to look or act a certain way I am thrilled that this book reminds them frequently that they are God's most precious creation and He loves them just as they are regardless of anything the world may tell them. If that is the only thing your young lady takes away from this book that alone would be enough!
If your daughter is into journaling you will want to purchase a separate notebook to do so. While it includes some space there are only 4 lines at the bottom of each page regardless of how short or long the devotion for that day. I appreciate that a Bible verse is included at the beginning of each devotion, it is important to start with the Word of God. I do wish there were more verses included within the devotions themselves or additional verses to show context of the quoted verse. I think this is definitely written to girls who have already made a profession of faith. I likened this book to an Our Daily Bread booklet for a younger generation. If that is what you are looking for by all means this is it! I would suggest doing these devotions with your girls, if they are open to it, to generate conversation and a deeper meaning within the text and scope of the Bible.
About the 365-day devotional:
Each day features an easy-to- read, relevant devotion paired with a scripture verse and journaling space to help readers reflect on the day's message. The book tackles tough topics girls face, from bullying and social media to friendships and dating, all the while showing readers how infinitely precious they are in God's sight.
There is no specific author. It will be listed as Zondervan $14.99, Hardcover, BUY THIS BOOK
---
Christian Lee
Christian has had many roles in life. He's been a minister's son, a poor student, a computer geek, a bible college dropout, a corporate suit, a traveling comedian, and a failure at much he's tried. But he counts 2 huge successes in his life. He is husband to a wonderful wife, and father of two exceptional kids he wanted, a third 'surprise baby', and a In 2015, they met yet another surprise, as their fourth (and prayerfully last) child defeated birth control with her sheer will to exist. Having just missed Aaron in college by a few years, they connected online, finding they had a similar sense of humor [read: DARK] and decided to launch PlaidDadBlog. Christian hosts the 'What Are We Watching?' podcast with his son Carlin, and just launched a new web series, DadSews, where he learns (an fails) to sew LIVE on camera. Check out the new After School Show, Mon-Thurs 6:30p EST.
---
Comments
comments