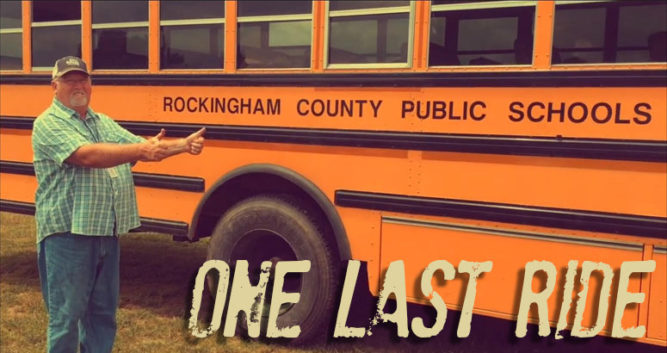 Yesterday afternoon, familiar red lights blinked, alternating left and right. A stop sign appeared and a long yellow metal arm swung into the street. A door swung open. A child stepped down, turned left and went around that arm, looked both ways, and crossed the street. The door closed, the arm swung back into position, the stop sign returned to its former position, and the lights ceased to blink.
And a forty-five year career came to a satisfying end. I sometimes don't think people bus drivers get enough credit for the service they provide each and every day. The job is by no means safe either. If you take a look at https://www.gjel.com/bus-accident-lawyers, you will see that accidents involving buses are regular occurrences.
My father spent his entire adult life driving the school bus for Rockingham County public schools. Rockingham County is nestled in the central Shenandoah Valley of Virginia. It's there that Stonewall Jackson led Confederate troops to two decisive victories over Union forces in the summer of 1862. Just over the Blue Ridge mountains to the east, Thomas Jefferson's Monticello overlooks Charlottesville. And here, my father picked up and dropped off thousands of children on his bus.
For years, he drove for the high school. When my sister and I were old enough to go to school, he switched to bussing the elementary schoolers. He switched again when we transitioned to middle school, and drove the high schoolers again when we made it there. When we started driving ourselves, he went back to the elementary route.
Over the years, he collected stories. There was the time when he called his new boss a SOB. When he shot my father a look, he smiled and said, "You know–Superintendent of Buses." They shared a good laugh. Years later, when that transportation supervisor retired, he reminded my father that he was the only person ever to call him a SOB and get away with it. There were kids who rode his bus, growing up and having kids of their own who rode his bus, who then grew up and had kids who rode his bus. There were times when he had to dish out some tough love to kids who couldn't seem to behave themselves on Mr. Saufley's bus. There was compassion, especially for a child that no other driver would pick up. The county had to send a car out to take this child to school. My dad offered to take this kid to school. He was the only child with an assigned seat. He rode my father's bus until he finished school. And they became lifelong friends–this person still comes to my father for advice all these years later.
On his last day, toward the end of his morning run, he was met by two town police cars. They stopped him and asked if he knew what was going on. My father did not, and they informed him that a bus driver was retiring and was getting a police escort to the school. He was met by the entire staff and faculty of the school, who were waiting to offer him a well-deserved thank you for his years of service. Later that day, after he stepped off the bus for the last time, they threw him a big surprise party. We initially thought about hiring something similar to Dream Limousines, Inc (a party bus that he wouldn't have to drive!) but decided to opt for something a little more low-key in the end.
Thousands of people in southern Rockingham County know Mr. Saufley, the bus driver who greeted them with a smile, gave out chewing gum and suckers at Christmas, and even tolerated a mini-rebellion on the bus when a particularly brash high schooler didn't like a rule my dad made, so he played Beastie Boys' "(You Gotta) Fight for Your Right (to Party)." That guy got his five minutes of attention and was promptly disciplined. And, you guessed it, years later that former student thanked my dad for his tough love.
So congrats, Dad, on a successful and satisfying career. Rockingham County, VA is losing a legend. I can only hope your grandkids are half as proud of me when I retire as I am of you today.
---
AARON SAUFLEY
Aaron Saufley, author of 'The Jumbo Shrimp Gospel' and 'Deep Roots', is a husband and dad who happens to moonlight as a hospice chaplain. He thinks Netflix is the greatest human invention next to pizza. He loves hanging out with his family, and when he has the time he also enjoys writing, a good cigar, craft root beer, smoking a mean rack of baby backs, movies, and trying not to die while running. Follow Aaron on Twitter.
---
---
Comments
comments