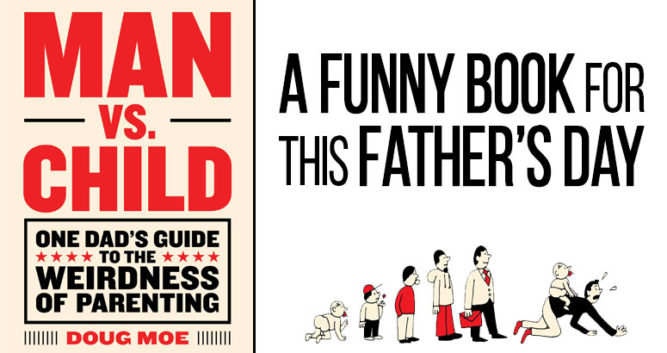 To say I'm jealous of Doug Moe would be the understatement of the century.
I traveled for years as a comic before adopting my kids, and deciding to hang up my owl wings. In all of that time, I merely brushed elbows with some of the greats. Just look at the back of this book and run through a list of friends and colleagues Mr. Moe has on call: Amy Poehler, Michael Showalter, Bobby Moyniham, Rob Corddry, and Rob Huebel. This is a list of the modern greats of comedy. I'm already working on catfishing Doug and getting connected with the best facial reconstruction doc in town.
Now that my blatant bias is out of the way, working with these comic geniuses at venues like UCB, and holding his own, means ipso-facto (thanks for the law lesson Sam Waterson) Doug Moe is funny. This is even more obvious as you begin to flip through his book.
Written almost as a field guide through parenting, the pages within hold anecdotes, humorous musings, and kernels of wisdom you won't get from reading the typical How-To on parenting. These are witty insights that had me not only giggling, but nodding my head in agreement. For instance, check out his take on Grandparents:
You've laid out a careful lesson plan and then when you leave the room, they're like, "All right, everybody, I'm going to take a nap. Open reading period." Grandparents are just one of many groups of irresponsible grown-ups who will take charge of your children….. Grandparents are a combination of basically everything that would disqualify a normal babysitter.
Truer words have never been spoken. Doug also points out, "they are the only people who love your child as much as you, so be kind to these wonderful people".
There's plenty more of these nuggets throughout the Man VS Child. The wonderful thing about a great comic mind is that they draw connections between two things that you've never put together, (like substitute teachers and grandparents),but upon hearing it, you immediately say "AHHHH… you're right. That's right. Perfect."
Years of not only playing at the UCB Improv, but teaching classes, have sharpened Doug's wit to a fine cutting point. You can do MUCH worse when perusing the glut of parenting books than picking up Man VS Child. Trust me, I've read some real book burners – these weren't page burners by the way, they were s'mores fuel.
Get your copy today on Amazon, or better yet, buy one, two, or three for the Dads in your life. They'll appreciate it, and you can graduate from the list of unimaginative folks that give the same socks and ties every year. However I am quite keen to try some photo socks next year, I think they're such a cool idea and something a little different.
---
---
CHRISTIAN LEE
Christian has had many roles in life. He's been a minister's son, a poor student, a computer geek, a bible college dropout, a corporate suit, a traveling comedian, and a failure at much he's tried. But he counts 2 huge successes in his life. He is husband to a wonderful wife, and father of two exceptional kids he wanted, a third 'surprise baby', and a In 2015, they met yet another surprise, as their fourth (and prayerfully last) child defeated birth control with her sheer will to exist. Having just missed Aaron in college by a few years, they connected online, finding they had a similar sense of humor [read: DARK] and decided to launch PlaidDadBlog. Christian hosts the 'What Are We Watching?' podcast with his son Carlin, and just launched a new web series, DadSews, where he learns (an fails) to sew LIVE on camera.
---
---
Comments
comments