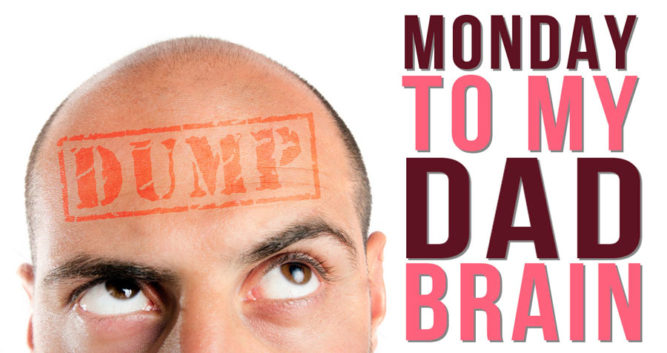 Every once in awhile, the brain gets full and needs to be emptied. For the plaid dads, the Monday Mind Dump is where it happens. In no particular order, here's what's on Aaron's mind:
I recently got nine hours of sleep with one very brief interruption from my oldest boy. I normally get around five oft-interrupted hours of sleep. My body didn't know what to do the next day. So it decided to be worn out. There's no need for my body to be so confused by a good night's sleep, surely! Perhaps I should contact an expert sleep consultant, like Huckleberry, to get me and my children a good sleep routine, for a full nights sleep every night!
Watching your kids' faith mature is fascinating.
Regardless of whether or not you're religious, you need to talk with your kids about your faith or lack thereof.
My baby girl loves gymnastics. She's been working so hard on her split. Watching her just makes my groin muscles hurt.
Conversations on racial injustice and reconciliation are incredibly tough but desperately needed. We had one in our house church yesterday, and my children were a part of it. I don't care if you want to admit it or not–white privilege is real. White people, we must acknowledge the sins of our ancestors and actively love those around us who look different than we do–listening to their experiences and working toward, not a colorblind future, but a unified future.
It's pretty bad when the new season of "House of Cards" looks tame compared to the current political reality.
I haven't been to the gym in a week and a half. I'm considering changing my name to Fatty McFattyfat.
Our new couches came this week. My eldest boy has claimed his spot. He loves to recline and watch TV. Just like his old man. He often tells me, "Come lay down, daddy."
We love the beach. We went on Saturday to Nags Head, NC. There's nothing like sitting with your feet in the sand with a cold drink just staring at the surf all day.
My kids love the beach almost as much as I do. My eldest boy played hard–for six straight hours, he ran into the water and out. My youngest girls did the same. My youngest boy just chilled for most of the day.
Took my boys to my neighbor to get their hair cut. We chopped it close for the summer. My baby boy looks so grown up. My eldest boy is just scared of the clippers.
Apparently, when your son tells you he wants milk and he proceeds to watch you pour milk into his cup, it's perfectly appropriate for him to lose his mind, crap his pants, and scream he wanted juice.
OK, he didn't crap his pants. But one time, he did get so mad that he crapped his pants. It was hilarious. Until I had to change him. That diaper was angry.
Six weeks until vacation. It's the best week of the year.
Until then, it's business as usual. Worky work work…
I'm glad I have a job that I love. It often doesn't feel like work.
My co-workers and I are pretty sure we're going to hell. We have a dark sense of humor.
My wife and I are just under two months shy of our nineteenth anniversary. We're trying to decide on where to go for our twentieth. It's either going to be the Florida Keys… or Graceland.
It's late. I gotta go watch some "House of Cards" before hitting the sack.
---
AARON SAUFLEY
Aaron Saufley, author of 'The Jumbo Shrimp Gospel' and 'Deep Roots', is a husband and dad who happens to moonlight as a hospice chaplain. He thinks Netflix is the greatest human invention next to pizza. He loves hanging out with his family, and when he has the time he also enjoys writing, a good cigar, craft root beer, smoking a mean rack of baby backs, movies, and trying not to die while running. Follow Aaron on Twitter.
---
---
Comments
comments