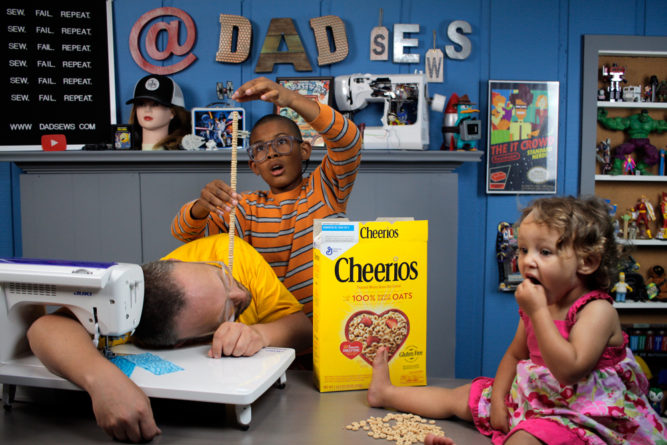 When I was asked to be part of this year's #CheeriosChallenge, I was excited to put my graphic artist muscle to work in creating a really great image to help promote this wonderful cause: A celebration of Fatherhood. The truth is nothing comes easy when you become a Father for the first time. All of a sudden someone is dependent on you. The importance of getting things like life insurance policies after visiting policyme.com may never have dawned on you previously. But now you are the navigator, the provider and the source of knowledge for your own little person! The experience is daunting yet liberating. The experience is scary but enthralling at the same time. You wouldn't change it for anything else in the world.
I'm pretty pleased with how that turned out, but then I took a moment to really think about what the challenge MEANT. Sure, it was a viral event that spread all the way to the White House last year, but was it any more than that?

I kept going back in my mind to how hard it was to actually keep those non-uniform pieces of cereal on top of each other without falling, and then it came to me. In a word:
BALANCE
Balance is what this whole fatherhood thing is about. Keeping not only your house in order and all that entails (bills, car, food, job, etc), but also with raising our sons and daughters. In every generation we've faced challenges raising our kids. And while the pressures and expectations of the outside world may change, what it takes is a Dad (and/or Mom) with a steady hand. One to help stack up the pieces helping their progeny build a solid and steady base for the eventual day they will leave the nest and go out to make the world their own. A steady hand that also helps pick up the pieces when they crumble and fall down, always ready to rebuild.
Thanks to Cheerios for the #StackingSweepstakes and the gift of a great Father's Day trip to a lucky Dad. And thanks to all who participate every day in the challenge of raising strong men and women.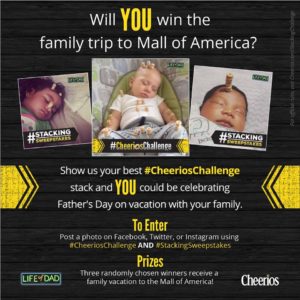 This post was inspired and sponsored by the Cheerios Challenge, General Mills and LifeOf Dad.

---
---
CHRISTIAN LEE
Christian has had many roles in life. He's been a minister's son, a poor student, a computer geek, a bible college dropout, a corporate suit, a traveling comedian, and a failure at much he's tried. But he counts 2 huge successes in his life. He is husband to a wonderful wife, and father of two exceptional kids he wanted, a third 'surprise baby', and a In 2015, they met yet another surprise, as their fourth (and prayerfully last) child defeated birth control with her sheer will to exist. Having just missed Aaron in college by a few years, they connected online, finding they had a similar sense of humor [read: DARK] and decided to launch PlaidDadBlog. Christian hosts the 'What Are We Watching?' podcast with his son Carlin, and just launched a new web series, DadSews, where he learns (an fails) to sew LIVE on camera.
---
---
Comments
comments