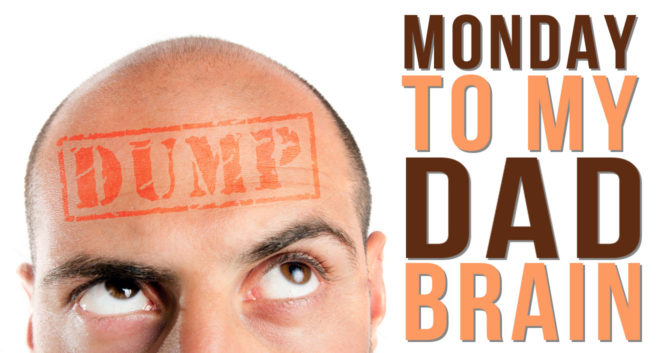 Every once in awhile, the brain gets full and needs to be emptied. For the plaid dads, the Monday Mind Dump is where it happens. In no particular order, here's what's on Aaron's mind:
Parenting sucks sometimes.
Yes, I know I signed up for it.  Yes, I know how it happens. Yes, it still sucks sometimes.
After nearly a year and a half, my boys still don't sleep through the night.
At this rate, I may never sleep more than three straight hours at a time again. Well, until I'm dead.
Boys eat everything. And then want more. And they get upset–REALLY upset–when you tell them there is no more.
I've started going back to the gym. It's just as horrible as I remember.
So is running.
I've run more miles this month than I have in the previous three months combined.
No, I'm not being chased. Yes, I'm choosing to run voluntarily.
My oldest daughter is 15. She can't date until she's 16. She's had no interest in boys until now. She and another homeschooled boy like each other.  She's going to hate me. She's known this for several years. And one day, she'll thank me for it.
My middle daughter loves to bake. Her lemon-iced cupcakes are the bomb dot com.
Sometimes she feels a little left out because our boys, who we're adopting, require so much attention. I need to take her to see Guardians of the Galaxy, Vol. 2.
I really loathe the Marvel Cinematic Universe. Most of those movies put me to sleep. Christopher Nolan's Batman trilogy ruined every other superhero movie for me.
Speaking of movies, all of my children love Star Wars. I have won parenting. It doesn't alway suck.
If I die and go to hell, I will be washing dishes for eternity. By hand. And the stack will never get any smaller.
Laundry. It's the gift that keeps on giving the whole year.
If I never see another cartwheel again, it will be too soon. And when my baby girl outgrows gymnastics, I will miss it.
The NBA playoffs are taking place. I don't care.
Some of my friends are caught up in the whole MJ vs LeBron debate. The answer is simple:  MAGIC JOHNSON.
Or Tom Brady.
My kids love the beach.  All of it. The sand, the sun, the water, and the creepin' seagulls who try to steal our lunch.
Spilled milk that isn't discovered until the next day makes the van smell like death. And melted crayon cleans up like I imagine a slaughtered zombie would.
Having five kids is insane.
And even when it sucks, we love it.
How about you? What Monday worries do YOU experience each week? Let us know in the comments below.
---
AARON SAUFLEY
Aaron Saufley, author of 'The Jumbo Shrimp Gospel' and 'Deep Roots', is a husband and dad who happens to moonlight as a hospice chaplain. He thinks Netflix is the greatest human invention next to pizza. He loves hanging out with his family, and when he has the time he also enjoys writing, a good cigar, craft root beer, smoking a mean rack of baby backs, movies, and trying not to die while running. Follow Aaron on Twitter.
---
---
Comments
comments