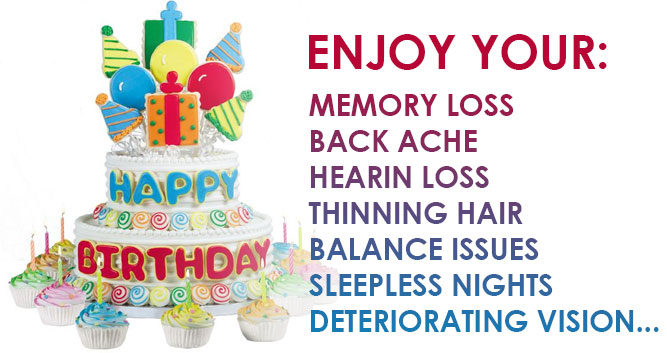 It's that time of year again. The ultimate season change.
No, it's not the cold snap of winter, or the warm sunny embrace of summer. It's my birthday. Another year around the wheel has been completed.
What do I get for my trouble? What prize awaits me as I hit this glorious day? "Hey Johnny, tell him what he's won!"
"How about mild memory loss?!? Yes sir, you get to struggle for the name of your favorite restaurant when talking to friends! You've also won, a continually pervasive back pain that will be your constant companion until you release this mortal coil! BUT THAT'S NOT ALL! You get to watch your children grow up in fast forward, as the days race away from you like Usain Bolt at the crack of a starting gun."
Yep, it's all down hill from here….. or is it?

I feel like there has to be someway of slowing mother nature's icy push towards my ultimate demise. I could exercise more, maybe loosen those back muscles. I could even try to contact the best chiropractor adelaide has to offer to determine whether they might be able to help with my back pain. This is such a struggle to have to live with daily and to find a cure would be life changing. A friend of mine recommended I tried alternative treatments such as the skywalker og strain of cannabis, as cannabis-related products contain cannabinoids which are said to be able to relieve chronic pain. I told him that this was tempting but that I didn't like the idea of smoking a joint. In turn, he explained how to smoke weed without papers – it turns out there is a lot more ways to smoke it than I originally thought. So this could be the answer to finally relieving the pains that I constantly experience. Saying this though, doing more research into the benefits this is said to have on our health would be important too. The sooner I start deciding to take my health a lot more seriously, the more time I will be able to spend with my kids, as there will be less risk of developing a health condition. I think this is what I needed to realize in order to change my life.
That memory loss thing though… hmmmm… That's a real head scratcher.
I've read that challenging your brain creates new pathways that in big pink muscle. Fires synapses, long dormant thanks to hours with your butt planted firmly in front of the television. Maybe I could find a way to kick start the old grey matter and trick it into believing I'm not quite past my prime, as it would have me believe.
I was recently approached by Groupon, and they asked me if I'd be willing to write about my experiences. Now, the wife and I do love Groupon. When you have four kids, any savings is a godsend, especially savings of 70% off or more, but I wasn't sure I cared enough about clothes, toys, or gadgets to write an article about it.
Then, I scrolled down their list of partners and noticed Udemy. I was intrigued to see just what they were offering. I was impressed to see they provided courses in Photography, Drawing, Business, Finance, Computer Programming, and more.
A message on the front page even shouted:
Take in a $10 course to enter today's drawing for US$250 credit (100x winners)! No purchase necessary.
"THIS IS IT!" I shouted in a whisper, so as not to wake the baby or my exhausted wife. This could be the handbrake to slow the ever diminishing journey to the finish line. I may even be able to grab a photography class with my daughter, or a drawing class for my artistic son. Killing two birds with one stone is the ultimate savings, because it means time and money!
So if you're in the same boat as me, check out Udemy on Groupon. And if you're young and your outlook still seems bright – grab a class to expand your knowledge or worldview. Trust me, we all get to the old age depot eventually, maybe you'll arrive with a little less wear on the tires.
——————————————————————————————————————
Thanks to Groupon for sponsoring this post – it was a great birthday present!
---
CHRISTIAN LEE
Christian has had many roles in life. He's been a minister's son, a poor student, a computer geek, a bible college dropout, a corporate suit, a traveling comedian, and a failure at much he's tried. But he counts 2 huge successes in his life. He is husband to a wonderful wife, and father of two exceptional kids he wanted, a third 'surprise baby', and a In 2015, they met yet another surprise, as their fourth (and prayerfully last) child defeated birth control with her sheer will to exist. Having just missed Aaron in college by a few years, they connected online, finding they had a similar sense of humor [read: DARK] and decided to launch PlaidDadBlog. Christian hosts the 'What Are We Watching?' podcast with his son Carlin, and just launched a new web series, DadSews, where he learns (an fails) to sew LIVE on camera.
---
---
Comments
comments