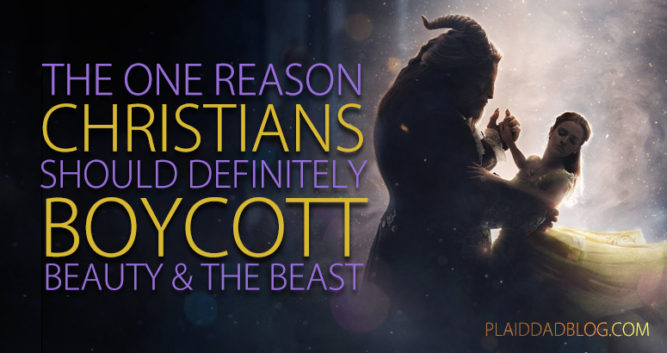 The live action remake of "Beauty and the Beast" is going to make Disney a lot of money this weekend. A lot of Christians aren't happy about it. Many Christians and evangelical leaders, including Franklin Graham, are calling for believers to boycott the film because of the director's revelation that the film will contain Disney's first gay moment.  One theater has already declared they won't show the film. Some of you reading this post are in the boycott camp.  Your reason: you don't want to expose your children to something you don't believe in.  As a Christian who loves movies, I wish to cut through all the rhetoric and give you the one definitive reason you need to justify boycotting "Beauty and the Beast" and making sure everyone in your social media circle knows about it:
1. _________________________________________
That's right. There isn't a reason to boycott this film. Yes, there is a gay character. No, there aren't explicit gay kissing scenes.  All of the controversy surrounds several brief moments in the film that take up a few frames.
"But I don't want my kids seeing that! And Disney needs to know that Christians aren't going to take it!"
Let's be clear about one thing: Disney does not care about your boycott. Disney cares about making money, and a lot of it. And in spite of thousands of Christians declaring on social media that they're boycotting "Beauty and the Beast," Disney is still going to rake in tens of millions of dollars many times over this weekend.
Even so, if you don't want to watch this movie, then don't.  But let me make a suggestion: keep your decision to not see the movie off of social media.
"But people need to know that Christians are fed up!"  First, not all Christians are fed up. Second, let's spend a few moments following the logic of publicly boycotting this movie to its conclusion:
If you publicly boycott this film, you must publicly boycott all of them. Every single movie displays behavior and choices that can be considered sinful. Whether it's greed, not honoring parents, murder–conflict and sin are at the heart of every film. It's what fuels the plot toward a resolution. If we refuse to see this movie (which we can if we wish), but we declare it on Facebook, we'd better be prepared to skip a lot of them. If you're publicly boycotting gay LeFue now, then you'd better be ready to boycott murdering Kylo Ren in December.
If you publicly boycott film, then you must publicly boycott television.  Television in recent years has, in the eyes of many, surpassed film in regard to plot, character development, and storytelling. And just like film, sin is portrayed in every TV show. So If you boycott "Beauty and the Beast," then you'd better be prepared to boycott "Stranger Things," "House of Cards," and "The Big Bang Theory."
If you publicly boycott film and television, then you must publicly boycott music and books. Much of popular music focuses on behavior that Christians are supposed to find sinful. Yet, we give no thought to singing out Taylor Swift (or whomever our favorite artist is) when she comes on the radio. No genre is excluded from innuendo. If you're going to boycott film and TV, then you'd better boycott every single song that wasn't written by Isaac Watts or Fanny J. Crosby. The same goes for books. Many works of literature, especially the classics, portray some kind of abhorrent behavior. Whether it's Fifty Shades of Gray or Catcher in the Rye, if you're going to publicly boycott this film, you'd better be ready to publicly boycott everything on Junior's summer reading list.
If you publicly boycott entertainment, then you must boycott certain businesses. This has already become an issue in North Carolina. Target stated that their bathrooms would be open to transgender people, and many Christians quickly declared their intent to boycott Target.  Fine, but if you're going to boycott one store for something you don't approve of, then you'd better be prepared to boycott all stores and eateries that either support causes you don't or employ people who live differently than you. What are you prepared to give up?  You're boycotting a movie with a gay moment, but if you're reading this article on an Apple device, you may need to think about replacing it because it was made by a company run by a gay CEO. And when you boycott, make no exceptions, even for birthdays or Christmas. If little Johnny or Suzie has a toy they want, and no one has it in stock except that store you're boycotting, you'll have to sacrifice little Johnny or Suzie's happiness.  Otherwise, your boycott is one of convenience… and you're a hypocrite.
Christians, I wrote this post to help us think through the logic of calls for public boycotts over things like movies. There has always been a time or a place for boycotts (think bus boycotts in the south during the civil rights movement). In my opinion, this film isn't one of them. Disney is not a Christian company; their target audience isn't the church; they don't care about your boycott.  And if we follow the logic out, as we did above, your entire life will be about what you're against, and that's a tired and impossible way to live.
So when "Beauty and the Beast" comes out Friday, if you've decided not to see it, that's fine.  Stay home and do something else with the kids. Just remember–it's alright to keep your decision to yourself. You're not sacrificing your values by not broadcasting your decision to not see the movie. You're just avoiding a lot of unneeded digital drama.
So take that need to publicly declare your intent to boycott everything and (wait for it)…
Let it go.
AARON SAUFLEY
Aaron Saufley, author of 'The Jumbo Shrimp Gospel' and 'Deep Roots', is a husband and dad who happens to moonlight as a hospice chaplain. He thinks Netflix is the greatest human invention next to pizza. He loves hanging out with his family, and when he has the time he also enjoys writing, a good cigar, craft root beer, smoking a mean rack of baby backs, movies, and trying not to die while running. Follow Aaron on Twitter.
Comments
comments