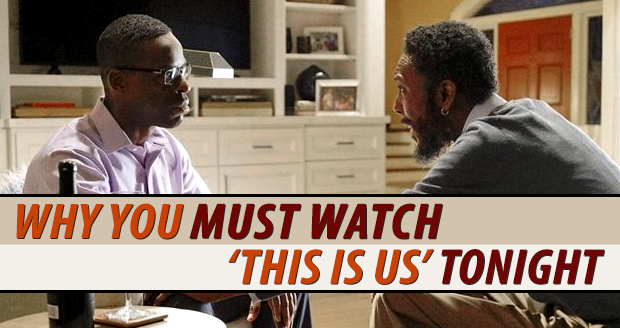 SPOILER ALERT: The following post contains spoilers from " Memphis," the Season 1, Episode 16 of "This is Us," which originally aired on February 21, 2017. You can view the episode on the NBC app, with a paid subscription to Hulu, or read a synopsis here.
Kimberly-Clark Worldwide makes Kleenex. I bet Kimberly-Clark Worldwide has made a killing since September 20, 2016. That's the night This is Us premiered. Every Tuesday night, rivers of tears roll during each episode of This is Us. And boxes of Kleenex are emptied.
If you haven't seen the show, you simply must. It's the story of the Pearson family–a white family with an adopted black son. Each episode reveals their story with flashbacks to Jack and Rebecca Pearson raising their three children interwoven with the lives of the children as adults in the present.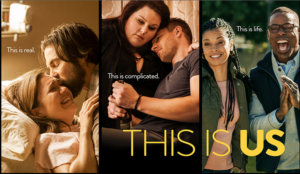 I'm usually uninterested in shows like this. It has drawn comparisons to Parenthood, which my wife adores. I could take it or leave it. This is Us, however, is different. I see us in This is Us.
I am Jack Pearson.
The comparison isn't perfect. Jack had two biological children (they were triplets, one having died in childbirth). I'm a father of three biological daughters. Jack had one black adopted son. I have two. Like Jack, when it comes to my black sons, there are times when I'm not sure what to do. And like Jack, I'm doing the best I can to raise my sons, knowing there will be questions down the road.
Last week's episode, "Memphis", moved me deeply. As I watched Randall make memories with his biological father, William, on a road trip that would be William's last, many emotions swirled inside me.
I felt pain and sadness. Like Randall, I want my boys to meet their birth father. I've experienced all my boys' firsts: first steps, first words, first birthdays, first time saying, "Daddy." I will be the one who helps them dribble a basketball, splash in the ocean, learn to drive, and smoke a mean rack of ribs. I witness, on a daily basis, their obsession with cereal. They shovel it in like each bowl is the last bowl in the universe. They tip their bowls back and chug down the lightly sweetened milk. It runs down their cheeks onto their shirts as they smile and blurt out, "Mo' see-yul, Daddy." I felt sadness because my boys' biological father should have experienced these things. He should have been there.
But he isn't. I am.
I also felt joy. Randall got the chance many adopted children don't–he got to meet and to know his biological father. I'm sure it was a long process to get to the end product. It may have even involved taking something like a paternity test so he could find his father. It was lovely to see them finally have the opportunity to meet each other, especially as many children don't have this option. Mathe person they're looking for. In the show, it was awkward and frustrating at first, but over time their relationship deepened. They laughed. They talked. They cried. He got to witness his old man's musical chops as William tickled the ivories one last time at his cousin's Memphis club. He saw his father make amends with those he'd wronged. He watched from afar as William paid respects to Jack, thanking him for raising Randall when he couldn't, stating with a smile, "I would have liked to have met my son's father." Randall was there at the end, listening to William's fading voice telling him to live life to the full–to turn up the music and roll down the windows. He got to cup his father's face in his hands, like Jack did for Randall to calm his anxiety so many years before, and guide William through his fear as life slipped away. Moments before he died, William whispered that his life had been rough. But the most important parts were the person that was there in the beginning (his mother) and the person that was there at the end–his beautiful boy, his son.
I smiled. Tears rolled down my face.
I smiled because Randall took a chance and knocked on his biological father's door in the first episode, not knowing what would happen. I smiled because he was there at the end. And the tears came because I don't know if my boys will get that chance. This is Us is a great TV show, but it's just that: a TV show–scripted visual fiction designed to tug at our emotions. My family, however, is anything but fiction.
As I raise my children, I know my black sons will eventually ask questions. Why do we look different than you? Why did our parents give us up? Unlike Randall's adopted mother in the show, we won't keep their lineage a secret. As they ask questions, we'll answer them as is appropriate for their age and maturity level. I fear that they'll want to meet their biological parents; I fear they won't. Regardless, we will be honest about their birth parents, but we will not judge. We will love our boys and raise them as our own, even in seasons of confusion and anger. And when they're adults, if they wish to do as Randall did and meet their birth parents, we will support them.
I was speaking to a friend of mine about this just the other day. He was adopted as a baby and has been busy tracking down his biological family over the past few months. So far he has traced his roots as far back as the 1940s. Nowadays, if you want to know more about your ancestry, there are some fantastic genealogical resources online including 1940 census records, obituary archives, and so much more. Apparently, learning about his family tree has been a bittersweet experience, but there is no denying that learning about your ancestors can be overwhelming at times.
In the meantime, we will pray. We'll pray for their biological parents, that a longing to meet these boys would lead to change. We'll pray that the boys hold no anger toward them or us. We'll pray for God to give us strength, wisdom, and courage to help our boys through any uncertainty they experience. We'll pray that they'll get their Randall and William moment–to meet, make memories, forgive, and love their biological parents. No matter what happens, I pray that they'll turn up the music and roll down the windows.
And I hope God grants my beautiful boys, my sons, the chance to be there at the end with each of their dads. To smile, to be grateful, to breathe.
I hope they'll see the ducks.
AARON SAUFLEY
Aaron Saufley, author of 'The Jumbo Shrimp Gospel' and 'Deep Roots', is a husband and dad who happens to moonlight as a hospice chaplain and preacher. He thinks Netflix is the greatest human invention next to pizza. He loves hanging out with his family, and when he has the time he also enjoys writing, a good cigar, craft root beer, smoking a mean rack of baby backs, movies, and trying not to die while running. Follow Aaron on Twitter.
Comments
comments