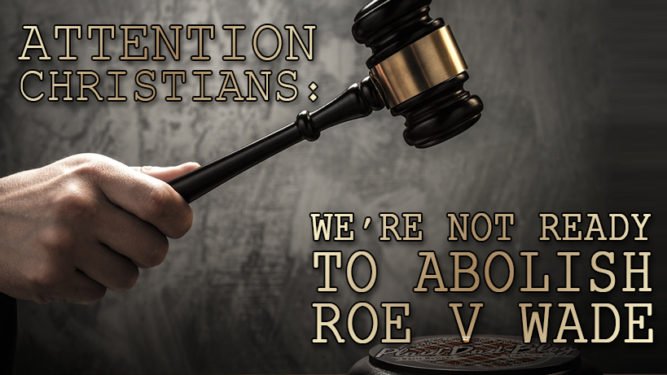 – I am a man. I am an adopting father. I am a minister. I am Christian. These are my inherent biases right at the top. – 
Events of recent days have given many conservative pro-life Christians reason to celebrate. On January 27, hundreds of thousands attended the annual March for Life in Washington, D.C. A few days later, President Trump announced his nomination to fill the vacant Supreme Court seat: Neil Gorsuch. Pro-life advocates rejoiced as Gorsuch is cut from the same cloth as the late Antonin Scalia. Many jumped on social media, predicting Roe v. Wade–the 1973 Supreme Court case that made abortion legal across the nation–will soon  be overturned.
Since that landmark decision, over 50 million children have been aborted. I believe in the personhood of the unborn and in their right to live. Like so many Christians, I want to see Roe v Wade overturned. But as I've observed pro-life culture throughout my adult life, I've noticed a problem.
We're not ready for it.
Read that again, Christian readers:  we're not ready for Roe v Wade to be overturned.
Please understand me before you dismiss me. There's plenty we are ready for.  We're ready to march. We're ready to post on Facebook our support for the pro-life movement (well, for many of us, we post every four years when it's time to elect our President, and then we go silent).  We shout from the mountain tops, "It's time to end the killing.  GIVE ME ALL THE BABIES!"  Those things are good.
Even so, we're not ready for all the babies.  Literally.
beyond a court decision
The abortion issue doesn't end with the overturning of Roe v Wade. If the Supreme Court does overturn it, the issue then goes back to the states to decide.  In other words, abortion will still be legal. Some states are ready to outlaw abortion now. But many are not. Are we prepared to take the federal effort to end abortion to all fifty states? Maybe, maybe not. But let's pretend, for argument's sake, we are ready to do just that.  Let's pretend that Roe v Wade is overturned, and our grassroots efforts in all fifty states hit the ground running. In a short time, abortion is outlawed in all fifty states. We celebrate. We rejoice. Abortion is history, right?  All the babies get to be born!   
Then what?
Every year, somewhere between 600,000 and 1 million babies are aborted in the United States. If Roe v Wade is overturned, many of these new babies could eventually end up in the foster care system or be put up for private adoption. And not just once, but every single year. The foster care system as it stands today is already stressed–400,000 + children are already in a system that is underfunded, understaffed, and suffers from a lack of certified families available to foster and adopt. An additional 600,000-1 million children every year will overwhelm the foster care system in every possible way.
"But abortion is murder and needs to end!"
I agree.  But we aren't ready for them yet.  How do we get ready?  Ask yourself these questions:
To be ready for all these post-Roe v Wade babies, we need more foster parents. Are you ready to become certified foster parents? Are you prepared to give up several weekends to undergo the education necessary to foster? Are you willing to put your feelings aside and sacrifice space in your heart and home for children who need stability while their family situation is sorted out, knowing they could be reunified with their birth families?
To be ready for all these post-Roe v Wade babies, we need more parents to adopt–both privately and through the foster care system. Are you prepared to adopt instead of just posting on Facebook about it?  Are you prepared to spend thousands of dollars to adopt privately?  Are you prepared to spend hours on training and mountains of paperwork to adopt through the foster care system–children who will likely not be white infants, children with a host of behavioral, mental, emotional, and spiritual problems who need good, loving families? Foster children have nowhere to really call home until a family adopts them. And unless there are families willing to adopt, they will continue to float around an already overwhelmed system. And when they age out at 18, they will likely end up incarcerated and having babies of their own who will also end up in the system.  Imagine having nowhere to go during Christmas. Imagine having no family to celebrate your birthday with you. That's what it's like for children who age out of foster care. Foster care children (in the literal and legal sense) are refugees in their own country. These children need families.  One (or more) needs your family.
To be ready for all these post-Roe v Wade babies, we're going to have to pay more taxes. This is where most conservatives balk.  More in taxes? Seriously? Yes, and mostly on the state level. Many conservatives want abortion to end, but also want to cut the government programs that help mothers and families who decide to keep their babies to survive financially. This would also include stipends from the state that go to foster families to help them cover the additional costs of caring for these children. Are you willing to say that the babies need to live, but need to do it without the aid that sustains them? If we have an additional 600,000 – 1 million babies every year come into the system, our taxes will need to increase to keep up with the needs of these children and their families–the biological families that keep their children, the foster families that care for these children, and the adoptive families that add these children to their clan.  And if you're not ready to pay more taxes, what is your solution?
To be ready for all these post-Roe v Wade babies, we're going to have to pay more out of pocket. Are you prepared to sacrifice money beyond taxes?  I love to see churches collect change in baby bottles to support their local pregnancy centers.  But it will take more than change in donations to non-profit organizations and crisis pregnancy centers to take on all these new babies, mothers, and fathers. Families will need clothes, formula, food, clothes, and other necessities. Crisis pregnancy centers will need more volunteers to help comfort and care for women who now must carry their babies to term.  They will need more staff for administration and counseling.  All of this costs money–our money.  Like with taxes, if you're not willing to give financially to help, what is your solution?
To be ready for all these post-Roe v Wade babies, we're going to have to provide comprehensive sex education. Christians, are you willing to accept that comprehensive sex education beyond abstinence must happen to reduce pregnancies?  As a Christian, I do believe that abstinence is the best way to prevent pregnancy–if you aren't having sex, you aren't going to get (or get someone) pregnant. I also, however, realize that this is not everyone's view. Thus we need comprehensive sex education. It must start in our own homes with our own children. It must begin in our churches, who for too long have been afraid to talk about sex with their youth and with their parents.  Beyond that, we need additional ideas and solutions to educate people about sexuality and how to prevent pregnancy because comprehensive sex education leads to fewer pregnancies and (in our Roe v Wade world) fewer abortions. And if we want to be ready for the overturn of Roe v Wade, we must be willing for such education to happen so that unplanned pregnancies decrease.
will we or won't we?
To sum up, are you prepared to do more than vote and post on Facebook concerning abortion? If not, then stop calling yourself pro-life.  You are pro-birth.  You want the children to be born, but you're not willing to do anything for them after they are born, and thus you condemn them to a life where they're much more likely to be mired in poverty, crime, incarceration, and continuing the cycle of having unplanned children. If you're not willing to do more than post on Facebook and vote, then please stop doing those things as they do very little, if anything, to actually help families and children.
But if you are willing to do more than vote and post on social media, stop waiting for Roe v Wade to be overturned to act. We cannot afford to wait for the Supreme Court to overturn this decision to act. We must act now.  There are over 400,000 children in foster care that need homes now. There are pregnant women who need counseling now. There are children who will soon be born that need adoptive parents now. There are non-profits that need donations now. There are crisis pregnancy centers that need funds and volunteers now. There are men and women who need mentoring now. Do not say that you're willing to help then when you're not willing to help now.
And right now, we're failing miserably.
In my city, the agency we're working with on our adoption is constantly looking for more families who will foster and who will adopt.  And the reasons I hear for why people won't adopt break my heart.
"We're not ready."
"I don't want my children to suffer."
"I'm not called to do it."
"I don't think I could handle getting too attached to a foster child."
Yes, there are people who are not prepared, for whatever reason, to foster or adopt.  That's fine. But many of us? Let's be honest. Our reasons are really excuses. We don't want our lives upended. We don't want to risk the heartbreak. It's way easier to vote and shout on social media. And it's nothing short of disobedience. And until we start obeying now with the 400,000 children in foster care and the understaffed and underfunded crisis pregnancy centers, and the women struggling to decide whether to keep their baby, abort it, or give it up for adoption, we won't be ready for the massive annual influx of children into the system that the overturning of Roe v Wade will bring.
act now to be ready then
I may be wrong, but maybe the reason God has allowed abortion to remain legal in our nation is that he knows that, right now, we cannot handle the aftermath. Maybe he's waiting for us to rise up beyond the voting booth and Facebook and do something now. If together we act now, maybe he'll see fit to end abortion.  If we act now, we'll be ready then.
The battle over the personhood of a child in utero will always exist. The debate over the rights of the mother verses the rights of the child will continue to be argued. Our friends who are pro-choice, however, are watching us. They see our social media rants. They also see how we live our lives. And they see a tragic disconnect.  They see us preaching and posting about the right to live, but they're not seeing us as a whole actively helping people live (which include already born children, the homeless, refugees, people of color–but that's another subject for another post). And from personal experience, understand that the respect level for us and our faith that they often disagree with goes up when our lives match our words.
So Christian readers, do me a huge favor.  Prove the title of this post wrong.  I'm so grateful for those of you I know who are acting now–sacrificing your homes and hearts to foster and adopt, sacrificing your finances to help those that are, sacrificing your time at crisis pregnancy centers, and finding your place in the pro-life movement and giving all you can. And for many more, you could be where I was several years ago–I didn't give adoption a second thought until God started tapping my wife and me on the shoulder. And he didn't quit until we said yes.
Maybe this post is your first shoulder tap.
For more information on foster care, click here.
Comments
comments