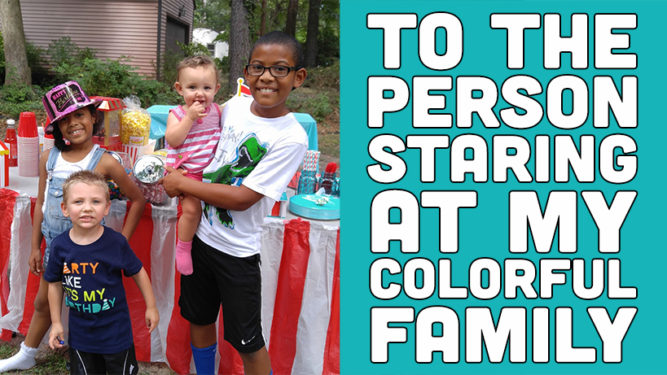 [Pics of Aaron's children withheld, pending adoption finalization]
To the person staring at my family:
I see you.
Your glance morphed into a gawk in a flash. You can't unlock your gaze from my family. Yeah, we have a lot of kids. And yes, the chances are pretty good that the volume in the establishment you and me currently occupy will go up. But that's not why you stare.
You stare because we're white parents with white daughters and (gasp) black sons.
You're doing that math and it's not quite adding up.  I'll make it easy for you–the boys are our foster sons, and their adoption will be finalized soon.
You have your reasons for staring. Maybe you grew up in a time when racially mixed families were taboo. Maybe you're having trouble stomaching the idea that we could adopt two black brothers.  Could it be possible that how you view people based upon the color of their skin isn't just outdated, it's wrong?
Maybe you pity my sons.  You're wondering how it is possible for anyone to abandon their children. It's never crossed your mind that, maybe, giving up these children for adoption devastated their parents, but they knew it was best because they weren't prepared to raise these children.
Maybe you're glad they finally have a good home. But is it possible that you haven't considered that, as they grow up, they will have questions about how they, two full brothers who are black, came to have white parents and three white sisters? Have you realized that my sons will experience a brokenness that I cannot possibly repair because they will be separated from their birth parents? Do you know that children in the foster care system have a much higher chance of incarceration as adults than other children?
Maybe you pity my wife and children, because "those kids have issues." If I was removed from my parents' home, I'd have some issues, too. Yes, we have to navigate problems that most parents don't. Our patience is tested, sometimes daily, by behavioral and emotional issues. Sometimes my daughters are robbed of time I would spend with them because one of their brothers requires some extra attention as we help him calm down from his latest meltdown. Sometimes my wife and I collapse into bed, too exhausted for sex or even simple conversation, both wondering if we're adequate for the task of raising sons we didn't create along with the daughters we did.
Maybe you're upset because you see me in line at the grocery store with two WIC coupons and you're inconvenienced because you have to wait a little longer. Or you spot those coupons and wonder why some of your tax dollars are going to milk, cereal, and peanut butter for my family. I can't imagine what you'd think if you found out that we get a stipend from the state that helps so many families, including ours, give loving homes to kids who need a family.  By the way, it's our tax dollars, too. We aren't lazy.  We aren't working the system. My wife and I both work hard at jobs we love to support our family.
Maybe you're relieved that there are people with hearts big enough to foster and adopt, but you just couldn't do it. You say you'd get too attached. Never mind there are many children who don't know when they'll eat their next meal, or have their diaper changed, or be held by their parents, and to top it all off they are taken from the only home they've ever known and placed in a home with strangers. Never mind that many of these children will have issues with attaching with anyone because of their experience. Here's a small piece of advice:  it's not about you. And here's an extra two cents: if you happen to be pro-life, but you only speak up for the rights of unborn babies to live (and only then at election time), but you aren't willing to fight for the rights of the already born–including foster children–and you aren't willing to do more than stare, you're not really pro-life.  You're pro-birth.
You likely think I don't notice you staring at my family.  I do. I just don't care. I'm proud of my boys–their smiles, their hugs, their antics to get a laugh out of us, their mission to destroy the house one plank at a time.
I'm proud of my daughters–for opening their hearts to these boys, for calling them "brothers" even though they share no blood relation, for playing and laughing with them, and for sacrificing room in our family and home for them.
And I'm most proud of my wife. She notices your stares, too. And she blocks them out. It was she who took the first steps on our journey to adoption, and she continues to forge through the issues that come up. And she gives every ounce of love she can to our five children.  I'm glad to be on this journey with her.
So stare away. After all, you're getting an extra eyeful of love, joy, and awesomeness.
AARON SAUFLEY
Aaron Saufley, author of 'The Jumbo Shrimp Gospel' and 'Deep Roots', is a husband and dad who happens to moonlight as a hospice chaplain and preacher. He thinks Netflix is the greatest human invention next to pizza. He loves hanging out with his family, and when he has the time he also enjoys writing, a good cigar, craft root beer, smoking a mean rack of baby backs, movies, and trying not to die while running. Follow Aaron on Twitter.
Comments
comments