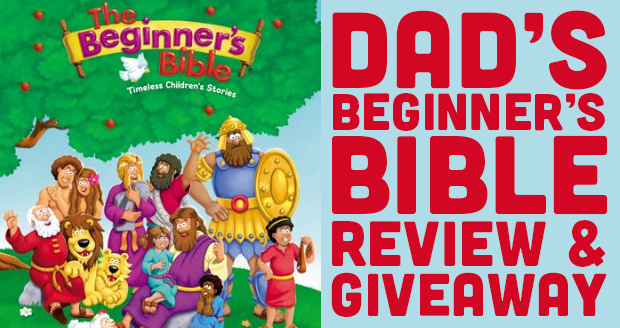 The Beginner's Bible is beautifully illustrated in a cartoon style sure to capture a child's interest.  The stories are short so that even very young children can stay focused long enough to finish one,  or you can flow rather seamlessly into the next if their attention span allows.
I sat down with my three year old, Ollie Mac, and we read the story of 'Joseph and the Coat of Many Colors'. The story was short and concise, and allowed for me to fill in areas that helped him follow along. I mean…. what city kid knows what a WELL is in 2017, am I right? We double backed a few times to make sure he understood the story, and the characters in question. Who's Joseph again?" "What was his Dad's name" "How many brothers did he have?"
When we were done, he seemed to comprehend the story AND it's meaning, which should really be the goal here. This isn't scriptures-by-the-numbers, but an overarching retelling, meant to implant seeds of wisdom in growing minds. As with ALL stories read to children, a parent should be willing to go 'off book' and fill in areas that may seem confusing, need to be highlighted, or have connections made with your child's real life. This was a great opportunity for me to discuss how he didn't want to share his Christmas spoils with his baby sister, earlier that day.
I also appreciate the table of contents making it easy to find a related story, or if your son like ours wants to hear a favorite one over and over.  I like that the verses the story is drawn from are listed but I DO wish they had included them written out as well.  For this reason I'm not sure the title The Beginner's Bible is accurate, as I said earlier, it is more of a Bible storybook.
That being said anything that encourages our children to ask questions and learn more about God is awesome.  One drawback I see, (odd as it may sound), is the target age group for this book may find it hard to carry.  The book itself is rather heavy, but that also means it's cover is heavy duty as well.
A quick perusal online also led to the discovery of a Beginner's Bible App. You can find it on iTunes HERE. Unfortunately, I wasn't so lucky on Android.
Overall I see this as a book we will be spending lots of time with both now and over the next few years. If you would like one of your own, you can buy it HERE, OR you could win a FREE COPY, just by commenting below and letting us know why YOUR little one would be the perfect recipient.
Official website: www.TheBeginnersBible.com
Facebook: www.facebook.com/Zonderkidz.Beginners.Bible
Twitter: www.twitter.com/BeginnersBible
Book trailer: http://bit.ly/2aZoqnN

Disclosure (in accordance with the FTC's 16 CFR, Part 255: "Guides Concerning the Use of Endorsements and Testimonials in Advertising"): Many thanks to Propeller Consulting, LLC for providing this prize for the giveaway. Choice of winners and opinions are 100% my own and NOT influenced by monetary compensation. I did receive a sample of the product in exchange for this review and post. Only one entrant per mailing address, per giveaway.  If you have won a prize from our sponsor Propeller / FlyBy Promotions in the last 30 days, you are not eligible to win.  Or if you have won the same prize on another blog, you are not eligible to win it again. Winner is subject to eligibility verification."
---
---
CHRISTIAN LEE
Christian has had many roles in life. He's been a minister's son, a poor student, a computer geek, a bible college dropout, a corporate suit, a traveling comedian, and a failure at much he's tried. But he counts 2 huge successes in his life. He is husband to a wonderful wife, and father of two exceptional kids he wanted, a third 'surprise baby', and a In 2015, they met yet another surprise, as their fourth (and prayerfully last) child defeated birth control with her sheer will to exist. Having just missed Aaron in college by a few years, they connected online, finding they had a similar sense of humor [read: DARK] and decided to launch PlaidDadBlog. Christian hosts the 'What Are We Watching?' podcast with his son Carlin, and just launched a new web series, DadSews, where he learns (an fails) to sew LIVE on camera.
---
---
Comments
comments