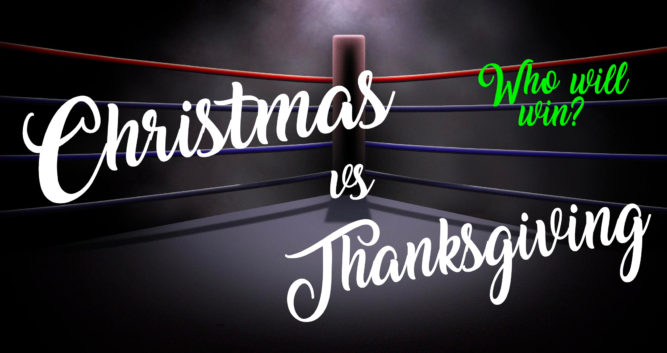 For months, a great debate raged across this grand country. People took sides and vigorously defended their stance. As November drew closer, social media heated up. People insulted and blocked friends who didn't agree with them. As the last minutes of October faded away, the conflict swelled to a crescendo.
I'm not talking about Trump and Hillary. I am, of course, referring to the Christmas-Thanksgiving debate.
Every year, Wal-Mart drags out the first of their Christmas stock a few days before Labor Day. They add more in the days leading up to Halloween. Do stores put out their Christmas merchandise too soon? Probably. But the core of the debate centers around this question: when should we start celebrating Christmas?
As we answer this question, we must acknowledge there are two kinds of people:
1. People who start celebrating Christmas at 12:01 AM on November 1.
2. Everyone else.
And everyone else is wrong. And since this is the United States of America, you have a constitutional right to be wrong.
But what about Thanksgiving? Shouldn't we allow the fourth Thursday of November to have it's time in the limelight? After all, it is a federal holiday just like Christmas. A list of the 2022 US Holidays can confirm this for you if you don't believe us! Thanksgiving is arguably just as important as Christmas, and it's non-religious too, so everyone can celebrate it. But there is still the argument that Christmas is better. Here are six reasons why you should repent of your holiday sins and accept the truth that Christmas is so much better than Thanksgiving, and thus deserves to be celebrated as soon as Halloween ends:
Presents.

Nothing is cooler to a kid than waking up on Christmas morning and seeing that good ol' Kris Kringle left some loot under the tree. Sure, the kids will ignore you for the rest of whenever. Yeah, most of the stuff they get will be broken or forgotten about by New Year's, unless it's something sentimental like a memory tshirt quilt. You bet that you'll have buyer's remorse when you cart most of the stuff you bought for your kid to the thrift store, but it's totally worth it. You can even save some money with Amazon coupons by Clicking Here, so you're not worried about overspending. Have you ever heard of people putting Thanksgiving presents under the turkey? No, you haven't.

Mascots.

Christmas has Santa Claus, who is a commercialized version of a real guy that lived hundreds of years ago. He loved children, leaving coins in their shoes. Oh, and he sucker punched a guy during a church conference who disagreed with him. Fat, jolly, and totally bada**. Thanksgiving, however, has… a turkey. We eat the mascot of Thanksgiving. Maybe we should give Thanksgiving a new mascot. How about Pious Pilgrim? He comes from Plymouth Rock every year on Thanksgiving Eve and gives the kids a healthy dose of Puritan guilt and smallpox. Yeah, Santa would throat punch him, too.
Burl Ives. If "Have a Holly Jolly Christmas" doesn't get you in the mood for Yuletide, you may need your hearing checked or you may need to see a therapist. Ives is just one of many crooners who fill our ears with Christmas cheer. When was the last time you sat around the fire and sang Thanksgiving carols? That's right, you haven't. Who wants to sing about cranberry sauce and giblets? Weirdos, that's who.
Food. Yes, Thanksgiving is all about gluttony with the family. And I love Thanksgiving fare as much as the next fat guy, but it doesn't compare with Christmas goodies. Peanut butter balls, Oreo truffles, cheese straws, sausage balls, fudge, chocolate covered cherries–and that's just dessert. Thanksgiving food is good for one meal one day a year. You can, however, pig out on Christmas food for two months straight and never tire of it. Although your heart and pancreas might throw in the towel.

Football. I love football as much as anyone, but let's be real: no one cares about the Lions. And I only like Dallas when Romo is playing, which is never because he injures himself every time he breaks wind. And do we really need a prime time game on Thanksgiving? It's like going back for fifths at dinner. At that point, you're not even tasting anything. You're just shoving it in like you're preparing to be a zombie's Thanksgiving meal. It's too much of a good thing.

Cinema. There are too many Christmas movies to count. Most of them are cheesy, but there are a few gems to binge watch in the fifty-five days between Halloween and Christmas. Have you every seen a Thanksgiving movie? Nope. There are several movies set around the time of Thanksgiving, and they show scenes of Thanksgiving dinner, but there are very few Thanksgiving movies, because Thanksgiving is a horrible holiday to make a movie about. Hey movie studio boss, let's make a film about a family that gets together and eats too much. That would be a bigger bust than your pants after Thanksgiving.
Let's be honest: Thanksgiving is simply dress rehearsal for Christmas. We get together with family, we eat a lot, and then we complain that we ate a lot. And the next morning, we go spend too much on Christmas. Thanksgiving is simply practice for the big game on December 25th.
Since it is the holiday season, I'm willing to cut you some slack if you don't celebrate Christmas until Thanksgiving is over. So start thawing out that turkey, get out grandma's recipes, and pray that your drunk uncle can't make it this year. And above all, have a happy Thanksgiving.
But you better put your tree up on Friday, Scrooge.
Comments
comments