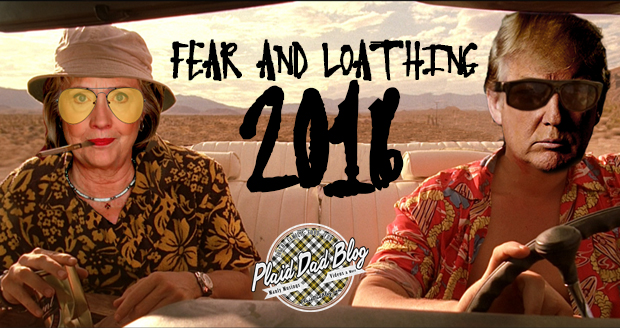 One more day.
After a year's worth of mudslinging, debates, ads, rallies, emails, FBI investigations, tawdry recordings, and endless droning about a wall, one day is all we have left of this presidential election cycle.
Wednesday morning can't come soon enough.
Barring a constitutional miracle, we'll elect a president–our Commander-in-Chief, and the next leader of the free world–that most of us don't like. And that's being nice about it.
Regardless of the outcome, most of us are scared. Crazy, out of our minds, wet our pants scared.
We've been afraid since Hillary and Trump both announced their candidacies. We're scared that if our candidate doesn't get elected, that our nation will suffer, cease to exist, or plunge into the bowels of hell (depending on who you ask). I even heard a pastor pray out loud in a church service that this could be the last election our nation holds.
Seriously?
As a Christian, I'm baffled by the fear that so many Christians have expressed. Fear that their religious freedom will be taken away. Let me just tell you, our religious freedom won't be taken away unless people stop donating to help churches stay afloat. So, if you don't want this to happen, you may want to visit this site to learn more about the best online giving software out there so that doesn't happen. I just don't understand why people would fear this in the first place though. Fear that they will lose political clout, influence, and power. I'm baffled because, historically, political freedom has always made the church fat, greedy, and lazy. I'm baffled because Jesus said that his kingdom was not of this world–it does not operate the same way that secular kingdoms and governments do–and yet so many Christians seem convinced that God cannot work unless "the right man" is President. I'm baffled because so many Christians have done theological and moral cartwheels to justify a choice that, a decade ago, they wouldn't have made. I'm baffled that so many automatically assume that if you don't support Trump, you automatically support Hillary (and by implication, you've made your reservation in hell). I'm baffled because, the longer this election season has dragged on, the more it looks as if many Christians, in the spirit of Esau, have sold out their real mission to be change agents of the kingdom of God by bringing heaven to earth for a poisoned bowl of political stew.
"But Killary…"
"But Trump with the nuclear codes…"
Christians, has our collective faith withered that much? Are we seriously convinced that America is so special in God's eyes (Syria, China, Djibouti, and every other nation is just as special to God as we are) that God can't work (he can) unless the right person is elected President? We're so shackled by fear that we've resorted to name calling and character bashing of anyone that votes differently than we do. Shame on us. Yes, we can be involved in politics. Yes, we can have our opinions. But for the love of George Washington, we can–we need–to be civil about it. And we'd better learn quickly, because 2020 isn't that far away. Maybe this is part of the reason why we're at this point: God is using this to expose what we're truly devoted to–political power, influence, comfort, and security. And Jesus promised us none of those things.
Christians, it's past time to jettison the fear. As a friend from Pakistan once told me, "You serve the risen Christ. What do you have to be afraid of?" I don't fear a Clinton or a Trump presidency. Do they concern me? Sure. But I don't fear them because my primary allegiance is to Jesus. That does not change regardless of who wins tomorrow or what the ultimate fate of this nation will be in my lifetime.
So tomorrow, bright and early, I'll head to my polling place and I'll exercise my right to vote. But I will do so without fear. I will do so without having to hold my nose. I will do so without having to justify my reasons. I will do so knowing that the new administration will, at most, only hold sway for less than a decade. I will do so as a Christian who happens to be an American (and not the other way around). I will pray for whoever wins. I will respect whoever wins. And I will continue to do the work that God has called me to do, no matter who wins.
And on Wednesday, I'll be glad to log back onto Facebook and finally be able to look at recipes and cat videos again.
To our readers and friends who don't subscribe to the Christian faith, I'm sorry for how many of us have behaved during this election cycle. It's inexcusable. It's wrong. And it has given you further reason to discredit us. Forgive us.
AARON SAUFLEY
Aaron Saufley, author of 'The Jumbo Shrimp Gospel' and 'Deep Roots', is a husband and dad who happens to moonlight as a hospice chaplain and preacher. He thinks Netflix is the greatest human invention next to pizza. He loves hanging out with his family, and when he has the time he also enjoys writing, a good cigar, craft root beer, smoking a mean rack of baby backs, movies, and trying not to die while running. Follow Aaron on Twitter.
Comments
comments