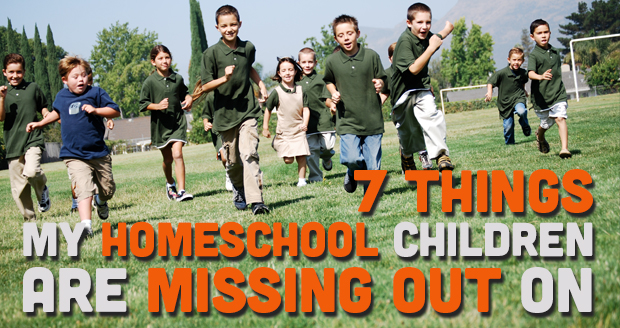 At long last, after yet another hot, adventurous summer, all the children have returned to school. And all the parents breathed a collective sigh of "Hallelujah!" Bring on autumn, football, colorful leaves, pumpkin spice, and several hours a day without the little rugrats trying to destroy the house and whining about being bored.
For homeschooling parents, however, there is no giddiness that all the kids are out of the house for a few hours each weekday, because school is, well, at home. My wife and I homeschool our girls. My boys are still too young for all that fancy learnin', as they still need to learn what a toilet is and how to use it. Eight years into our homeschooling adventure, we're still asked by well-meaning parents of public school kids why we made that decision. Usually the assumption is that we're scared of society and are trying to protect our little minions from the big bad Obama (or something similar). As we're now a month into yet another year of homeschooling, I must admit their are some things my kids are missing out on that I experienced as the product of public school. Here they are (in no particular order):
GETTING UP BEFORE THE SUN DOES
My girls are forced to get up no earlier than 8:00 AM. They don't get to experience waking up in the dark, tripping over their toys and shoes, and fumbling for the light switch which ignites a halo of brilliance infinitely brighter than staring at the noonday sun. They'll never experience brushing their teeth at such an early hour that stank breath has set back in before they even get off the bus. They won't know what it's like to try and dress yourself before your brain wakes up (yes, I accidentally wore my pajama bottoms to school underneath my pants one time… I did the same thing earlier this year for work). Waking up so early has its advantages–mainly fatigue and irritability before dinner time. My kids have no idea how amazing that is.
RIDING THE SCHOOL BUS
My dad is in his 45th year driving a school bus. Except for my first several years of school, I always rode my dad's bus. Which meant I was the first one on (had to get up super early) and the last one off (everyone else was outside playing a good forty-five minutes before me). My kids won't know that joy. The bus rolls through our neighborhood at an obscenely late time: 6:30 AM. They will go through life ignorant of sitting three in a seat that's only wide enough for two with no seat belts for anyone but the driver. And they'll never know the embarrassment of the bus stopping at their house and blaring on the horn because they're running late. They'll just have to settle for rolling out of bed and walking down the steps and into their classroom.
UNIFORMS
No khakis. No polos with a school logo plastered on it. I guess my kids really do have a uniform: pajamas. Shameful.
20:1 STUDENT TO TEACHER RATIO (OR MORE)
With the exception of my eldest daughter (who went to public school for kindergarten and first grade), my kids won't know about sitting in a classroom with two dozen other kids their age with just one teacher. They won't know the awesomeness that is the lack of one-on-one attention if they need help understanding a troubling aspect of the day's lesson. They'll just have to settle for personalized attention whenever they need it.
SCHOOL LUNCHES
Granted, it's been a long time since I've had a school lunch. I don't even know what they serve now. Apparently, Michelle Obama single-handedly forced every school district to serve tofu and broccoli instead of cheeseburgers and pizza (man, school lunch pizza was actually pretty awesome). My girls won't know what it's like to stand in line like a prisoner, waiting on the lunch lady to throw down slop on a tray. They won't know the fun of bartering different lunch items. Instead, they'll have to settle for learning how to cook and the occasional trip to Chick-Fil-A.
ONLY SOCIALIZING WITH PEOPLE THEIR OWN AGE
Socializing may not be the right word. If texting and Snapchat are considered socializing, I guess they'll miss out on socializing. My eldest daughter does engage in social media, but she also has been forced to learn how to converse with real flesh-and-blood people, many of them much older than she is. The sad truth is that they can have conversations with people instead of pages. Oh the humanity…
HOMEWORK
Ok. They do have homework from their homeschool co-op. I guess it really is only six things they're missing out on.
Speaking of homework, when I was younger I can vividly remember struggling with some of the tasks our teachers used to set us, especially in my college days! Nowadays, things are a little bit different as there are websites out there such as collegepaperworld.com where students can turn to for help and support mastering their homework. Above all, it is fascinating to me how much the internet has changed education as we know it.
So please, parents of public schoolers, pray for us homeschooling parents. Our kids are missing out on so much that only taxpayer funded socialized education can provide. Somehow, we'll make it through.
---
Aaron Saufley
Aaron Saufley, author of 'The Jumbo Shrimp Gospel' and 'Deep Roots', is a husband and dad who happens to moonlight as a hospice chaplain and preacher. He thinks Netflix is the greatest human invention next to pizza. He loves hanging out with his family, and when he has the time he also enjoys writing, a good cigar, craft root beer, smoking a mean rack of baby backs, movies, and trying not to die while running. Follow Aaron on Twitter.
Comments
comments