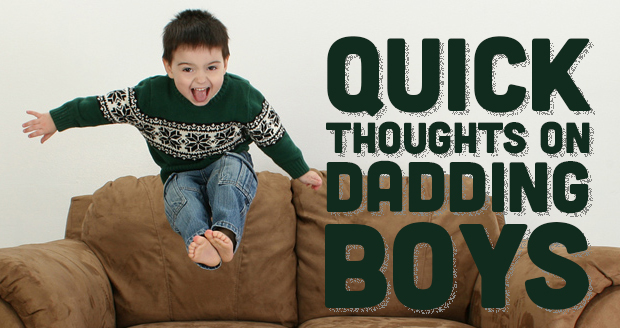 The plaid dads have big families. Between us, we have nine children. Five of them were made the old fashioned way, and four of them were–or, in my case, in the process of being–adopted.
I can only make girls. My wife and I have three of them. They are, as of the writing of this post, 14, 10, and 6 years old. I have lots of experience raising girls. Until mid-January of this year, I had no clue how to raise a boy. Yes, I am one, but I don't remember all that much about my baby and toddler years. So… I'm clueless. The problem is this: I now have two brothers, ages 1 and 2, in my house as we're in the process of adopting them. I've learned a lot about raising boys in the last eight months, and I know I have a lot more to learn. Here, however, are some quick thoughts on raising boys from a Dad who has only raise girls.
My boys should go out for track. All they do is run. Everywhere they go, they're like tiny versions of Usain Bolt.
The volume button is broken on these boys, and it's stuck on 11. No matter what they gibber about, they want to make sure that someone over in California can hear their conversation. I've likely lost more of my hearing due to their loudness than from all the years blasting heavy metal in my car combined. They even announce that the other has pooped so loud that the neighbors at the end of the street know how regular they are. Do they make baby muzzles?
Penises. Wieners. Ding Dongs. Call them what you want. Boys are obsessed with them. Plus, if you have a look at videos from somewhere like https://www.hdpornvideo.xxx/, you'd think that ladies are obsessed with them too. Once they discover they have one, they want to make sure they keep it. It's like they're scared that there is a Wiener Thief, and he's targeted theirs as his next heist.
"Stop rubbing your penis on the floor." Never thought I'd hear that one.
"Don't pull your brother's penis!" There's apparently this sport that brothers play if they're in the bathtub together called "Doodle Grab." It's where one of the brothers plays with all the toys in the tub, and then reaches over and grabs his brother's penis and pulls.
"Stop grabbing your penis!" Big sister was in charge of giving a bath to the baby one night. This was heard several times before we could intervene.
If you can't tell, raising boys has a lot to do with penises.
Boys come with a default setting: Destruction. They are trying to tear down the house, but usually only succeed in wrecking one room–the room we just cleaned up.
"Why are you letting the dog lick your butt?!?" Fresh out of the tub, before we get them dressed. A lot of things about raising boys also revolve around them being naked.
Speaking of naked, my boys don't run around the house sans clothing. Yet. They haven't figured out how to take it off yet. Once they do, it'll be Penis City up in this joint.
You'll have to to tell them about porn as some point as well. Otherwise they will discover it themselves without context. this is a large porn site database that they could find themselves on.
My eldest boy knows where the Little Caesar's is now. We pull up to the intersection, and he starts yelling, "PIZZA! PIZZA!"
If there's food, and they can smell it, they want to eat it. Doesn't matter that they just finished dinner 45 seconds ago. They just want to eat.
"The bookshelf is not a jungle gym!" We may legally change their middle names to "Danger." Or "Stupid."
Sleeping through the night has, after eight months, finally become the norm. Unfortunately, screaming the words, "Daddy! I want to get up!" at 5:30 in the morning have also become the norm. I might die of sleep deprivation.
I'm sure there are more things, but I'm too tired to think of them. All I know is that each day is a crazy, amazing adventure. And it's never boring.
What are some things you've learned about raising boys? Let us know in the comment section.

Comments
comments