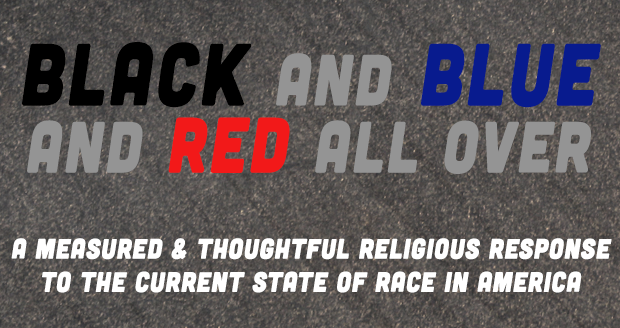 I've wrestled with, prayed about, and rewritten this post more times than I can count. I still don't have it right. Please forgive this post for its weaknesses; glean from what strengths it may have.
I lack the words to adequately express the growing burden on my mind and heart as I wrestle with the reality of racial tension in our nation, a tension that has really never gone away. I can only think of two words:  I'm sad. 
I'm sad because I care deeply about the festering wound of racism in our nation that has never healed. I'm sad because I also care deeply for my friends in law enforcement and the increased danger they are now in due to the aftermath of the Sterling and Castille deaths. I'm sad because I care deeply for my black friends, many of whom live in poverty and struggle each day to put food on the table. I care deeply for the future of my children–my three white daughters and my two black sons–because they're not growing up in, as Martin Luther King hoped for, a society at peace with itself–a society that can live with its conscience.
I'm sad because so much blood has been spilled.  Black blood. Blue blood. I grieve for the families of those who have died on both sides of the issue. I'm sad because after all our nation has been through since the first colonists arrived, there still is an issue.
I'm also saddened by what I've seen on social media:
Cell phone and body cam videos of black men being shot by law enforcement.
Images of children clinging to the flag-draped caskets of their fathers–police officers whose watches ended because of violence.
My Facebook feed filled with articles, videos, and memes all touting why "we" are right and "they" are wrong.
Arguments over the meaning of hashtags.
An escalating "us vs them" mentality.
Friends posting that if you support law enforcement, you don't care about the black community.
Other friends posting that if you empathize with the Black Lives Matter movement, you don't care about law enforcement.
People expressing their disdain for the media because, "The media is driving this racial stuff," while, at the same time, accepting the media's slanted portrayal of the side they disagree with.
Facebookers doing what President Bush said at the memorial for the five Dallas officers (and I'm paraphrasing)–we judge those we disagree with by their worst examples, but we judge those we agree with by our best intentions.
What saddens me most is that we're contributing so much to the noise that we've disabled ourselves from doing one thing that's vital to progress.
We must stop posting and start listening.
Not to the talking heads on Fox News or CNN. Not to the incessant digital screaming on social media. We must turn off our TV's, put down our phones, and sit down with real flesh and blood people and listen to them.  Really listen to them.
We must listen to the experiences of those in the black community without dismissing them and telling them how they should feel when we (white people) have no idea how they feel. As we listen, we must be honest with ourselves about our nation's history of oppressing minorities, and that it isn't something relegated to the archives of the past.
We must listen to those in law enforcement, those who put on the badge every day to protect and serve, who do so at great risk to their own safety, who have to sometimes make split-second decisions that could end a life–decisions a great majority of us aren't prepared to make.  As we do, we must open ourselves up to the possibility that the system may not be as impartial as we'd like to believe.
Know that listening is not safe. Listening involves risk. When we listen, we risk exposing the cracks in our viewpoint. We risk the possibility that we may have to change our minds. And we risk realizing that we may have to actually do something.
I've started listening in the last several weeks. I've listened for hours to a black college friend and a black friend who is a pastor, listening to their experiences, often with hints of anger and fatigue in their voices and tears in their eyes–revealing things they deal with daily that I've never had to give a first (much less a second) thought to. I've started listening to black friends at a food ministry in the poorest part of the city I live in. My next step is to sit down and listen to my friends in law enforcement and hear their stories, and then ask some hard questions.
Y'all, it is possible to support our law enforcement, empathize with our black neighbors, and speak up for change. It will not be easy. It may cost us time, resources, and even relationships.  But if we wish to see change, we must start with ourselves. And that starts when we listen to others. As we do this, maybe, just maybe, Dr. King's dream can become a reality–a society at peace with itself, a society that can finally live with its conscience.  A day that won't be of the white man, nor of the black man–a day of man as man.
To those who share my worldview (I'm a Christian and a pastor):
Please realize that, ultimately, this goes beyond a race or police issue or culture issue or society issue–this is a Jesus issue. Jesus risked so much as he broke cultural norms as he served those who were the "wrong" gender and the "wrong" race. He died to forgive sin and to make a new community–a new community made of all nations, tribes, and tongues who were bound together, not by race, but by Christ.  And part of the way he did this was to show real, tangible compassion to the oppressed.  When he sits down at a well and speaks with a Samaritan woman, his disciples are scandalized.  Why would he speak alone to a woman, and a Samaritan woman at that?!? Because women's lives matter.  Because Samaritan lives matter. That should speak volumes to us today. So I ask that you, too, challenge yourself.  Pray for and support law enforcement, but don't be afraid to ask hard questions. To my white friends, befriend, pray for, and listen to your black neighbors.  Seek forgiveness and healing. Allow God to work change in you, because that's where change starts.  If we'll take this risk, we also risk that Jesus will be glorified as we humble ourselves and serve a community that needs the healing that only the gospel can bring.
---
Aaron Saufley
Aaron Saufley, author of 'The Jumbo Shrimp Gospel' and 'Deep Roots', is a husband and dad who happens to moonlight as a hospice chaplain and preacher. He thinks Netflix is the greatest human invention next to pizza. He loves hanging out with his family, and when he has the time he also enjoys writing, a good cigar, craft root beer, smoking a mean rack of baby backs, movies, and trying not to die while running. Follow Aaron on Twitter.
---
Comments
comments