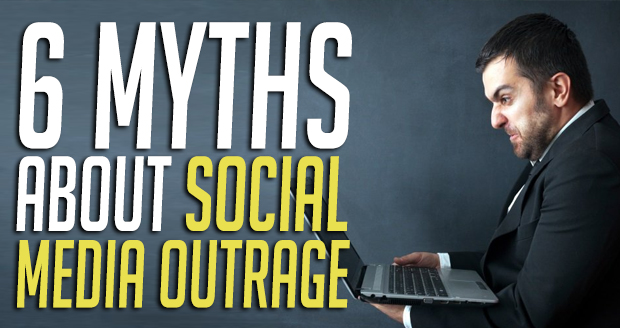 Last week, the entire social media universe erupted in anger over the death of a gorilla at a zoo in Cincinnati. #JusticeForHarambe became a trending hashtag overnight. Social media justice warriors butchered and shamed the mother of the child for days. Everyone was suddenly a zoologist specializing in silverback gorilla behavior.
If I hear or see another inflamed opinion on social media about that gorilla, I'm going to lose it.
Or another incendiary tweet about Donald Trump, Hillary Clinton, or Bernie Sanders.
Or vaccinations.
Or "MEturnity leave".
Or whatever-the-trendy-outrage-topic-of-the-moment is.
Social media has been a thing for just over a decade. Years ago, most of us searched for hours for the most awesome background for our MySpace accounts. Around 2007, we migrated to Facebook and Twitter. Then we started posting pics of our dinner of Instagram. I stopped there, because I don't have time to snap my chat or whatever the newest social media platform does. But I have definitely caught the Instagram bug as I would love to get more followers on insta. It is my favorite social media platform.
In the past decade, we've become attached to our devices (they used to be called "phones"), rarely looking up to acknowledge the presence of others in our company. All this screen time has made us, well, rude (and that's being nice about it). We have people begging for followers and likes when in reality they could just use a service like Nitreo and save us all the bother!
Every post in our feeds now fills us with outrage. We're compelled to express our thoughts on everything that offends us, which is now everything. Facebook, which at first was great for connecting with people you hadn't seen in awhile, has become a verbal no man's land. While there are useful aspects to come from social media, for example using it as a business tool (What is ecommerce?), it is still a place entrenched with rage. Twitter is just a constant onslaught of 140 character butthurt–and when did "butthurt" become a thing? Our kindness filters have short circuited, and no one wants to take the time to fix it.
People of social media, we all need to calm down. Way down.
With this in mind, I humbly present six myths about social media that we've fallen for, myths which are killing our ability to respect others.
myth 1:
I'm qualified to express my thoughts on everything.
You can say whatever you want, but the ability to say it doesn't mean you're qualified to say it. In other words, you are not an expert on everything. Unless you have the credentials (like a degree in zoology) to speak authoritatively on primate behavior, you're not an expert on gorillas. Unless you're a board certified and trained physician, you're not an expert on vaccines. And–for the love of Sesame Street–if you don't have children, you are not a parenting expert. I don't care if your mama had kids. I don't care if your sister had kids. I don't care if you saw someone with kids out in public. I don't care if you babysat kids as a teenager. I don't care if you have some kind of PhD in childrearing. If you don't have kids of your own that you're raising, you are not a parenting expert–and your opinion will carry absolutely zero weight with those of us who do have children.
Feel free to express your opinion, but please take the time to phrase your thoughts with a dash (or a gallon) of humility. If you weren't an eyewitness to an event, don't publish scathing judgments on those involved because you weren't there. If you must post on an issue that you're not an expert in (which is 95 percent of everything), do so with humility and tact. It will help keep a Facebook fire from flaring up. And always remember: YOU COULD BE WRONG.
DOING IT WRONG: "That mom was obviously not watching her kids."
DOING IT RIGHT: "I wasn't there, so I can't say for sure, but I wonder if something distracted the mother."
myth 2:
Everyone should respect my thoughts.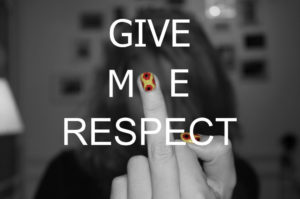 Uh, no. If you're not an expert, or at least have some experience, your opinions may not deserve respect. And the more outraged you are with your opinion, the less respect you'll get. We live in this childish culture where we all think we have the right to be heard, and that people must agree with us–even when we're wrong. The fact is this: no one has to listen to you. Especially if you come off as a whiny, condescending know-it-all. Chill out, do a little research if the topic at hand is something you're not an expert on (and you're likely not), and then post in a calm, reasonable manner. People may disagree with you, but you're much less likely to win the Douchebag of the Internet title for the day.
DOING IT WRONG: "The zoo should have tranquilized that poor gorilla."
DOING IT RIGHT: "I wish the zoo could have used tranquilizers on the gorilla, but according to his handlers, this would have done more harm than good for the child."
myth 3:
grandma was wrong.
Grandma used a rotary phone, so she obviously lived in the pre-Facebook era, which accounts for 99.99 percent of human history. But what did she always say? "If you can't say anything nice, don't say anything at all." Today, if grandma is on social media, she might say, "If you can't post anything nice, put your phone down." Social media has robbed us of our ability govern our emotions. We read something that offends us (more on that later), and we fire off the first thing that comes to our mind without thinking about how it may sound. Slow down, calm down, type, edit, breathe, make sure it's worth saying, delete, type again, breathe more, then (if you must) send.
DOING IT WRONG: "You're a f*****g idiot if you really think the zoo should have tranquilized that gorilla."
DOING IT RIGHT: "I have to respectfully disagree with you. The zoo staff handled that gorilla every day. They knew his behavior. They're the experts. I don't think they made the decision to shoot the gorilla lightly, but they did it to protect the child."
myth 4:
PEOPLE SHOULDN'T POST THINGS THAT OFFEND
Then let's blow up the internet now because there isn't a subject that won't offend someone. You could post a picture of your sweet little kitten frolicking in a bed of marshmallows and someone would call you Hitler. Believe it or not, you can read something you disagree with and keep scrolling without saying anything at all. There's no law that says you have to post on every single thing you read, or blow your top at everything you disagree with. The cold hard fact is this: Facebook arguments and Twitter wars have never changed anyone's mind. So try growing some thicker skin and keep scrolling. It'll make life a lot less stressful.
DOING IT WRONG: Commenting on every post with which you disagree with vitriolic outrage.
DOING IT RIGHT: Just keep scrolling. Or, better yet, put your phone down.
myth 5: I CARE ABOUT EVERYTHING.
Back in early 2012, everybody lost their minds about Joseph Kony, a Ugandan criminal charged with forcibly recruiting child soldiers. A documentary and social media campaign called "Kony 2012" raised awareness of what was happening, with the goal of capturing Kony by the end of 2012. A ton of people changed their Facebook profiles to Kony 2012 pictures. Hashtags were created. Momentum built. And then we forgot. Only a few months later, social media was all but devoid of Joseph Kony posts because we had moved onto something else to be outraged about. By the way, he's still at large.
Let's be perfectly honest: before last week, you probably didn't care about gorillas. And in just a few weeks, you'll forget about Harambe (if you haven't already). Something else will grab our attention and fuel our collective outrage. And we'll forget about that, too, because that's what social media has done to us. It's shortened our attention spans. We honestly can't care about everything. Instead, let's focus on a few things and pour ourselves into them. For the plaid dads, it's things like adoption, parenting, and serving the poor. When something else comes along, we can show our concern and support it as we can, but instead of spreading ourselves too thin, let's pour ourselves into a few causes and support the heck out of them.
DOING IT WRONG: Losing your mind about every issue on the internet.
DOING IT RIGHT: Giving your time, skills, and money to causes you're passionate about.
myth 6: RAISING AWARENESS CHANGES THE WORLD
This is closely related to Myth 5. We've fallen for this lie that as long as we feel bad, and post about feeling bad, that it changes things. #JusticeForHarambe, #Kony2012, and every other hashtag that raises awareness only does that: raises awareness. Being aware of an issue doesn't change it. Doing something changes the world.
The gorilla's death has also produced a lot of memes and fancy graphs about things that should truly concern us: the number of people suffering from hunger, killed in a disaster, babies aborted. This is a little better than hashtag activism, but it still only raises awareness. If we're going to show our outrage that a gorilla's death gets more press than world hunger or abortion, are we actually doing something more than posting a meme? Are we involved with local efforts to end hunger in our cities? Are we adopting children and helping moms who would have otherwise terminated their pregnanies? Again, raising awareness is fine, but it changes nothing unless we actually do something.
So let's all calm down. Let's not get sucked into Facebook and Twitter drama. And let's actually do something to change the world instead of posting our rage while looking for the next cat video to laugh at.
AARON SAUFLEY
Aaron Saufley, author of 'The Jumbo Shrimp Gospel' and 'Deep Roots', is a husband and dad who happens to moonlight as a hospice chaplain and preacher. He thinks Netflix is the greatest human invention next to pizza. He loves hanging out with his family, and when he has the time he also enjoys writing, a good cigar, craft root beer, smoking a mean rack of baby backs, movies, and trying not to die while running. Follow Aaron on Twitter.
Comments
comments