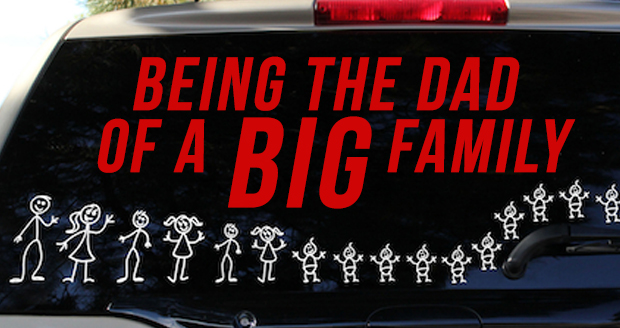 It's Sunday night. This post is due last week. Unfortunately, I ran out of time.  Being a dad to five kids will do that.  Between feeding all these tiny people, making sure they don't leave the house without pants, and preventing them from burning the house down, fathering will spend your time.
As I try to wind down before hitting the sack for what is sure to be interrupted sleep (my boys like to party in the middle of the night), here are some quick thoughts that are rumbling around my head about being a dad to a lot of kids.
My boys like to eat. A lot. I may have to get a fifth job to feed them when they're teens.
Teen girl drama is, well, dramatic. Especially when it isn't your teen's drama.
We've had five kids since the oldest boy came to live with us in March. In the four months that have followed, there's been about seven minutes that at least one kid–or me–have not been sick.
My kids have begged me to watch the Marvel Cinematic Universe.  I've obliged them.  Seriously? Grown ups enjoy this fluff? Nostalgia or whatevs I guess.
Christopher Nolan's Batman trilogy makes the MCU look like Howard the Duck. Who, I just found out, shows up in the end credit scene of Guardians of the Galaxy. 
My middle girl loves both the MCU and Nolan's Batman trilogy. At least she shares some of my taste in film.
Little Caesar's is a life saver.  Bad for the cholesterol, good on the wallet. Especially when you have a small army of children to feed. Add some ranch dressing, and it's like a kiss from heaven.
I may lose my hearing by the time I'm forty. The boys' volume is turned up to 11 at all times.  And I'm pretty sure the volume knob is broken beyond repair.
I now get several naps at night as my boys rarely (never) sleep through the night. It's amazing how the human body adjusts to interrupted sleep.  I've gone from tired to very tired.
I may need to buy a cow or twelve. All the milk these tiny people drink is costing me roughly 47 percent of my paycheck.
Snuggles are the best.
We moved the baby into his room. He sleeps better there. I'm glad for him.
My eldest girl is obsessed with Hamilton. At least she's up on her founding fathers.
Cleaning up the house. Yeah. Never finished. You straighten up one room and–wait, nope. Not straight.
Adding two brothers to three sisters may seem crazy to you. But it's what my wife and I have been called to do.  To us, it's not crazy at all.
I worry a lot about my boys and what I'll tell them when they ask about their birth parents.
I worry about my girls and all the things they'll face as they grow up–issues that my generation is only now starting to recognize.
My wife is the best. She's fantastic.
I can't imagine life any other way.
Alright, I gotta get some sleep. You know, before the party starts.
UPDATE: The boys were up at 1:00, 2:00, and wide awake for good at 5:30. I may need a caffeine IV just to maZZZZZzzzzzzzzzz….
---
AARON SAUFLEY
Aaron Saufley, author of 'The Jumbo Shrimp Gospel' and 'Deep Roots', is a husband and dad who happens to moonlight as a hospice chaplain and preacher. He thinks Netflix is the greatest human invention next to pizza. He loves hanging out with his family, and when he has the time he also enjoys writing, a good cigar, craft root beer, smoking a mean rack of baby backs, movies, and trying not to die while running. Follow Aaron on Twitter.
---
Comments
comments