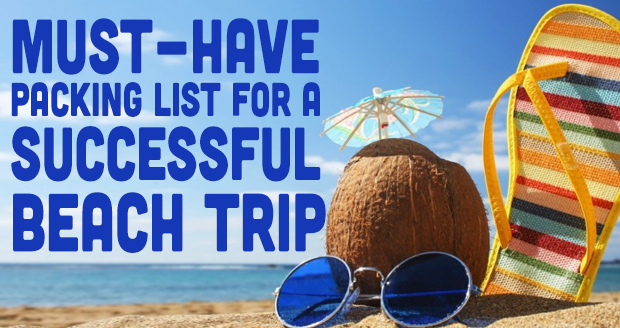 American philosopher and shock rocker Alice Cooper said it best: School's out for summer. Here in the coastal American south, that means one thing: beach trips. Most day trips only require you to hop in the car and go. Beach trips, however, are special. They require special clothes and accessories. Pack correctly, and you'll make memories that last a lifetime. Pack incorrectly, and you've booked a one day trip to hell.
So what do you need to pack to have a successful family day trip to the beach?
Fifteen bags and nine suitcases. Yes, you must pack enough stuff to move to the Bahamas forever even though you'll only be away for one day. No, there will be no extra room in your vehicle. In fact, one of your kids may have to ride on top of the car. You may have to rent a U-Haul trailer.
So what are we packing?
Sunscreen. Not just any sunscreen, mind you, but every type of sunscreen: lotion for the baby, bar for all the kids' faces, and several cans of spray to get through dad's back hair. Wives, you'll insist on giving a fresh coat to the kids every fifteen minutes, but you'll also insist that you're fine. We hubbys will insist you put some on. Here's a tip: sunscreen is not hairspray or perfume. You can't just wave it around with a quick spray at your skin, and you can't spray a cloud and walk through it. It's more like spray paint–even coats. We'll tell you, you'll insist your fine, and guess who'll be firetruck red? Not us, and not the kids.
Cooler. Fill it with enough juice boxes to give every kid on the beach a six pack. And because dad needs to work out his arms and back. No adult beverages, though. You might get the evil eye from the perfect parent who would never have a drink in front of her adorable little junior who is busy destroying your kids' sandcastles faster than they can build them.
Artificial shade. It can be an umbrella or a pop up canopy. Either way, it will take you roughly three hours to put up and just a shade less to take down. After you've set your shade up, remember to move your shade every half an hour, because if you aren't careful, you'll have a lobster-red foot. Oh, and the shade will likely be enough for half a person. Everyone else gets to bake on the sand.
Leash: Your kids barely have a sense of direction in your own house. It completely evaporates once they step onto the beach. Put each of them in a harness and attach them to the artificial shade. Give them enough slack to wander about three feet away from you. That way, you can nap in complete confidence that they won't wander into Davy Jones' Locker.
Extra large dark T-shirts. In case your teen daughter sneaks out of the house in her bathing suit that has enough material to make a stripper nervous. Or in case dad decides to take a dip in the ocean–he needs to cover up that ab to keep the other ladies' eyes pure.
Beach toys: A dozen buckets, five shovels, molds that look like bricks–anything that you can build a sandcastle with and that the kids can ignore.
Book: There's no better place to read than on sand hot enough to bake a pizza that's ignited by the rays of a star only eight light minutes away.
Suitable footwear: Loafers? Nope. Rain boots? No sir. Flip flops? Absolutely. They provide just enough of a barrier between your feet and the sands o' hell that your feet don't feel like you've soaked them in ghost chili sauce. This is critical, because you will take multiple trips back and forth to the car, snack bar, and bathroom.
Extra swimsuits and clothes. Because someone–probably the baby or youngest child–is guaranteed to get diarrhea. Hot, explosive, face-melting diarrhea–and gallons of it. You know what? Maybe leave the kids with grandma and granddad and treat yourself to some cute one piece swimsuits and enjoy your time by the beach or pool in peace and, most importantly, in style!
Ear plugs: Within forty-five seconds of getting on the beach–before you can pick a spot, get your artificial shade set up, and put a third coat of sunscreen on the kids–one of them will start with what are the drops of rain before the hurricane. Yep, the whining will begin. And it won't stop until they're passed out in the car on the way home. Some examples:
"Can I have a drink? I'm thiiiiiirrrrstyyyyyyy!!!"
"I'm hungry! When's lunch?"
"Sissy got me wet! I hate her!"
"I have to go potty! No I can't wait I wanna go NOW!!!"
"Daddy, can you pry this jellyfish off my face?"
"Mommy, I got sand in my buttcrack!"
"When can we go home?!?"
Get some ear plugs–not enough to completely drown all the sound out, but enough to simply lower the volume.
Shark Spray and Gator Repellant. I don't know if they actually make such things, but they should. I've seen all three Sharknado "movies." I want to be prepared.
Shop Vac: There will be sand. Everywhere. In your hair. In your shorts. In your book. In your cooler. In your shoes that you left in the van. In your kids's suits, hair, mouths, and parts.
BONUS: SALT LIFE STICKER FOR THE VAN. Because one trip to the beach for several hours will transform you into a fourth generation local fisherman.
So that's it–everything you need for a successful family beach trip. Of course, you could stay home in the air conditioning away from that giant, evil, skin-melting, cancer-causing sun, but what fun would that be?
---
AARON SAUFLEY
Aaron Saufley, author of 'The Jumbo Shrimp Gospel' and 'Deep Roots', is a husband and dad who happens to moonlight as a hospice chaplain and preacher. He thinks Netflix is the greatest human invention next to pizza. He loves hanging out with his family, and when he has the time he also enjoys writing, a good cigar, craft root beer, smoking a mean rack of baby backs, movies, and trying not to die while running. Follow Aaron on Twitter.
Comments
comments