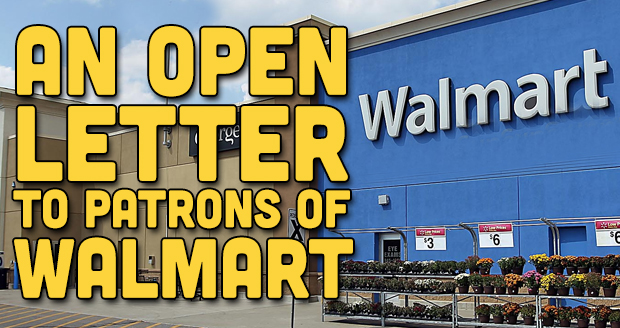 Dear patrons of Walmart,
As the father of five kids ranging in age from one to fourteen, I know life can be crazy. Some days are like your-best-friend-gets-drunk-at-the-frat-party-then-goes-streaking-and-pees-in-the-fountain crazy. Other days are getting-chased-by-a-serial-killer crazy. Sometimes, we just want someone to give us our happy pills, strap us in a strait jacket, and throw us in the padded room away from the madness.
Part of this insane train wreck called life is, at least here in the American south, going to Walmart.
For some of you, Wally World is an adventure. It's the highlight of your week–a warehouse full of shiny new merchandise at rollback prices. You crisscross the store, ogling all the things and filling your shopping carts with stuff you don't need. You are free to do that because this is 'Murica. You can even get an AMEX Blue Cash Preferred to earn rewards on your groceries, making the trips even more affordable!
Others, however, do not share your enthusiasm for this retail behemoth. We'd rather be dragged through the streets naked over broken glass with hot sauce coated toothpicks shoved in our eyes than go to your favorite store. We trek to Walmart with our fists and jaws clenched. We're convinced that the portal to hell is somewhere between the fabric section and the produce. We don't make a trip to Walmart because we want to. We do it because we're out of toilet paper (and we pick up a few other things while we're there because, hey, Walmart).
Why do we not enjoy our time in what is to you a shopping wonderland?
You. We loathe Walmart because of you.
For some reason known only to God, your behavior changes when you get to the Walmarket. You do things there that you wouldn't allow your children to do in the privacy of your own home. Things that, if others did these things at work or church, your jaw would drop open and you would wag your head in hearty disapproval. But because it's Walmart, these behaviors are somehow appropriate.
What exactly are these behaviors? Let's look at them one-by-one:
Leaving the shopping cart in the parking space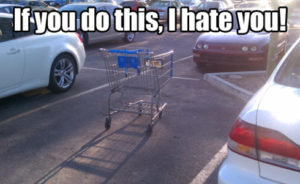 I know you have somewhere to be. I know you've had a long day. I know you just want to go home and hork down a bag of Doritos while watching The Real Housewives of Wherever. Seeing as you're so stressed, I get why you don't want to take an extra seven seconds to walk a dozen feet to put the cart in the corral. Wait… NO I DON'T. What makes you think you can just leave your cart where you parked the car? Do you let your kids leave their Matchbox cars in the middle of the floor? Heck no you don't–you threaten to take that iPad away from them until they pick them up. Maybe they should pass a law that allows the courts to take your iPhone because you're too lazy to move your cart. Think of other people, including the people who have to gather the carts so that others can use them. Put the stupid cart in the stupid corral. It only takes a few seconds, you get a little bit of exercise, and you allow people to actually do what the parking space is intended for–park in it..
Parking in the fire lane
I'm sorry, I didn't realize that "No Parking. Fire Lane" is English for "My personal parking space." Yeah, I know. You just need to "run in and get a few things." I guess that means an entire cart full of groceries, a new TV, and a ten minute browse of the Redbox. Let me make this clear: if the Walmart catches fire and the rest of us die, it's your fault because you're parked in the fire truck's parking spot. You are not special. That spot is not for you. Park in a normal spot like the rest of us.
Parking in the crosswalk
This is even worse than parking in the fire lane. The crosswalk is located directly in front of the main entrance. By parking there, you're blocking the flow of traffic. People cannot get around you because, well, you're in everybody's way. Usually, someone is waiting in the car for you. I didn't realize you were special enough to have a personal chauffeur. Tell him to drop you off, and then go park in a normal parking spot–and turn down the stupid music. Nobody wants to hear your $1,500 car rattle because of the $5,000 woofers you put in it. Again, you are not special. The crosswalk is for walking, not parking. Otherwise, it would be called the crosspark.
PARKING IN MORE THAN ONE SPACE
Like you, your vehicle is not special. No one envies your car. They're pissed at you for thinking your poo doesn't smell. One car, one spot. The math isn't that hard. Park like the rest of us, or we may tell Carrie Underwood you cheated on her. Actually, we'll just settle for a flock of seagulls to do their business while flying over your precious car.
DRIVING YOUR CART DOWN THE MIDDLE OF THE AISLE
The aisles are wide enough for two carts to pass comfortably. They are not wide enough for you to cruise down the middle of the aisle checking Facebook. You don't drive down the middle of the street unless your drunk. Maybe you're drunk texting and carting in the Walmart. Maybe the Walton family needs to install breathalyzers at the entrance to the store. If you blow more than the legal limit to drive a cart, then you need a designated cart pusher. And bail money.
snatching up all the chicken for your family reunion
Wait, that was at Aldi. Never mind.
SNAPPING PICS OF THE PEOPLE OF WALMART
I'm as guilty as the rest of us who've looked at the people of Walmart pics. But I've never snapped one because that's rude. We get all bent out of shape that the NSA has spied on us for years, but somehow it's fine to snap a pic of someone that's different than you without their knowledge, and then upload it to the internet without their knowledge. If you did that to the hot chick or the handsome dude next door, you'd get busted for stalking. These are real people, exercising their 'Murican right to shop in the Walmart. Leave your cellphones in your pockets and purses–and turn off the ringer, because no one wants to hear your ridiculous fart ringtone.
In conclusion, I support your right to shop at the greatest taker of American money since the Sears & Roebuck catalog. Just please, for the love and future of humanity, act like you have some sense. No one acts like this at Target, but I hear there's all kinds of confusion about who can go to the bathroom there.
I'd love to stay and chat, but I'm double parked in the fire lane. But first, I wonder if they have that movie in the Redbox…
Love,
Aaron
---
AARON SAUFLEY
Aaron Saufley, author of 'The Jumbo Shrimp Gospel' and 'Deep Roots', is a husband and dad who happens to moonlight as a hospice chaplain and preacher. He thinks Netflix is the greatest human invention next to pizza. He loves hanging out with his family, and when he has the time he also enjoys writing, a good cigar, craft root beer, smoking a mean rack of baby backs, movies, and trying not to die while running. Follow Aaron on Twitter.
---
Comments
comments