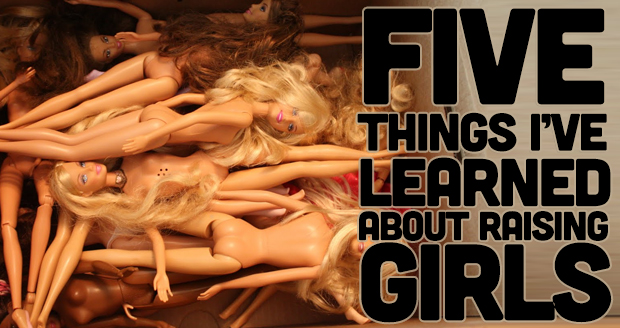 Last week, I shared some wisdom I learned on-the-job about raising boys as we're adjusting to our foster sons whom we're in the process of adopting. Since I helped make three daughters the old fashioned way, I figured I'd share some things I've learned about raising girls.  I've raised girls for fourteen years, so I'm an expert at raising them up to the early teens.
So, without further ado, here are five things I've learned about raising girls:
Girls are easier to raise than boys.  Boys are loud, turbo-charged, and pre-programmed for total destruction. While my youngest daughter is loud, it has more to do with the fact that she is (up until the boys came into our lives) the baby of the family than being a girl. Girls do specialize in drama, but you quickly learn how to recognize it, deal with it, and nip it in the bud. Girls, for the most part, aren't trying to tear down your house one (or every) brick at a time. They just fill it with flowers and…
Thousands of Barbies. All naked, all the time. Why little girls think their Barbies all have to be sans clothes, I don't know. And why they think they have to have all these Barbies spread all over the floor is beyond me. Walking through a dark room barefoot with Legos spread across the floor is hell.  Walking through a dark room with naked Barbies spread across the floor is the lobby to hell. I just hope Ken gets regular STD screenings at his doctor's appointment (because I heard several of those Barbies were hooking up with the Anakin Skywalker action figure).
Dress up isn't just for Halloween. Or church. Or a wedding. Or any other event that requires high taste in faction. My youngest daughter changes clothes more than the average person blinks. My laundry pile is so high that, soon, mountain climbers everywhere will want to scale Mount Saufley Girls' Laundry.
They have me wrapped around their finger. While not universal for everyone, all three of my girls are daddy's girls. We have a good time.  I joke with my oldest about pop culture, I talk with my middle girl about Minecraft, and my youngest girl loves to play the Wii. They all love to hang out with me, watch movies, and snuggle tight with their dad. I've done my share of painting fingernails, playing dress up, and playing doll house with all those nude Barbies. And they love me for it.
The boys won't stand a chance. This is ranging beyond my current expertise, but my plan is already underway. I've already had "the talk" (which isn't a one time thing–it's an ongoing conversation) with my oldest. That talk will continue with conversations about dating boys that respect her faith, her body, and her family. If a boy doesn't respect one of those, then I get to play the Dad Veto card. She knows this, and she is OK with this. I know, however, that she may hate me for it… but she'll eventually thank me for it. And this will go for my younger girls as well.
Raising girls has been one of the great joys of my life.  i love them tremendously, and would do anything for them. Now if I can just teach my boys to leave the toilet seat down, we'll avoid some sibling drama in the near future.
AARON SAUFLEY
Aaron Saufley, author of 'The Jumbo Shrimp Gospel' and 'Deep Roots', is a husband and dad who happens to moonlight as a hospice chaplain and preacher. He thinks Netflix is the greatest human invention next to pizza. He loves hanging out with his family, and when he has the time he also enjoys writing, a good cigar, craft root beer, smoking a mean rack of baby backs, movies, and trying not to die while running. Follow Aaron on Twitter.
---
Comments
comments