Five years ago, I had flown out to Kansas City to perform at a comedy club. The first leg of the flight had been delayed, leaving me scrambling across O'hare hoping to arrive at the gate before the plane hit reverse and said smell you later.
I chose those words carefully, because, little did I know, I would make the flight, but instantly regret it. I was on the back row, adjacent to the bathrooms, while stuck in the middle of the largest, sweatiest, angriest couple I'd ever had the displeasure of meeting. They were together, but in the middle of a fight. They had no wish to sit next to each other, while simultaneously no sympathy for the poor schmuck stuck in the middle. I was that schmuck.
I put my head between my legs, readying for the crash I was praying would happen and tried to hold my breath for the next hour and a half.
When I de-boarded the plane (Carlin was right about nonsense words), my face was blue and I was eager to suck in fresh air.
I raced towards the exits, carry-on in one hand, while texting a friend that I was on my way out. I saw my buddy's car waiting outside and I swung open the door, hopped in with my bag on my lap and yelled, "Let's blow this Popsicle stand, that flight sucked!" He replied, "Right on", and we took off.
About 5 minutes, and 2 miles down the road, I moved my bag to the back seat and my 'buddy' and I realized we were not the lifelong friends we thought we were.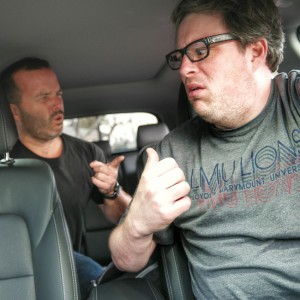 I had jumped in the wrong car, and he had picked up the wrong dude.
"Who are you?!?!?" we both said at the same time. He looped around, and we met up with our respective bros. We all decided to grab some BBQ and have a big laugh about it. KC+BBQ=New Friends Forever.
This is my favorite driving story. Or I should say it was.
Recently, I had the privilege of attending the Dad 2.0 Summit in Washington D.C. One of the sponsors was KIA. For some reason only they know, they handed me the keys to one of their vehicles and said, "have a blast." As kind a gesture like this was, I did still feel it would be wise to install a BlackBoxMyCar.com dash cam just in case of an accident.
Driving around a nearly empty D.C., (it was the end of winter and Congress was home or busy campaigning for their next 2 years), was like a surreal dream. For the sake of this article and to keep the awesome folks at KIA happy, I'll say I kept it well under the speed limit and drove like Miss Daisy herself was in the backseat. But in the fever dream I remember, the National Mall became the Indy 500, and I was a rookie driver out to make my name known and my dust seen.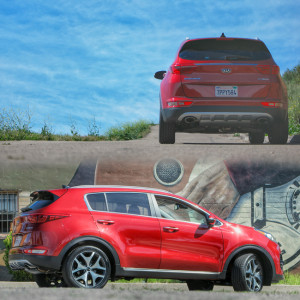 I was blown away by the luxury and handling of this car. KIA is a budget vehicle right? RIGHT? I'm not sure if this was ever true, but what I drove was by NO MEANS what you think of as a "budget" car. No, this had a surround system that would cause your local movie theater to hang it's head in shame. I felt like I was driving a machine worthy of a 'Top Gear' 5 Star review. I was tempted to start looking at Geico reviews now as soon as I stopped driving because I was so enthralled by the idea of owning this car. Clarkson was jawing on about the indigent while weaving in stories of mountain ridges and repeating the word POWER. This is not the KIA I remember seeing my friends drive in high-school. This was a reward. It said, "you know how to spend wisely, while not compromising on quality and high standards".
When I handed the keys back to the rep, he asked what I thought. I told him point blank, "Everything I thought I knew about your company was wrong. That was wonderful."
I'm, happy to work with KIA, because they're a company that cares – REALLY CARES – about dads, as you can see in the videos. And while KIA sponsored this post, they in no way put words in my mouth (hand?).
When I arrived home from D.C. I hopped in my wife's car and said, "Babe! Our next car is gonna be a KIA." The lady in the driver's seat looked at me and said, "Who are you?!?!"
I'd done it again. I really have to start paying better attention.
---
Disclosure: I have partnered with Life of Dad and Kia for this promotion.
Christian Lee
Christian has had many roles in life. He's been a minister's son, a poor student, a computer geek, a bible college dropout, a corporate suit, a traveling comedian, and a failure at much he's tried. But he counts 2 huge successes in his life. He is husband to a wonderful wife, and father of two exceptional kids he wanted, a third 'surprise baby', and a In 2015, they met yet another surprise, as their fourth (and prayerfully last) child defeated birth control with her sheer will to exist. Having just missed Aaron in college by a few years, they connected online, finding they had a similar sense of humor [read: DARK] and decided to launch PlaidDadBlog. Christian hosts the 'What Are We Watching?' podcast with his son Carlin, and just launched a new web series, DadSews, where he learns (an fails) to sew LIVE on camera.
Comments
comments