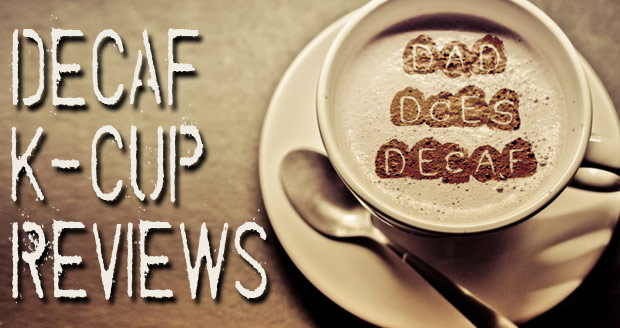 Here's the myth about decaf coffee: it's decaf.
See, the thing is, NO coffee is ever fully decaffinated. Why? Well, here is how the process works:
In the case of coffee, various methods can be used. The process is performed on unroasted (green) beans and starts with steaming of the beans. They are then rinsed with a solvent that extracts the caffeine while leaving other constituents largely unaffected. The process is repeated from 8 to 12 times until the caffeine content meets the required standard (97% of caffeine removed according to the international standard, or 99.9% caffeine-free by mass per the EU standard).

https://en.wikipedia.org/wiki/Decaffeination
Wow! 97-99% caffeine free! Yea, sure. by MASS. Here's the reality:
Researchers purchased 10 16-ounce decaffeinated cups of drip coffee from coffee shops and restaurants and analyzed them for caffeine content.

They found all but one — decaffeinated Folgers Instant, purchased at a Krystal fast-food restaurant — contained caffeine. The caffeine content ranged from 8.6 milligrams to 13.9 milligrams.

That's about a tenth of the caffeine found in an 8-ounce cup of regular drip-brewed coffee, which contains about 85 milligrams of caffeine.

Next, researchers tested several samples of decaffeinated espresso shots and decaf brewed coffee from the same Starbucks location to determine if caffeine content varied in the same drinks from the same location.

The results showed that the caffeine content of the decaffeinated espresso shots varied widely — from 3 to nearly 16 milligrams; the caffeine content of the decaf brewed coffee ranged from 12 to 13.4 milligrams per 16-ounce serving.

Researchers say even though the caffeine content of decaffeinated coffees is low, people could develop a dependence on them.

"The important point is that decaffeinated is not the same as caffeine-free," says Roland Griffiths, PhD, a professor of behavioral biology and neuroscience at the Johns Hopkins School of Medicine, in the news release. "People who are trying to eliminate caffeine from their diet should be aware that popular espresso drinks such as lattes (which contain two shots of espresso) can deliver as much caffeine as a can of Coca-Cola — about 31 milligrams."

http://www.webmd.com/diet/20061011/decaf-coffee-isnt-caffeine-free
There is also a myth that decaf tastes worse than its fully leaded counterpart. Not true. All of the fineness and flavors that go into roasting a caffeinated bean, can be accomplished with its less hyper brother. Giving you a nice beverage to enjoy while you read The Darkest Roast memes. The reality is, our brains (wel YOURS) have convinced you it's not as good, and your taste buds follow suit. Plus, if you use a good quality coffee machine (take a look at the reviews written by greatcoffeebrewers to find one) your coffee is going to taste even more delicious, which is something to consider if you are worried about the difference in decaf. Also, make sure you use good quality beans, like the ones from this coffee supplier Coventry, because the beans you get determine the taste of the coffee too.
There are benefits to decaf other than avoiding the jitters. It can help those with gastrointestinal problems (often driven by our caffeine consumption), heart issues, general health & well being, etc. You can find a comprehensive list here. The Trouble with Caffeine.
So, why should you care? Maybe you don't. But you shouldn't deny yourself the POSSIBLE benefits of lowering your caffeine intake based on the belief that the product is no good.
We've started a new Instagram account, DadDoesDecaf, where we review the most convenient (if not a pricey) version of home brewing: the K-Cup. You can click the link to follow it. We'd really appreciate the follows, as we have just started and are at the very beginning of the process of building a following. We have been reading reviews, such as https://www.platypusreviews.com/upleap/, to help us to decide whether or not to pay for a service which will guarantee us followers. We are undecided as of yet! Here are a few of our reviews.
---
Christian Lee
Christian has had many roles in life. He's been a minister's son, a poor student, a computer geek, a bible college dropout, a corporate suit, a traveling comedian, and a failure at much he's tried. But he counts 2 huge successes in his life. He is husband to a wonderful wife, and father of two exceptional kids he wanted, a third 'surprise baby', and a In 2015, they met yet another surprise, as their fourth (and prayerfully last) child defeated birth control with her sheer will to exist. Having just missed Aaron in college by a few years, they connected online, finding they had a similar sense of humor [read: DARK] and decided to launch PlaidDadBlog. Christian hosts the 'What Are We Watching?' podcast with his son Carlin, and just launched a new web series, DadSews, where he learns (an fails) to sew LIVE on camera.
Comments
comments