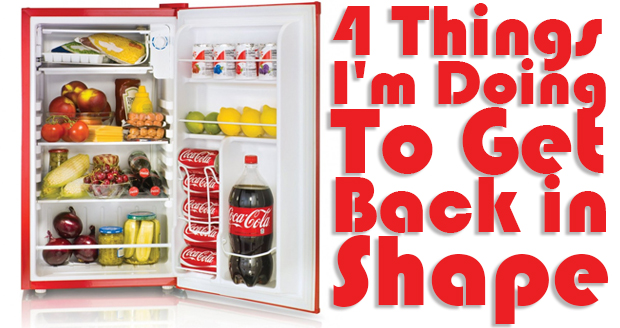 Back in the fall of 2014, Christian and I had a brilliant idea.  We were both overweight and out of shape. We decided to make our battle with the bulge public via Plaid Dad Blog.  And thus, Fatoberfest was born.  One word adequately sums up the results:
FATTER.
Christian actually dropped a few pounds, but quickly gained them back.  I just gained weight.  Since that ill fated public experiment, it's only gotten worse.  I started Fatoberfest at 268 pounds.  I'm now 286 pounds.  Fast food, getting out of my running routine, busyness with a growing family, and laziness have all contributed to my expanding girth.
Since then, my mind has increasingly drifted to my need to take better care of myself.  It's not for vanity's sake.  It's not for athletic purposes. It's because I need to stop abusing this one body I have with food and laziness.  I need to be a better example to my family.  Self-control is a spiritual issue for me–I often make food my god, and I need to destroy that idol.
So I'm starting again.  For the million and first time. It might be another false start. But it might be the time that sticks.  So here's what I'm doing to get back into shape.
First, run regularly. I'm like Rocky in Rocky III–I'm going back to the basics in regards to training.  I started running five years ago with a Couch to 5k program. I'm going to repeat it, but push myself harder than I did when I first started. My goal is to be able to finish a 5k in under thirty minutes. To get there, I'll have to re-establish a regular running routine, which the Couch to 5k program will help me do.
Second, hit the gym more than once every two weeks.  Life has been busy recently with bringing in two more children to our home that we're going to adopt.  Sleep has been at a premium, and I've been too tired to go.  But things are starting to easy up in that department, and I can no longer make it an excuse.  So I'm setting a goal of getting to the gym three times a week to do weight training and cardio.
Third, cut out caffeine.  This is difficult for me, because I love soda.  Like, if soda was a pretty lady and I was single, I would marry soda.  Unfortunately, that stuff is poison.  And caffeine actually stresses my kidney, so my doctor advised me to cut it out and drink more water. I've done OK so far this year, but I've fallen off the wagon several times.
Fourth, stop eating like each meal is the last food on earth. I've always been able to throw down at the table. Seconds, thirds, and usually fourths instead of dessert (and then dessert). I need to cut back to sensible portions, especially at dinner time. I also need to cut way back on the fast food.  My job is very mobile, and it's easier to just grab a value meal instead of pack my own lunch, or at least choose a somewhat healthier option. I also need to work in some healthier foods into my diet. I just discovered pink lady apples-just as sweet as a candy bar, but better for me.
My current weight at the time of writing this post is 286. My goal weight is 219, but anywhere in the 220's is fine. Right now, the first goal is to get out of the 280's and to get my wellness routine established.  Wish me luck…
Christian is also trying to get into better shape–and his (ahem) "jewels" are on the line.  You can read about that here.
What are you doing to either stay in or get into better shape?  Let us know in the comments.
AARON SAUFLEY
Aaron Saufley, author of 'The Jumbo Shrimp Gospel' and 'Deep Roots', is a husband and dad who happens to moonlight as a hospice chaplain and preacher. He thinks Netflix is the greatest human invention next to pizza. He loves hanging out with his family, and when he has the time he also enjoys writing, a good cigar, craft root beer, smoking a mean rack of baby backs, movies, and trying not to die while running. Follow Aaron on Twitter.
---
Comments
comments