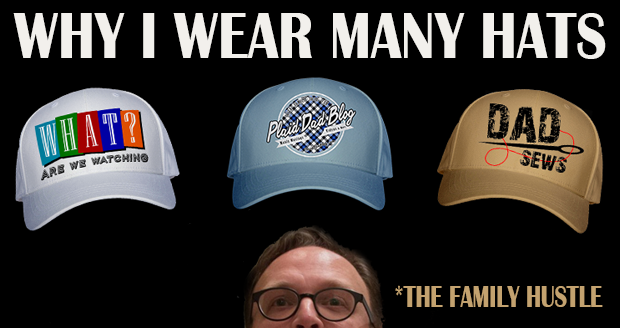 I was recently asked on Facebook, "What DON'T you do?"
Now, that's not because I'm a jack-of-all trades, and certainly not a master of one. It's because they always see me posting content online. Between PlaidDadBlog, the 'What Are We Watching?' podcast I host with my son Carlin, the children's book series I'm writing with my daughter Mileena, or our new project, Dad Sews, I stay very busy.
One of the reasons I put so much work into our sites, is because I decided to create more in 2016 than I consume. That's no easy feat, let me tell you. Do you realize how much media you consume? Have you ever really kept track? The music on your clock radio, morning news with Charlie Rose (you're watching Charlie and Nora right? Of course you are.), radio on the way to work, internet and Facebook checks every 5 minutes, music at the Mexican restaurant during lunch, news while you fix dinner, Wheel & Jeopardy, 'The Big Bang Theory' (seriously, don't watch that tripe), everything between then and Fallon riding a big wheel while drinking schnapps and egging on the Roots.
Yeah.
That's a lot of consumption. That's not even counting books…………. hahahaha. No one reads books anymore. So I've decided to create more. Will I be successful? Eh, probably not, but I'm giving it the good-ole college try (be aware I dropped out of college).
What's the other reason I'm hustling so hard? For my kids. Is it because I want to make more money for the family? Sure, but there's more to it than that. I want to send more time with them – not just spend more money. Ironically, this sometimes means spending less time with them at the moment. Recognizing this, I decided to make sure they are involved. The WAWW podcast is not only hosted by my son Carlin, but he's also learning to set up lights, cut video,and manage the production. When we adopted him, he was pretty shy around others, but the podcast has helped him sprout. It's so awesome to see him stretch and grow before my very eyes. I'm just so damn proud of him.
My daughter, who wants nothing more than to be a police officer, is getting a jump on the gun (pun intended), by co-writing a children's book about her love of blue and black (that also applies to the bruises she plans on applying – she'll surely be investigated by internal affairs). What better way to teach a second grader, who's making the transition into chapter books, how to understand story structure and vocabulary, than helping her write her own book? I don't expect her to be a New York Times best seller, but I do think it's awesome she'll be going into middle school with the title 'Author' after her name.
See, that's the beauty of the world today, there's many opportunities to hustle for what you want, but more importantly, it's the opportunity to make something with your family. Access to the internet, every book on-demand with your smartphone, affordable electronics & software; you just have no excuse not to try. Want to write a book? You can publish on Amazon. Want to start a newscast? You can do it for free on Youtube (oh, did I mention we're doing that too? More on that in coming months).
You can literally do ANYTHING you put your mind to. My son is an artist by nature, so I helped him put his comics online at ForeverFamilyComic.com. What did it cost? Next to nothing. Just my time and some elbow grease.
Wearing a lot of hats can be stressful.There's deadlines (self imposed as they may be), scheduling issues, not enough hours in the day, technology snafus, learning curves to conquer; it goes on and "on and on and on" as the Journeyman said. But the rewards? Oh, they are sweet. Even if you never hit the big time, with the fat paycheck eluding you, you still have the pride in saying, "I did that! I created something from nothing. It gave others joy."
For me, well I get to bring my family along for the ride. That beats slaving away at an 8-5 socking money away for a theme park trip any day. This roller coaster never ends. Dips and valleys to be sure, but oh, the thrills!
.
---
CHRISTIAN LEE
Christian has had many roles in life. He's been a minister's son, a poor student, a computer geek, a bible college dropout, a corporate suit, a traveling comedian, and a failure at much he's tried. But he counts 2 huge successes in his life. He is husband to a wonderful wife, and father of two exceptional kids he wanted, a third 'surprise baby', and a In 2015, they met yet another surprise, as their fourth (and prayerfully last) child defeated birth control with her sheer will to exist. Having just missed Aaron in college by a few years, they connected online, finding they had a similar sense of humor [read: DARK] and decided to launch PlaidDadBlog. Christian hosts the 'What Are We Watching?' podcast with his son Carlin, and just launched a new web series, DadSews, where he learns (an fails) to sew LIVE on camera.
---
Comments
comments