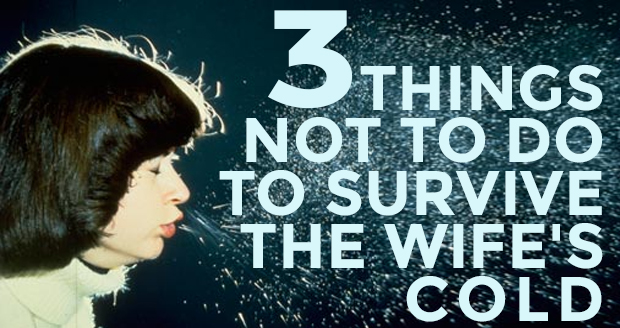 What are the six scariest words a wife could tell her husband?
"My mother is coming over tonight."
"I'm sure glad football is over."
"Trump will make a great president."
As frightening as those statements are, they're benign compared to this:
"I think I'm getting a cold."
For the typical husband, this combination of words thrusts them into the cold clutches of fear. They're afraid that all the household responsibilities will fall on them: cooking, cleaning, laundry, bathing the children, helping with homework, depooping the baby, walking the dog, taxiing the kids to all their activities. How will we ever get it all done? Will we forget something? Will we ever have time for video games again?
Without a doubt, cold and flu season can take a toll on even the strongest of people. It can be caused by many things including lack of sleep, stress, poor diet, and a broken furnace (by which you may then need to consider getting in contact with someone like premierhvacservicesllc.com/heating/furnace-replacement/ for a replacement). However, it is important to remember that there are steps that you can take to avoid these. For example, washing your hands more often can make a huge difference and can significantly reduce your chances of succumbing to any bacteria or viruses that can make you ill. Ensure you have a well-balanced diet. Even if you don't feel starving, try and get something that includes protein, fibre, and dairy. Another way you can avoid getting ill is to make sure you get your furnace fixed or replaced.

Alongside practicing good hygiene, it is also vital that you keep your home at a comfortable temperature. If you are unlucky enough to fall victim to a winter cold or the flu, then make sure your heating is working. We have a furnace in our house so we often have to book it in for a service to make sure that it is working as it should be. You can learn more about the importance of maintaining your furnace here: burichvac.com/chevy-chase-heating-furnace/. If you don't currently have a furnace or any means of heating, it might be worth calling a HVAC company out to see if they could install anything to give you some warmth. Homes should really have heating as it can be difficult to generate warmth inside the house otherwise. The company might suggest getting some heating pumps installed. This should move heat from one place in the home to another place, ensuring that more areas of the house are kept at a heated temperature. To get some of these installed, it might be worth visiting nanceservices.net/heating/heat-pumps/ to learn more about heat pumps. If they sound ideal, you could then contact a HVAC company to get them installed. If at any point your appliances break down (heaven forbid), you will need to make sure that you are covered by your home warranty so you can get it sorted as quickly as possible. You can find out here if you are covered, and if not you'll be able to start the process of being covered before your wife actually gets ill.
Before we lose our minds though, let's realize something: our women tolerate colds much better than we do. We get a hint of the sniffles, and we're laid out on the couch waiting for the Grim Reaper to show up and escort us to the Great Beyond. Our wives could have a cold so severe it requires the amputation of two limbs and a boob and she'll still run circles around us. So let's man up and face the spousal cold with strength, vigor, and dignity. Here are three things you cannot do when faced with running the house while your wife mends from a cold.
You cannot panic. No sitting in the corner sucking your thumb. No curling up in the fetal position. No sobbing uncontrollably like your wife does at the end of Dirty Dancing. Allow yourself five seconds to be overwhelmed by the possibility that the world could end because of your wife's cold, but no more than five seconds. Then find your spine and make a plan. Delegate the chores. Cook like you are Alton Brown's sensei. Fold that laundry in such a way that Martha Stewart would gaze upon your folding artistry and willingly go back to prison. If that's too intimidating, just feed the kids Chef Boyardee, load the dishwasher, and take the kids outside and spray them down with the hose. Make Johnny Castle look like the scumbag he really is: be a man and take control of the situation before your fear controls you.
Do not look for an excuse to poop. Men, we will look for any excuse to excuse ourselves to the bathroom. Got groceries to bring in from the car? Sorry, honey, but nature calls. The kids need a bath? Man, those chicken nachos ran right through me. That light bulb needs changing? Maybe after I pinch one off. Fellas, no one does number two that much. We go potty so that we can get out of doing stuff. We sit on the can until our legs go numb, not because it takes us half an hour to drop anchor, but because it takes that long to open every stinkin' app on our phone. When our wives come down with a cold, we need to stay out of the bathroom and take charge of the house. There will be time to drop the Cosby kids off at the pool, but right now mama needs a box of tissues and some soup.
Do not simply look busy. We've all done it, fellas. We look busy so the wives will think we're busy, but we're really not doing anything. We rearrange the dishes in the sink so that the counter looks cleaner. We walk back and forth from room to room, claiming we're looking for our phone when it's actually in our pocket. We take a break from dusting to sit down and "just to check the score" from last night's game and end up watching Sportscenter through several times (because you never know when Breaking News will actually break). When the day is over, nothing has been accomplished aside from a big ol' pile of laziness. And guys, our wives know what we're doing. We can't fool them. So let's actually be busy, giving our wives extra time to heal. Actually fold the clothes, wash the dishes, and feed the baby. Make things easier on your wife.
So there you have it: three things to avoid if you want to survive the spousal cold. Let's go the extra mile for our spouses. They do so much for our families. Let's return the favor and make things as easy as possible for her so that she can rest and heal up (and ladies, let us captain the ship–you sit back, sip that hot tea, and binge out on Making a Murderer). And when she gets better, let's keep it up.
AARON SAUFLEY
Aaron Saufley, author of 'The Jumbo Shrimp Gospel' and 'Deep Roots', is a husband and dad who happens to moonlight as a hospice chaplain and preacher. He thinks Netflix is the greatest human invention next to pizza. He loves hanging out with his family, and when he has the time he also enjoys writing, a good cigar, craft root beer, smoking a mean rack of baby backs, movies, and trying not to die while running. Follow Aaron on Twitter.
Comments
comments