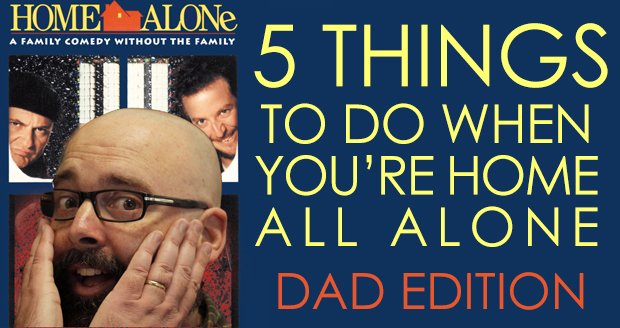 Our buddy Justin Conners over at lifein140.com (you can also find him at The Great Big Beautiful Podcast and his Life in 140 YouTube channel) recently posted on Facebook that he had two free nights to himself as his family would be traveling. He had never experienced this much alone time before, and he needed suggestions on how to spend his time.
Every once in awhile, my wife takes the kids off on an overnight adventure. I miss my family when they're gone.  I can't wait to hug them when they get back.  But let's be honest: I ain't about to pass up a chance to chill for a night or two.
Dads, opportunities like this come along less often than Haley's Comet.  The Cleveland Browns have a better chance of winning the Super Bowl than we have of getting a couple of nights to ourselves.  So when those chances come, let's take advantage of them!
Here are five things you can do when you have the house to yourself:
Sleep.  The baby won't be there demanding her tenth (or, if it's after midnight, first) meal of the day.  The toddler won't waddle into the bedroom at 4:30 AM and smack you in the head with his plastic hammer. You have the chance to sleep all night and not wake up until your alarm does.  And when you get home from work, you won't have everyone clambering for your attention or siblings fighting to the death.  Thus, you can partake in the dying art of napping.  So grab your teddy bear and your favorite blanket and hit the sack.
Eat.  You know that gluten free, clean, low fat, no fun diet you're on so you don't die before you hit retirement age?  Ditch it. Grill a giant steak and savor it like you're a T-Rex devouring the last cow on earth.  Buy a tub of ice cream and finish it in one sitting. Eat so many cheese fries that you'll need a pipecleaner attached to a sandblaster to clean your arteries. Get back on the diet when the family returns.  Until then, order pizza in your underwear.  Although you may want to put pants on before the delivery guy shows up.
Binge on Netflix.  I know how tired you are of Dora the Explorer.  I know you want to reach through the screen and murder Caillou.  Now's your chance to watch and entire season (or series, depending on how much free time you'll have) of that show you have to keep putting off because your kids want to watch Uncle Grandpa on repeat 24/7.  Need some suggestions?  Try Breaking Bad, The Walking Dead, Better Call Saul, or House of Cards.
Clean up.  Don't be a total slob while the wife and kids are away.  Wash the dishes, straighten the house, do your laundry, and take a shower.  Leave the house in better shape than it was when the family left.
Plan for your wife to spend some time alone. Buy her a gift card to her favorite restaurant, give her some cash, and book a night at the best hotel in town. Give her time to unwind all on her own, just like you're doing.  She'll love you for it. And your kids will have a blast hanging out with you.  And yes, you will survive a night without her.
Notice I didn't include anything about "getting stuff done" and "meeting deadlines" or "working." We need time to ourselves, time to relax, time to be bored, and time to waste as we want. It will recharge us to invest even more in our marriages and our kids.
Hey Justin, did that help?
What are some things you do when you have some time to yourself? Let us know in the comments.

---
AARON SAUFLEY
Aaron Saufley, author of 'The Jumbo Shrimp Gospel' and 'Deep Roots', is a husband and dad who happens to moonlight as a hospice chaplain and preacher. He thinks Netflix is the greatest human invention next to pizza. He loves hanging out with his family, and when he has the time he also enjoys writing, a good cigar, craft root beer, smoking a mean rack of baby backs, movies, and trying not to die while running. Follow Aaron on Twitter.
Comments
comments