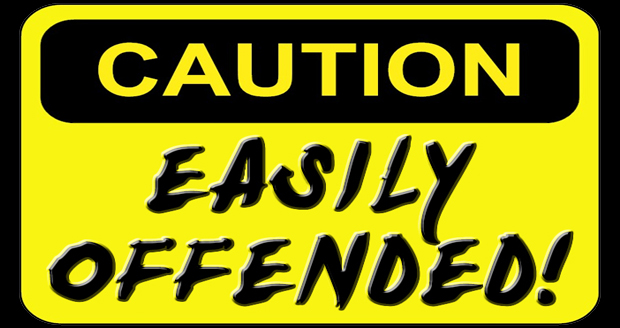 The world of open communication has taken a turn for the worse. We've turned what should be an awesome tool for connecting with one another and sharing our ideas and morphed it into a weapon for vindictiveness and ugly payback.
I'm talking, of course, about our EARS.
"What? Surely you meant to say the internet", you scoff. Nope. Clean out your ears (or eyes as the case may be).
Yes, the internet has definitely made it easier to take out others who don't believe in your particular set of values, or subscribe to your world view, but your eyes and ears are the problem. More specifically, the way you interpret what enters them.
When I was young we'd just say: "I didn't like what he had to say", or "I don't agree with that guy."

I can't go a week without hearing about something offending someone – I rarely go a day. We've embraced this culture of offense so fully, we've forgotten that we used to just "not like" something. I remember being younger and hearing a person give an opinion people didn't agree with, and the adults would note, "I didn't like what he had to say", or "I don't agree with that guy." It used to be once someone said something you didn't like you would no longer give them any credence and therefore choose to ignore them altogether. Examples, you ask? Certainly, here you go:
Example Time
Drunk Uncle: I don't like black people, they're less than human and don't match up with us perfect whites!"
You: "Oh really? Wow, you're an idiot. I no longer feel like spending time with you and don't wish to invite you to family gatherings."
-or-
Power Drunk Celebrity: I don't like those Jews, or Southerners, or Blacks, or people between the coasts, or foreigners… or the BAND Foreigner."
You: "Oh really? Wow, you're an idiot. I no longer feel like spending money on your projects and you will soon become irreverent (Ok, maybe I see your point on the band Foreigner)."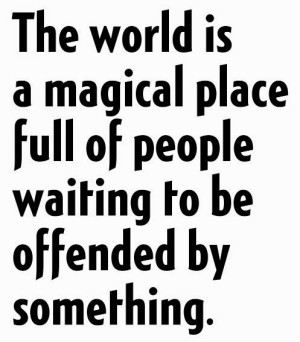 But that's just now how it works anymore. We have to go on Twitter crusades. Facebook campaigns. Youtube hysteria. We need Fox News, CNN, and every other media shill to clamor on about it 24/7 until heads roll…. or an official apology is given, retraction made, and rehab visited. Even your drunk uncle has the local 6-oclock news banging on his door and then insisting he be fired from his janitorial job at Golden Corral. Because lordy-me, you can't have that kind of racism around a buffet. Not even sneeze guards can keep that from spreading.
And the worst group of all may be one I belong to: Christians.
It seems Christians as a group lack any sort of grace they claim to be given. "Grace abounds! For us. Not you though. We're shutting you down." Granted this is happening on every side of every divide, whether it's anti-gay, anti-church, anti-black, anti-white, anti-Elmo… anti-anything. We live in a world of anti's when we used to just agree to disagree.
Aaron and I often talk about what we should cut out of our videos, writings, posts, etc. to avoid running the risk of offending you, dear reader. We try to walk a line between being humorous and clever, while being wholesome and uplifting. I'm sure many of you think that's a joke, but truly, we work quite hard at it. And honestly, it's exhausting.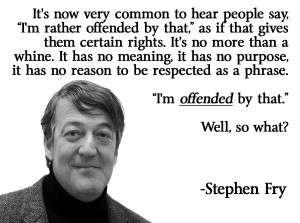 What ends up happening is you get 75% authenticity. Sometimes we feel the need to rage, and we do so, only to pull it back for fear of offense. We nitpick each word and turn of phrase. We sanitize and vaporize until what you get is a little less than what we really mean, but hopefully enough that our personality comes through.
Don't get me wrong, there's nothing wrong with editing or curbing your language for a certain crowd or venue. But there is now fear on the creator's side that if they say something wrong, or it's taken the wrong way, (and anything can be taken the wrong way nowadays), there will be a backlash of Biblical proportions. If we mention Church too often, "Stupid Christians. I'm re-tweeting your idiocy!". If we use a word deemed inappropriate by any given reader, "Heathen! You're no Christian! I'm telling everyone you're filthy hypocrites and foul mouthed sinners!"
We're living in a world where comedians are losing jobs because of JOKES. And as a travelling comic and writer of nonsense that is offensive to me.
Interview Of Comedian Louis C.K
Reporter: Many comedians, including yourself, sometimes joke or fool around about certain subjects that many people think are over the line inappropriate. Is there anything that you personally think goes over the line and you would never joke about or make fun of?
Lois C.K.: Nope. I like joking about everything. This will sound too lofty because it is. This is going to an extreme to make a point: Saying a subject is too awful or painful to joke about is like saying a disease is too awful to be treated. Please do not take that out of context, the context being that I realize this is a crazy statement and I'm going to an extreme to make a point.
I give you this quote from an atheist, because even a broken clock is right twice a day (Great – now I've gone and offended the atheists).
"Just because you're offended, it doesn't mean you're in the right"

– Ricky Gervais

---
You don't have to worry that this is some sort of Manifesto. We won't be coming out with videos throwing around f-bombs like rice at your wedding (Oh, wait. You can't throw rice around. It offends bird lovers). What I am saying is, if you're bothered by something we say, that's fine. Just tell us so. We can discuss it. I'm actually open to having my mind changed on certain topics, but there's no need to go to war over it. There's no need to got to war with anyone over words they say. No Celebrity Chef. No TV show. No Comedian. Just flip the switch. Log out. Click un-friend. Choose to stop listening. After all, it's easier to stop ignoring someone than it is to rebuild that bridge you burned down with all your righteous indignation.
Ignore Not War. Yeah. That sounds like a bumper sticker slogan I can get behind.

---
CHRISTIAN LEE
Christian has had many roles in life. He's been a minister's son, a poor student, a computer geek, a bible college dropout, a corporate suit, a traveling comedian, and a failure at much he's tried. But he counts 2 huge successes in his life. He is husband to a wonderful wife, and father of two exceptional kids he wanted, a third 'surprise baby', and a In 2015, they met yet another surprise, as their fourth (and prayerfully last) child defeated birth control with her sheer will to exist. He draws a web comic about their life at ForeverFamilyComic.com. Having just missed Aaron in college by a few years, they connected online, finding they had a similar sense of humor [read: DARK] and decided to launch PlaidDadBlog.
---
Comments
comments