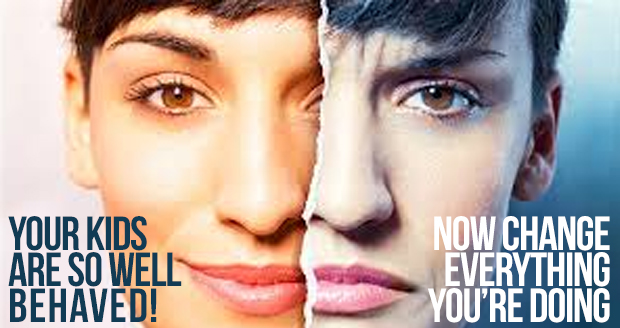 I pride myself on the fact that once people meet my kids, to a man, they finish the conversation with, "Wow, your kids are so polite and well behaved."
This ranks right above, "Your daughter's beautiful", "They're so smart", or "Your son's got great athletic skill." To be fair, I can't really take personal pride in those things, since my kids are adopted. It's not like I threw any of my genetic material in the mix.
When we adopted the two cherubs, they were already great kids. OK, Mia was a mute and Carlin was just happy to have three squares a day, but they were well behaved. I see my role as the tagged in dad, to just refine what was already there. Just like Michelangelo said, "The statue is inside the rock, it's my job to chip away the excess rock."  And boy, oh boy, is there plenty rock to chip away.
I'm not sure there's anything more infuriating than telling a child to close the front door for the 674th time. At some point, prolicide has to become legal, right? Of course by definition, that applies to killing one's own offspring. Surely there's a grey area for adoptive families?
Either way, we must be doing something right. As I noted above, we get solid A's on our parenting report card when folks meet our kids. That's why it's such a shocker when those same folks, on the second meeting try to talk us into completely changing our winning system. Here's how it usually goes down:
Them: Wow, your kids are so polite and well behaved.
Me: Thanks so much. I appreciate you saying so. *spots trouble* Hey Mia, don't touch that. It's not yours.
Them: Oh it's OK. It's just a meaningless family heirloom.
Me: Carlin, make sure you take your shoes off, and say thank you for the drink.
Them: Oh, it's no problem, of course. They don't need to say thank you for everything.
Me: Mia, let's not shoot people directly in the face with the Nerf guns, alright?
Them: Whoa! You're so strict. You kids are so good. Why do you need to be so strict. Give them some room to be kids. They're already wonderful.
Me: * Quietly Fuming *
Here's what I really want to say:
HOW IN THE WORLD DO YOU THINK THEY GOT THAT WAY?!?
Do they think they just step out of the car, washed, brushed, and saying "please and thank-you"? That comes from hours, days, YEARS of reminding, corralling, cajoling. It doesn't just happen, and it certainly isn't the default setting on Kid 1.0.
Granted, sometimes, I have been known to be too strict with the kids. Sometimes I fly off the handle when it's not deserved. But you know what I do when that happens? I apologize. To, My. Kids. That's how I've tried to build up trust with them. To let them know that while I expect the best from them, nobody is perfect. Not even their dad. But there are rules. Rules that need to be followed.
That's why it's so infuriating when a parent pulls this on us. You know how hard it is! Aren't we in this together? Why in the world would you encourage us in one breath and then rip us down with the next? I tend to think there's a couple reasons people do this.
JEALOUSY
I'm not saying people are, or should be jealous of my kids. I do know that I've seen parents standing next to a screaming kid having a meltdown in a Burger King play area, looking at my shocked kids with an expression that says, "I know. I wouldn't play with them if I didn't have to either."
BITTERNESS
We've all heard it before. The parent who says, "Just wait 'til they're a teen. You'll see. They all suck! Don't expect please and thank-you from a 14 year old." This just isn't true. I've met polite teens. Heck, I WAS a polite teen. I didn't back-talk my parents. Sure, I was afraid of swift justice by the way of a leather belt, but I didn't speak to adults in a rude manner. Ever. Those kids still exist, and if we'd stop assuming kids aren't capable of it, we could expect more from them (and ourselves).
EXASPERATION
This is the one I feel is the most common. These parents are just exhausted and have tried everything to get the same results. They don't even mean to say it, they're just tired and don't mind all the kids in the room rising, or sinking to the same level. Equilibrium and a nap is all they need.
PERFECTION
Those parents who just think they know better than all the other parents around them. You know who you are. Actually, you don't, but stop it anyway.
Many people think just by writing this piece, I fall into that latter category. If that's true, I encourage you to read my other work.It usually ends with me asking for your advice. I don't have all the answers. But what I do know, is that if you're impressed with how kids behave. If you notice they're well mannered and generally have their sh…STUFF together, why not walk over to that parent and encourage them. Without following up that praise with a critique on how to do it better.
PAYing IT FORWARD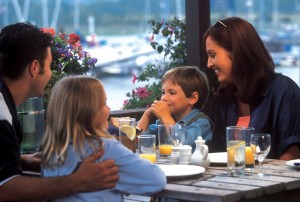 My wife and I were married 18 years before we had kids. Whenever we visited a restaurant and noticed well behaved children, I always made a point of walking over to the table and letting the parents know how impressed I was with their offspring, and accordingly their parenting skills. Sometimes I'd hand them a quarter for the gumball machine, or give them a little toy (always with their permission and the wife present – I didn't want Chris Hansen showing up).
There's nothing quite like the glow that appears on a tired and exasperated mother or father's face, when you tell them they're knocking it out of the park as a parent. And I'm not ashamed to brag, that we're now those parents. We've been on the receiving end of those random, public compliments. I couldn't be more proud of my kids, my wonderful wife, and yes, myself. Sure, I fail at parenting every day, but these little wins give you the fuel to keep rolling out of bed and doing it again each day.
Now, if you'll excuse me, I have to go tell my daughter to stop hitting her brother with the real-life billy club I bought her. Yes, I made a mistake. Keep it to yourself, Please and Thank You.
---
CHRISTIAN LEE
Christian has had many roles in life. He's been a minister's son, a poor student, a computer geek, a Bible college dropout, a corporate suit, a traveling comedian, and a failure at much he's tried. But he counts two huge successes in his life. He is husband to a wonderful wife, and father of two exceptional kids he wanted, a third 'surprise baby', and a In 2015, they met yet another surprise, as their fourth (and prayerfully last) child defeated birth control with her sheer will to exist. He draws a web comic about their life at ForeverFamilyComic.com. Having just missed Aaron in college by a few years, they connected online, finding they had a similar sense of humor [read: DARK] and decided to launch PlaidDadBlog.
---
Comments
comments