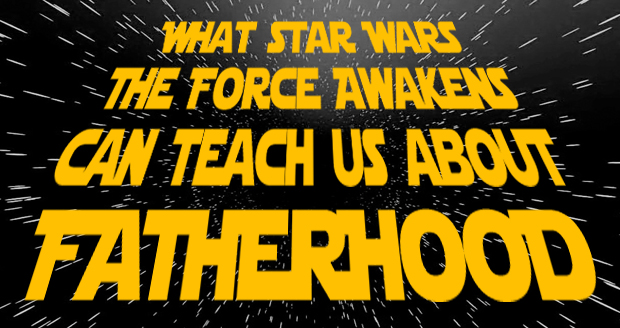 WARNING: The following contains spoilers from "Star Wars: The Force Awakens."  The film has been out in theaters for almost a month.  If you haven't seen it by now, well, that's your fault.
I took my family to see Star Wars: The Force Awakens over the holidays.  They loved it so much that we saw it twice.  "Loved" is an understatement.  I'm not sure the English language contains a word to describe our admiration for J.J. Abrams addition to the Star Wars canon.  The film masterfully wove old characters with new into the cinematic tapestry of the story of that beloved galaxy far, far away.
The film managed to squeeze a few tears out of me. When Han Solo stepped out onto that bridge deep within the bowels of the Starkiller base, we knew what was coming: we were about to lose an icon of the franchise.
A flawed father pleads with his prodigal boy to come home. The son sweating in emotional pain—wanting to stay loyal to the power of the Dark Side but feeling a constant tug to the Light.  A light saber gripped by both men in a contest of wills.  Then the horrible inevitable happens…
A light saber pierces the heart of our favorite scruffy looking nerf herder.
That moment hit me hard as a dad. I've heard so many stories of children who cast aside their upbringing and walked down a life path their parents never dreamed for them. As a Christian pastor, this concerns me.  I am directed by my faith to raise my children in this faith, and that's exactly what I'm doing.  There will come a time, however, when they will have to decide to make this faith their own.  I'm praying and working toward them doing so.  But, down the road, they may not.
Would such a decision crush me? Yes.  Would I pray that they would change their mind?  Yes.  Would I stop loving them?  Not a chance.  Would I walk out on a proverbial bridge, taking a chance that they would metaphorically stab me in the heart?  Absolutely.  But that choice will be theirs to make, and their choice alone.
So here are some things we can learn from Han Solo's parenting as we navigate the same journey:
First, be present. While there are certain things that episode VII hasn't revealed, such as Han's possible role with Rey, what we know is that Han returned to smuggling after Kylo Ren rebelled and turned to the Dark Side.  Han left his son and Leia behind.  He said that he had to cope with his son's betrayal in his own way.  Sorry, Han ol' buddy, but that's garbage.  Yes, life can be painful.  But running away from your family commitment just because life hurts is irresponsible.  Let's be present for our children, even when they do things we know they shouldn't.
Second, love them anyway. Han, even though his approach was flawed, got this right.  He never stopped loving Ben, even when Ben yielded to Snoke and the Dark Side.  Even though he knew there was little chance of convincing his son to reject the Dark Side and come home, he tried anyway.  Let's be willing to take risks of love with our kids, and love them regardless of the decisions they make.  That may mean letting them suffer the consequences for bad choices, but it doesn't mean that we stop loving them, praying for them, and hoping they'll make the right choices.
Now, only a year and half until we (might) find out who Rey's dad is.
Aaron Saufley
Aaron Saufley, author of 'The Jumbo Shrimp Gospel' and 'Deep Roots', is a husband and dad who happens to moonlight as a hospice chaplain and preacher. He thinks Netflix is the greatest human invention next to pizza. He loves hanging out with his family, and when he has the time he also enjoys writing, a good cigar, craft root beer, smoking a mean rack of baby backs, movies, and trying not to die while running. Follow Aaron on Twitter.
Comments
comments