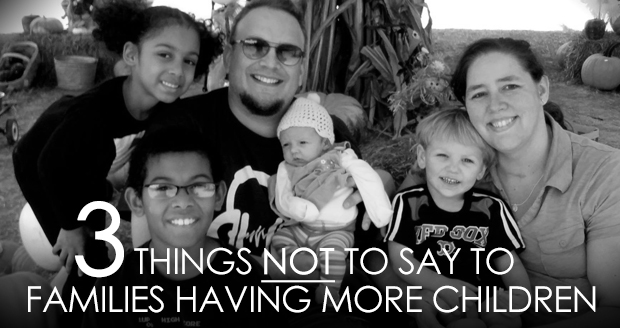 Christian and I have big families. Not grandma-was-one-of-fifteen-siblings families, and certainly not 19 Kids and Counting families. Christian has four kids, and I will soon have five (after our adoption of two brothers is finalized). Every so often, someone will find out about the size of our broods and, well, stick their nose where it doesn't belong. What is it about having more than three children that makes people think they have the right to say things and ask questions that even Donald Trump would find rude? I try to be nice (Christian, not so much) in my replies to such invasive queries, but I'm always thinking something not-so-nice (God forgive me).
Maybe you're one of those well-meaning people who just can't help yourself–you have this overwhelming need to contribute your two cents to the parenting choices of others. Here's a hint: we ain't accepting deposits. So, in the interest of keeping you from looking like a total jerk, here are three things (and there are many more) not to say to couples adding more children to their clan by either adoption or the ol' fashioned way. I've included my typical verbal response, but also what's raging inside my head when people exercise their right to stick their foot in their mouth about the size of my family.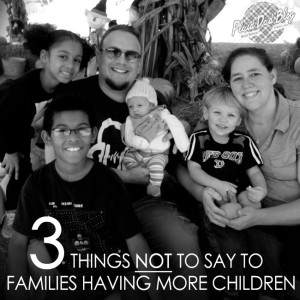 "You're Gonna Have your hands full"
What we say: "Yep, we sure are. But we're so excited!"
What we're actually thinking: Have you not noticed that we already have kids? Our hands are already full. It's called juggling responsibility. When you have multiple children, you become quite good at this. We're just adding another to the mix. Now unless you've figured out how to surgically attach a third hand that is useful for parenting, please stop stating the obvious.
"ARE YOU SURE YOU CAN HANDLE IT?"
What we say: "We hope so!"
What we're actually thinking: Are you kidding me? First, "it" is a person. Second, I can't handle the kids I have now. They scream, cry, fight, speak gibberish, and pee everywhere except the designated peeing places (their diaper or the toilet). We have to keep feeding them. It would be nice to just set a bowl out on the floor for them, but they aren't dogs (and our dogs would eat it first). Of course we can't "handle it." But we're going to do our very best to steer this ship in the right direction. So thanks for the snarky questioning of our parenting abilities.
This next one is usually aimed at adopting parents:
"You're fostering to adopt? that's so great. I couldn't do it. I'd just love those kids too much. I couldn't handle losing them."
What we say: "Aw, thanks. We're just doing what we feel like we need to."
What we're actually thinking: I get it. Life is busy. You have things to do. You have a career and a retirement to think about. Heaven forbid giving a child a loving home gets in the way of your "life plan." Adopting a child is inconvenient. I get that. Actually, no I don't. A child going through abuse and neglect is inconvenient. How small is your heart when you can actually say, out loud, that you're afraid you would love a child too much? You're too afraid of getting attached to them? So the alternative is better–letting them bounce from house to house, never really attaching to anyone, and likely ending up in jail (because that's where most foster kids end up as adults). That's better than you having to go through some emotional moments when they're reunited with their family or are adopted by a family who will love them? I'm not sure you understand what the phrase "loving too much" means, because it's kind of obvious that you don't love them enough to sacrifice your time, home, and resources to make a difference in a child's life. Oh, wait, I forgot… this isn't about them. It's about you.
BONUS FOR BIO BABIES: "You know how that happens, right?"
Our reply: "Yeah, we do." (while sheepishly grinning)
What we're actually thinking: Heck, yeah, we know how it happens! And it's freaking awesome. We had sex, maybe lots of it, and it resulted in amazing physical bliss, increased emotional closeness, a stronger marital bond, and a flippin' baby. We often try to incorporate porn into our routine too. If you want to try something similar, you may wish to click here for more. We made another baby because that's what happens sometimes when people have sex. And that's exactly what we did–we did it, and it resulted in another baby. And the chances are pretty high that, at some point and time, we'll have sex again–and it might result in another baby. Have you heard that sex is awesome?!? If you need any proof of this, just have a look on somewhere www.tubev.sex for examples of how great sex can be. You and your spouse should try it sometime.
Yeah, this post is pretty caustic. I intentionally wrote it this way because we need to think before we speak. Instead of saying anything above to people having more kids, try encouraging them, no matter how they're adding them to their family. Tell them how much of a blessing those kids will be to their lives, and how they will bless those children. Offer to help with supplies, clothes, money, and babysitting. Be there to support them instead of asking voyeuristic questions out of morbid curiosity.
Heaven knows our youngest generation needs great parents. Let's encourage parents to be great parents instead of judging them for making choices we did not (but maybe should have).
AARON SAUFLEY
Aaron Saufley, author of 'The Jumbo Shrimp Gospel' and 'Deep Roots', is a husband and dad who happens to moonlight as a hospice chaplain and preacher. He thinks Netflix is the greatest human invention next to pizza. He loves hanging out with his family, and when he has the time he also enjoys writing, a good cigar, craft root beer, smoking a mean rack of baby backs, movies, and trying not to die while running. Follow Aaron on Twitter.
Comments
comments