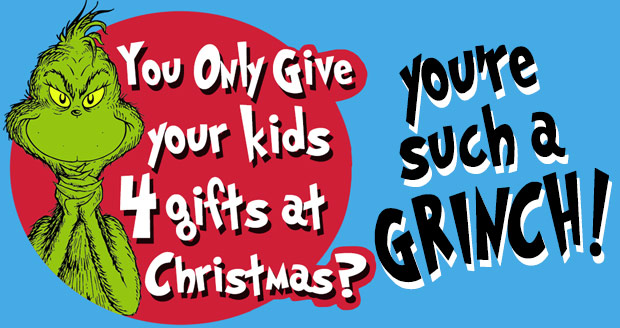 Originally posted 2014 - Refreshed for 2015
On Thursday, we will feast. On Friday–Black Friday–we will fight. We fight for toys, for games, for stuff. Why? We want our kids' Christmas to be amazing with a capital AMAZING. Parents, I get it. You want your kid to have the biggest, bestest, and latest gadgets, toys, electronics, and stuff because that's what good parents do for their kids, right?
Wrong. Bad parents do that to their kids, so don't look into credit card consolidation so you can give them an expensive Christmas.
Your three-year-old doesn't need an iPad. Your tween doesn't need a Playstation 4 to replace or compliment his XBox One. And first time parents, I get it that you want your kid's first Christmas to be special. But who's it special for? Not them. They won't remember–they're not yet a year old, so they aren't even housebroken or skilled speakers of English. You will remember–you and all your Facebook friends who see the piles of stuff because you plaster fifteen dozen photos of your kid's stockpile they'll never play with on your wall.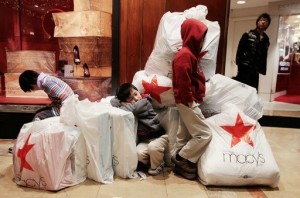 All this shop 'til you drop, get our kids the best, knock somebody out on Black Friday nonsense needs to stop. Now.
Yes, I know I sound Grinchy. Maybe I am. But I know what we're turning our kids into with all this stuff that they'll break or forget about by New Year's. We're creating greedy little monsters–entitled little humans who think life is about getting what they want when they want.
I know, because we started out this way.
Our first few Christmases with a kid, my wife would pick out that one special toy that she was certain would make our daughter the happiest little girl on earth. Without fail, it didn't happen. She played with the box more than the toy, or she played with it for a few days and then left it in the toybox for us to discover a few years later when sifting through junk to take to the thrift store. And my wife was always disappointed. She realized that all these expectations weren't about our daughter–they were about her.
Now, we've paired down Christmas tremendously. Our three girls only get four things each:
Something to wear. Yeah, I hated getting clothes for Christmas. But that's because I rarely got clothes for Christmas. My girls love it. They get a new outfit or dress, and they get to specify what it is. That means my youngest girls get "Frozen" shirts and jeans and my oldest girl gets a My Chemical Romance shirt and cargo pants. They also get a new set of pajamas to open and wear on Christmas Eve.
Something to read. Reading is a huge deal in our house. All my kids love to read. They get to choose several books, and "Santa" will pick one.
Something they want. This is the catch-all category. They can ask for anything they want, within financial reason. It may be a new game for the Wii, one of those electric ride on cars for kids, a gift card, or whatever. And it has to be something they've wanted for a while, not something they saw yesterday in Wal-Mart. So if they spent ages looking at Unicorn Things and decided they wanted something from there, fantastic. If they saw a shiny ridiculous thing in a grocery store randomly and felt it was the be all end all, not so much
Something they need. This is usually socks, underwear, school supplies, or something else vital to their existence. They get to choose their need.
My kids' stockpiles aren't that big. But guess what? They don't care. They're happy. They're excited. They're satisfied because they got exactly what they wanted. And we didn't have to break the bank or feel like we had to overwhelm them with junk so that we could post pics on Pinterest and make other parents feel like failures while we stress about credit card debt. As parents, there is no point in putting ourselves into debt for our children to have multiple presents that they don't really want. The festive period is stressful enough as it is, so there's no need to add any more to it. Money problems are one of the leading causes of stress amongst parents, so it's better to get your children the presents they want. On Christmas day, it's so important that parents aren't stressed. Everyone should be relaxed and enjoying themselves. Don't worry about money for the day. Perhaps some parents should even consider looking into how to smoke resin the night before Christmas. This should help them to relax on Christmas day. People shouldn't be stressed over Christmas.
So as you prepare to fight the goblin hoards before the sun comes up this Friday, remember the words of the Grinch:
Maybe Christmas doesn't come from a store.
Maybe Christmas, perhaps, means a little bit more.
Actually, Mr. Grinch, it means a lotta bit more:
AARON SAUFLEY
Aaron Saufley is a husband and dad who happens to moonlight as a hospice chaplain and preacher. He thinks Netflix is the greatest human invention next to pizza. He loves hanging out with his family, and when he has the time he also enjoys writing, a good cigar, craft root beer, smoking a mean rack of baby backs, movies, and trying not to die while running. Follow Aaron on twitter.
---
Comments
comments