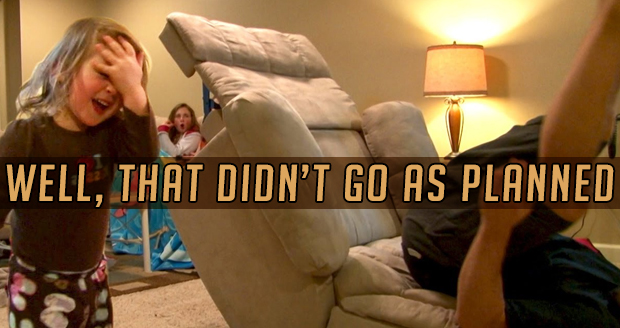 Sunday was a horrible football day for the Plaid Dads. Both of our teams were favored to win. Alas, victory was snatched from both teams. Aaron's beloved Bears botched a sure win in regulation and lost in overtime. Christian's Patriots, who steamrolled everyone for ten games, suddenly look like a Pop Warner team made up of Star Wars geeks and drunk monkeys. At least Tom Brady is still pretty.
Sometimes, things don't go as planned.
This happens a lot in the land of Dad. You spend a massive chunk of your yearly salary on a vacation that you're certain your family will rave about for years to come. You drive for endless hours in a cramped car filled with whining, spilled soda, and farts. You spend 84 percent of the trip standing in line as the merciless sun beats down on your balding head. You get pics of the kids with that stupid cartoon mouse. You spend an extra week's salary on a special dinner of chicken nuggets and Kraft mac-n-cheese with a princess. You walk so much that your toes blister and your inner thighs erupt in a firestorm of flaming red rawness. And after all the planning and sacrificing your kids' college tuition, what do they remember? That human cesspool comprised of 47 percent water, 23 percent chemicals, 28 percent urine, and 2 percent creepiness oozing from that slightly overweight gentlemen floating in the corner gawking at all the moms. That's right, they remember the hotel pool.
You take your child to the family dentist el cajon for a routine cleaning. Your dental insurance covers such a visit 100 percent. You went for fluoride, and left with the knowledge that you may have to resort to dancing for dollar bills to pay for your child's fillings and braces/Invisalign, we still need to talk to the dentist about the pros and cons of Invisalign so we can see if it is the better choice, I do not have a clue, thank goodness we have a professional to talk to and we can do a bit of research ourselves, back in the day all we had was braces, and now there is way more choice. Oh, AND you have two more kids with teeth that look more like a rusty chainsaw than the perfectly perfect super model smile. As you might already be aware, if you need braces it is vital that you get them fitted as the consequences of not doing so can have a detrimental effect on your oral health. Most people don't realise that as well as getting braces to create it, your child will need to retain that perfect smile for the rest of their life using a retainer, for which you can find Details at myorthoselect.com as well as other surgeries that specialise in these valuable products. Having straight teeth is a lifetime commitment but it's so worth it.
You tell your cherubs to clean their rooms. If they put there little hearts and backs into it, it shouldn't take more than 30 minutes. Six hours later, you've cussed and fussed your way to a headache, a sore throat, and a fast-track admission to the loonie bin. And what did your angels clean up? A pair of dirty underwear–they moved it from the middle of the floor to the floor beside the hamper.
Things rarely go as planned.
I have plenty of experience in the plans-crashing-and-burning department. I used to lose my mind when something went wrong. I'd lose my temper, blame someone else, and essentially act like a toddler thrashing on the floor in the middle of the toy aisle because his parents wouldn't buy him something. And how much good did it do me?
None.
Dadding requires flexibility. Yes, we can still make plans. And sometimes a miracle occurs and everything falls in place. But when it doesn't, we have a choice–to blow a gasket and thus teach our kids that stress is an unavoidable part of life, or we can take a few moments to regroup and make the best of an altered situation. Sometimes, things get back on track; other times, you have to make a new plan. Whatever happens, you just keep on going.
So as you travel on this journey of Dadding, make your plans, have a backup plan or three, and roll with those proverbial punches. Show your kids that blowing your top doesn't have to be an option when things go awry. Slog through it, work it out, see it through. (And all those other cliches.)
And stay out of the hotel pool.
AARON SAUFLEY
Aaron Saufley, author of 'The Jumbo Shrimp Gospel' and 'Deep Roots', is a husband and dad who happens to moonlight as a hospice chaplain and preacher. He thinks Netflix is the greatest human invention next to pizza. He loves hanging out with his family, and when he has the time he also enjoys writing, a good cigar, craft root beer, smoking a mean rack of baby backs, movies, and trying not to die while running. Follow Aaron on Twitter.
---
Comments
comments