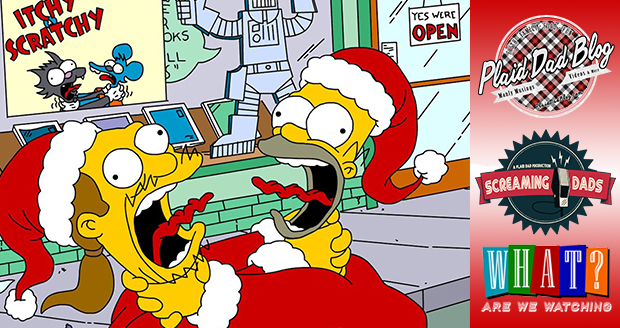 Because Aaron and I are 3 hours apart, I couldn't get a photo for our Christmas Farewell card. This will have to do.
We have had a great time during this, our first FULL year at PlaidDadBlog. We have had more ups than downs, and managed not to strangle each other as shown in the banner pic.
We've launched 3 podcasts, Screaming Dads, Teen Nerd Talk, and What Are We Watching?. We've given away some great prizes, reviewed some cool products and movies. We've even written about some touching and funny topics. My son Carlin even got to interview his first celeb.
All-in-all, it's been a wonderful year and we're happy to move forward into 2016 with all you joining us along the way.
We'll be continuing our new video series Daddy Confessions and introducing a new project where I…. eh… I'm not telling just yet. Rest assured, I will likely bleed and you will laugh at my misery.
Aaron will be welcoming new children in his family as he and his wife Laura finalize their adoption. If I introduce any more children to my family, they better have a job and replace me, because I'll have a heart attack.
Thanks for reading, watching, and sharing with your friends. We truly appreciate it!
We will be back in 2016!
CHRISTIAN LEE
Christian has had many roles in life. He's been a minister's son, a poor student, a computer geek, a bible college drop out, a corporate suit, a traveling comedian, and a failure at much he's tried. But he counts 2 huge successes in his life. He is husband to a wonderful wife, and father of 2 exceptional kids he wanted… and a third, 'surprise baby', who's likability has has yet to be determined. He draws a web comic about their life at ForeverFamilyComic.com. Having just missed Aaron in college by a few years, they connected online, finding they had a similar sense of humor [read: DARK] and decided to launch PlaidDadBlog.
---
Comments
comments