I participated in an Influencer Activation on behalf of Influence Central for Hasbro. I received product samples to facilitate my review and a promotional item to thank me for my participation.
I was born May 15th, 1976. Ten days and one year later, 'Star Wars' was birthed into the world. To say it was an important part of my life is an understatement. Between the movies, the toy franchise, and my imagination, Luke, Leia, and Han were forever intertwined in my personal story.
But more importantly, they would play a part in something more meaningful, the adoption of my kids. And it never would have happened without George Lucas's creation.
When I was ten, you'd never convince me that I'd own anything cooler than my Millennium Falcon. I spent hundreds of hours with that ship in my hands. The moving gun turret, the removable chess board, the hidden
compartment – I knew it better than Henry Ford knew his first car. On top of that, I had an X-Wing and Darth's Tie fighter. These were real manifestations of an on-screen dream. I probably never went a week for a good five years without playing with my Star Wars figures and ships.
When I went to college, they came along. I even hung them from my ceiling tiles. Yeah… I was that guy. Now they were nostalgic ART. They were still toys, of course, but they now marked an era of my life. One I'd grown out of, but refused to forget. 'Star Wars' was still a topic of conversation, but now the alk was grittier. We discussed in depth the triangle between the main characters. We watched movies that mocked the Rebel Alliance and the fact that Storm Troopers were just security guards, surrounded by innocently murdered contractors and plumbers.
Once I got married, they slowly made their way into boxes, then into attic space, unseen me or any visitors to our humble abode. Not because my wife was against my owning "dolls", nah, she's cool. They just got pushed aside. Life moves on. But I held onto them. I knew, in the back of my mind they were there. With every move (and there were many) I loaded them on a truck and carted them to the next city. I was just not ready to let them go.
Cut to 2011. Thirty-four years after the original trilogy debuted. My wife and I had decided to adopt siblings that, if they got much older, would be separated.  Much like a pair of kids in a galaxy far, far away I'd grown up watching. We were thin on cash and needed the money to file our final paper work to Social Services. I turned to my only asset that knew no down market, no recession. I went into the attic and dusted off my secret weapon. Help me special edition Ghost of Anakin Skywalker… you're my only hope.
I didn't make a mint. After all, there are a lot of 'Star Wars' toys out there in the world, but they served their purpose. I had the funds I needed to save these kids from the Dark Side… or at least being yanked from each other's arms, to never see the other again.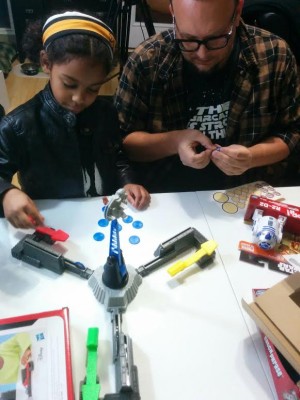 My own little princess and wayward son.
So a couple of weeks ago, we were asked if we'd be interested in receiving some 'Star Wars' games by Hasbro Toy Shop and share our honest thoughts on them. I jumped at the opportunity. It may not be the Millennium Falcon, but it was the opportunity to share my story with the kids. Our story. Our legend.
We had a blast playing with the Bop It! R2D2, SW Catchphrase, and Loopin' Chewie (the clear favorite). To me it had less to do with the plastic pieces in front of me, and more to do with who I was playing with and why. My life was changed when I got my first 'Star Wars' toy, but it was flipped upside down for the better when I gave them up. What I received in return was a complete family. A joy I'd never known.
The feeling of the Force could be nothing compared to that.
---
Win one of the games by entering here:
Hasbro Star Wars Giveaway
*I-C will randomly select 5 winners from all program entries and will handle fulfillment of the winning prizes.
Here's some info on the games we played. Like I said, the Loopin' Chewie game was the clear favorite, although I think the Bop It! R2D2 will be the one with the greatest replay value. If you're looking for a gift for Dad or a Quiz nut, CatchPhrase will definitely make you a winner in their eyes.
In anticipation for the next film in the Star Wars series coming out this December 18th, Hasbro launched an out-of-this-world gaming line. Featuring beloved characters like Chewbacca and C-3PO, the line brings the Star Wars universe alive for the entire family.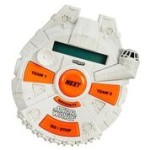 Electronic Catch Phrase: STAR WARS Edition Game:
(Ages 13 years & up/Players: 2 teams/Approx. Retail Price: $24.99/Available: September 2015)
Find out who the biggest STAR WARS fan is in this classic party guessing game shaped like a MILLENNIUM FALCON! Choose a difficulty level and test each team's trivia skills and speed by describing the STAR WARSphrases as they appear on the device. Shout, gesture, and say anything else but the words in the answer to help your team guess correctly before time runs out! The ELECTRONIC CATCH PHRASE: STAR WARSEdition game requires 3 AAA batteries, not included. Available at most major retailers nationwide and HasbroToyShop.com.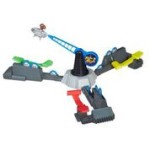 STAR WARS LOOPIN' CHEWIE Game:
(Ages 4 years & up/Players: 2-4/Approx. Retail Price: $24.99/Available: September 2015)
One of the most recognizable characters from the STAR WARS saga has been combined with the wild fun of LOOPIN' LOUIE to bring zany, fun-flying action to a galaxy far, far away. Players must help CHEWIE co-pilot the MILLENNIUM FALCON and try to send him swinging straight into the STORMTROOPERS on the other player's rack. Available at most major retailers nationwide and HasbroToyShop.com.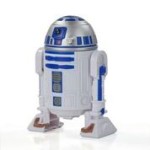 BOP IT! STAR WARS R2-D2 Edition Game
(Ages 8 years & up/ Players: 1 or more/Approx. Retail Price: $14.99/Available: Fall 15)
Bring a galaxy far, far away to the palm of your hands with the BOP IT!STAR WARS R2-D2 Edition Game. Just like the classic BOP IT! game, players must twist, bop, and pull the R2-D2 figure in response to his commands to be the last JEDI standing in this fun and fast reaction memory game. The BOP IT! STAR WARS R2-D2 Edition Game featuresSTAR WARS movie sounds and the voices of fan favorites R2-D2 and C-3PO. Requires 3 "AA" batteries, not included. Available exclusively at Wal-Mart.
Comments
comments